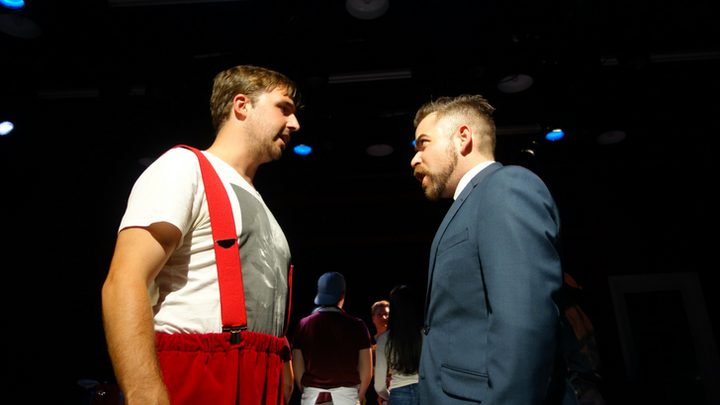 Occupation: Dragonslayer is as subtle as a hammer to the face, but pay that no mind: What the musical fable lacks in nuance, it makes up with an abundant earnestness. It was also written as a direct response to the 9/11 attacks, kicking off on Christmas Eve 2002, when memories were fresh and the shock of that day seemed practically impermeable. You know where this is going.
If Dragonslayer's exploration of grief feels uncomfortable, deal with it. If its musings on hope and memory seem heavy-handed, that's forgivable. The show, by Isle of Shoals Productions, Inc., is the brainchild of writer and composer Bryan Williams and the late Lance Hewett, and the viewer gets the impression their tattered emotions are on display in real time. The latter gentleman, the back of the playbill informs me, wanted nothing more than "to revisit the musical for this 15th anniversary year [of September 11] to remind ourselves of the purity of spirit of a nation once united (mostly) by tragedy."
Would Hewett have been proud? And what is up with that flashing stoplight prop? These (and many other questions) swirled through my brain as I sat down to watch this broad, at times brash––but always colorful––love letter to a doomed all-night diner situated mere blocks from Ground Zero.
Pro: The place, you see, is one of those classic greasy spoons with checkerboard floors, snarky waitresses and great food that you'd be crazy to pay Manhattan prices for (but that you pay for anyway).
Con: It's situated mere blocks from Ground Zero.
You can't blame any of these characters for being so bummed out: The place is shutting down in eight days. Their jobs are dust, their dreams have been deferred, the city's on edge. But this menagerie reminds us why we have a soft spot in our hearts for our local 24-hour diner.
Into this sadness cave walks Chris (Steffen Whorton), who doesn't know his name or where he's from, but can tell you that he's definitely not Santa Claus. What follows is a cross between Miracle on 34th Street and The Twilight Zone.
The cast of characters is large. (Their dreams are even larger.) The company includes Harriet (Cecilia Vaicels), a hard-nosed manager with aspirations of opening up a restaurant of her own, Antonio (Arthur Lundquist), a proud Italian diner cook, Salvation Army Major Beauvine (a delightful Lisa Gwasda) and her three godless, loveable kids, Felipe (Kevin F. Rogers, a fellow Frank Sinatra High School graduate), a flamboyant waiter/rapper who is more Malibu's Most Wanted than 8-Mile, Mara (Kimberly Bello), who wants to be someone and The Duchess (Judi Polson), who could be anyone. (More to come later.)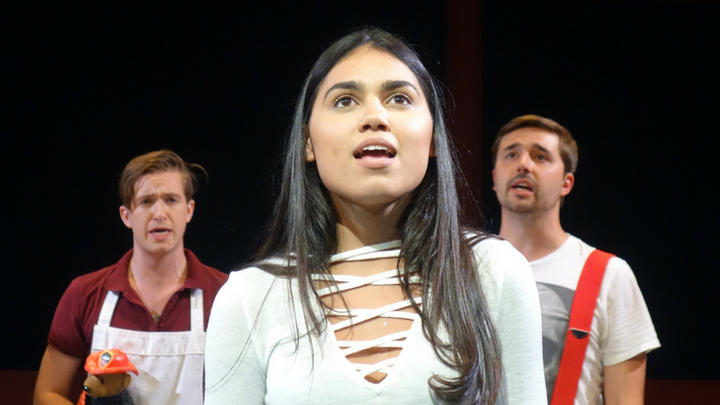 Director Stephen Ryan successfully establishes an atmosphere that is as moody as it is off-kilter. The production is minimal, yet effective. I must commend Mitchell Ost for his set and lighting design. In some ways, you could say Dragonslayer belongs to him. His work is daringly innovative, at its best when it amplifies the musical's status as a memory play, roiling our characters across the plains and pains of childhood into the suffocating, hazy stairwells that marked the morning after the fall of the World Trade with misty silhouettes and faces intimately torn to pieces by high beams as if through a film close-up.
But the tightness of the Robert Moss Theater, a black box on the third floor of 440 Lafayette, cannot shroud the jarring nature of the sound, which strikes the audience without abandon. The score is melancholic at times and appropriately jaunty at others, but the limitations of the space can douse it with accusations of derivativeness. During intermission (the show, including intermission, clocks in at precisely 130 minutes), a woman sitting nearby complained to her cohort that the occasional shrillness of the sound had given her a migraine. She promptly closed her eyes, and if she stirred in Act II, I was too busy watching the show to notice.
If Chris is our resident Kris Kringle, then Damon Slade (John Mervini) is like Gremlins' Mrs. Deagle served with a side of Jordan Belfort. Slade doesn't believe in magic. He doesn't necessarily believe in realism, either. And he certainly doesn't believe in the spirit of Christmas. He believes in "Dollars and Sense" (as his signature song goes) and without him, Dragonslayer would not be the homage to The Twilight Zone that it is.
There are countless plays that make use of one location (just ask Harold Pinter or Edward Albee to name a few of their favorites), but few of these plays, however esteemed or obscure, are struck by the flavor of purgatory as Dragonslayer, with its characters on a passage to somewhere (though they know not where) beyond a fresh job search or even their untethered grief. The proceedings are startlingly reminiscent of the classic episode "Five Characters in Search of An Exit." And in a place where nothing––and no one––is what it seems, the recriminations between Slade and the restaurant staff, not to mention the commentary from outsiders such as a police officer (Paul Chamberlain) with a crush on a husband-happy regular diner patron (Erin Clancy-Balsamo) and an emotionally shattered 9/11 first responder (Steve Walsh), boast a peculiar uncertainty not entirely dissimilar to "Will the Real Martian Please Stand Up?"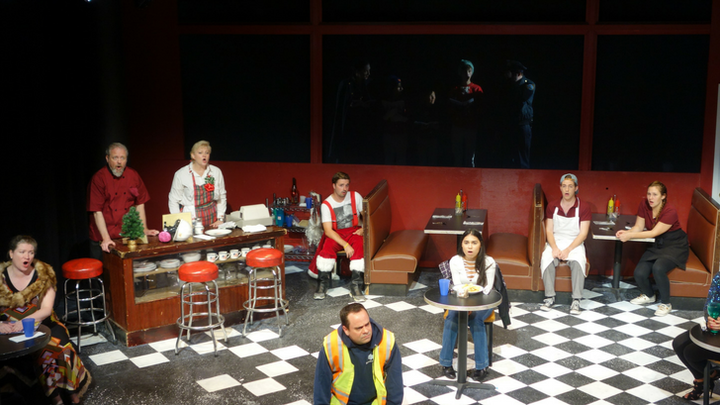 All of this drama peaks the moment our characters become privy to a host of phenomena some might call miracles, but that others might refer to as classic deus ex machina. Is it ridiculous? Does it matter? We're talking about 9/11 here, after all. How could you not want the literal hand of God to whisk these people away from the unease of their status as the lost generation of the new millennia? If everything's eventual, in the world according to Dragonslayer, there are no surprises, nor are there accidents.
This is not to say that the musical does not successfully strike notes of authentic pathos, particularly in its second act. If the show threatens to lose you in the first act, then the Duchess's plea that you "Don't Go Up the Stairs" will move you. Should Damon Slade infuriate you, he will ooze his way into your heart with delectably soulless aplomb thanks to John Mervini's characterization. And should you doubt Chris's childlike innocence, Steffen Whorton's vocals will charm you into creating your own fables.
Whorton's wife, Lindsey Morgan, doubles as a performer (she plays the nearly mute Forgotten One) as well as the production's social media consultant. While she is never unconvincing, the fact that we hardly get to hear her sing (and I have heard this lady sing) is something I would liken to the loss of a precious natural resource. The rest of the actors hit various highs and lows. In true ensemble fashion, they support and listen to each other beautifully. If it looks like everyone respects their material, it's because they do. If it looks like they're having fun, it's because they are. In less capable hands, Dragonslayer would have faltered. It's a timely and surprisingly resonant treat that is never lost in the shadow of the catastrophe from which it was inspired.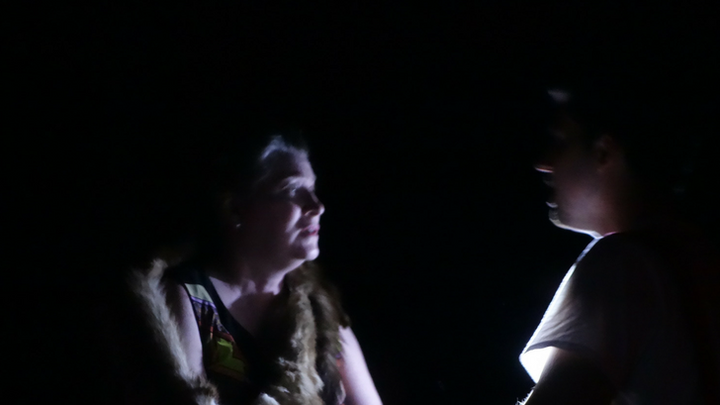 Popular in the Community