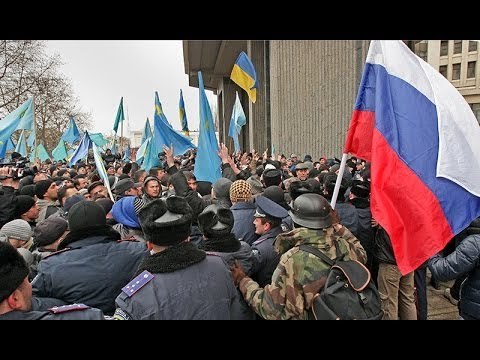 Co-authored by William Witenberg a contemporary artist focused on abstract painting
With the occupation of Crimea there can be no doubt that America will respond with, at a minimum, economic measures. It is a trickier question for Europe.
Whatever positive international sentiment Putin might have received from the successful Sochi Olympic Games, release of the rock band Pussy Riot, and freeing of Mikhail Khodorkovsky, has vanished when the Russian military began its "invasion and occupation of Ukrainian territory" in the words of John Kerry.
One of the responses of the Obama administration to the largest crisis in contemporary relations between Russia and the United States might be to curtail America's largest oil company Exxon Mobil from continuing its joint venture with Russia's largest oil company Rosneft. The two companies are engaged in one of the most important oil joint ventures in modern history. Rosneft will drill its first well in the Arctic's Kara Sea. There are some who believe this area may hold 85 billion barrels of oil equivalent, which is equal to all of Russia's proven oil Reserves. Exxon and Rosneft had committed to spend in excess of $3 billion dollars exploring the Kara Sea and the deep water Black Sea. Should economic sanctions be brought against Russian this join venture would end as would Russia's chance to develop the Kara Sea and Black Sea.
There are other joint ventures which span in different areas of manufacturing. Russia's largest titanium producer VSMPO-AVISMA, part of the state corporation Rostec and Boeing have set up a joint venture, Urals Boeing Manufacturing. The joint venture will undertake the construction of a new facility in the Sverdlovsk Region in Russia's Urals to process stamping components for Boeing's cutting-edge passenger liners. The facility will be located not far from the enterprise's already existing plant in the special economic zone called Titanium Valley. Boeing is going to invest $27 billion over the next 30 years in the development of the Russian titanium industry, air and space research and development programs and various products and services. Should Boeing be forced to stop this it too would be a blow to Russian economy.
Another illustration of economic cooperation that is jeopardy between the two countries is a joint venture between General Electric Co and Russia's state-funded private equity vehicle to build mini power plants across Russia. The new plant will manufacture, sell and service 77 MW highly efficient, low-emission 6FA industrial gas turbines in Russia and CIS countries. The production facility to be built near Rybinsk in the Yaroslavl region with an initial capacity of 14 units per year and was planned to start operations in second quarter of 2014.
Clearly the question has to be asked will these ventures be slowed down immediately. Surprisingly, that has not yet happened. It is hard to imagine that these joint ventures will not be affected shortly.