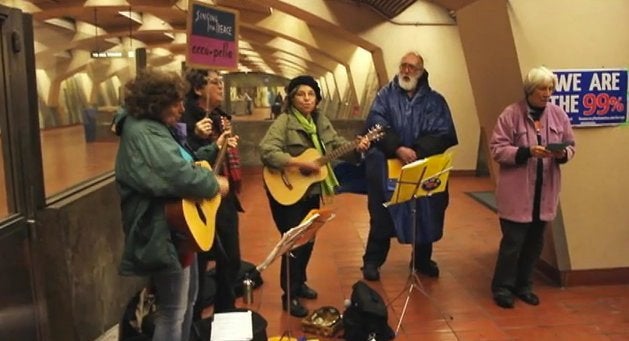 The Bay Area has never been short on political singer-songwriters. And now, the folk history books can add one more group to the list: Occupella -- a band that performs songs about the Occupy movement.
"We've all been singers and we've all been singers in social justice movements," said Occupella member Bonnie Lockhart in a video by Mission Local. "It's participatory and that's one thing that we made really clear. We said, 'this isn't going to be about performing, it's going to be about getting people to sing.'"
For the past few months, the group has been performing at Occupy demonstrations, BART stations and around the city. In addition to some original material, Occupella rewrites well-known songs with Occupy-relevant lyrics. ("We'll be occupying Wall Street when we come," "Occupy everywhere, I'm gonna let it shine" and "take me out of the big banks, take me out of their game" are a few examples.)
"The point is to keep this message in the air in a friendly and inclusive way so that people can say, 'Oh that Occupy thing that happened a few months ago, I guess its not over. I guess it wasn't just a flash in the pan," said Lockhart.
The group even features a parody of the month. April's? The Occupation Locomotion. ("Come on people, join the occupation!")
In recent months, the Occupy movement has taken to forms of public theater to reinvigorate the message -- a new approach and a sharp contrast to the violent protests of the fall. At a demonstration in February, Occupy Bernal "foreclosed" on Wells Fargo President and CEO John Stumpf's house, staging a mock foreclosure and auction at his doorstep.
Related
Popular in the Community