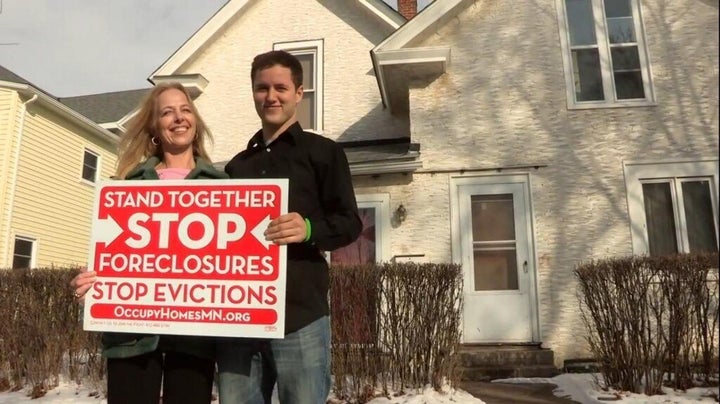 A homeowner in Minneapolis who teamed up with her Occupy Our Homes activist son has succeeded in winning a loan modification from CitiMortgage.
Colleen McKee Espinosa got word that she would be able to stay in the house where she has lived for 16 years Tuesday afternoon, just hours before it was due to be sold at a sheriff's auction on Wednesday. It is the latest in a string of victories racked up against banks in the Twin Cities by her son Nick.
"I'm super relieved," McKee Espinosa told HuffPost minutes after finding out about the modification. "I think they realized that this case wasn't going to go away, and it was nice that we didn't have to keep fighting and have it sold. I dreaded that part."
It was a remarkable turn of events for a mother who had watched her son's foreclosure activism with admiration, but also a little wariness. She said she had never imagined she would need Nick's help to keep her home. At the start, she was even a little reticent to ask him to get involved.
"Initially I thought, 'I don't want to embarrass my family.' And now I'm to the point where I feel like the banks should be embarrassed, not the people they're taking advantage of, because I've seen over and over how they don't negotiate," McKee Espinosa said.
McKee Espinosa said the home went into foreclosure when she missed two payments last year, after she stopped receiving child support for her daughter.
When she tried to make up the missed payments, she said, her attempts were ignored -- even though she only has a few years left to pay off the mortgage.
Citi does not agree with all the alleged events according to what the Espinosa family has said. "We try very hard to help customers experiencing financial difficulty," spokesman Mark Rodgers said. "We are pleased to have arrived at an amicable solution for this borrower's situation."
The loan modification comes after an outburst of activism from McKee Espinosa's son. Nick first stepped into the public view last year when he glitter-bombed Newt Gingrich. After the Occupy Wall Street movement started, he took his confrontational tactics to anti-foreclosure activism. In his mother's case, he helped organize hundreds of neighbors and supporters with petitions and a barbecue at her house, where the 26-year-old still lives when he's not out organizing.
"It's just incredible," said Nick. "It's so humbling and inspiring to see the way that people all over our neighborhood, and now with the country, have stood with our family to help us win this victory.
"It feels so great to have helped her save this home that has been something she spent her whole life working towards so that we could have a stable family and a stable life," he said. "I'm so glad that we're keeping it."
Espinosa said Citi specifically denied that the modification, which comes with a lower monthly payment, was related to Occupy and community pressure. He said he suspects otherwise.
"I asked them why now, when we did this a year ago, why wait until the final hours before my family's about to lose their house of 16 years," he said. "And their response was that it was an urgent case and given the urgency of the pending sheriff's sale, we were able to take another look and fix it."
Andrew Wilson, a spokesman for Fannie Mae, the government-sponsored enterprise that backed Citi's loan, confirmed that the sheriff's sale had been postponed and that McKee Espinosa would be able to stay in her house as long as she makes the reduced payments.
Wilson claimed that Citi lost touch with McKee Espinosa last year, "and that's when things proceed to foreclosure."
"Believe me we don't want foreclosure to happen -- we want them not to happen," Wilson said. Other state residents with Fannie-backed mortgages in trouble should contact the Minnesota Home Ownership Center, he said.
"They did the right thing, to their credit," Nick said of Citi and Fannie after receiving news of the modification. But that doesn't mean his family's days organizing for foreclosure reform, and in particular principal reduction, are over.
"If they can fix it for our family, there's no reason they can't do it for everyone else," he said. "So we're going to keep on pushing for that until we get some major changes in the banking industry."
CORRECTION: A previous version of this article misidentified CitiMortgage as "CitiMortgages" and the Minnesota Home Ownership Center as the "Minnesota Home Owner Center."
Calling all HuffPost superfans!
Sign up for membership to become a founding member and help shape HuffPost's next chapter