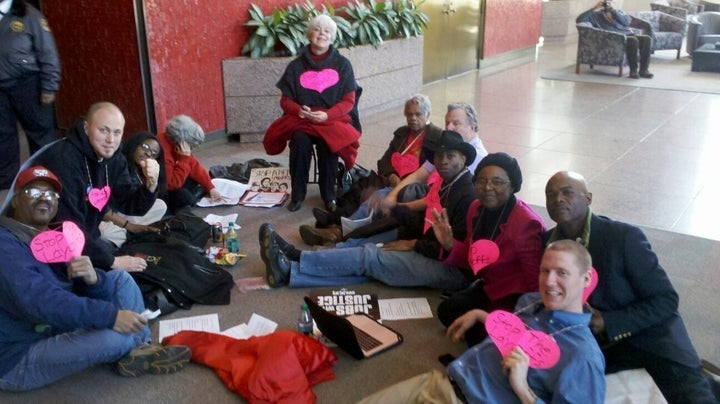 WASHINGTON -- Occupy Atlanta launched a surprise protest against AT&T Monday, staging a sit-in at the communication giant's Southeast headquarters in downtown Atlanta to protest its planned layoffs of hundreds.
While another Occupy protest might not be that shocking, the participants may be: retired Communications Workers of America (CWA) members, a Teamster organizer and members of Atlanta Jobs With Justice. They sat as a group in the lobby, each wearing hot-pink hearts made of poster board that read "No Layoffs" and "AT&T Have A Heart."
Union guys don't normally do cute. When they've mixed with Occupy in the past, it's generally been to provide bodies at a rally, but in this case union workers helped lead a risky direct action. They told AT&T officials they would not leave unless the company called off the layoffs.
In December, the company sent out a letter notifying its workers that 740 of them would be receiving final paychecks in March.
"They were completely shocked," said Ben Speight, the organizing director for Teamsters Local 728 and a member of Atlanta's Jobs With Justice. "It totally took AT&T off guard. … Their jaw was dropped to the floor."
AT&T promptly locked its doors, and the activists set up tents on the sidewalk in front of AT&T and began an encampment -- maybe the first union-supported one since the Occupy movement started.
Speight argues that joining with Occupy Atlanta is an important step. "We have to begin to speak to more than just our membership," he said.
Walter D. Andrews, 62, president of CWA Local 3204, agrees. "It gives us hope," he said. "It's been a new experience."
Andrews said his union's president, Larry Cohen, sent out an email in mid-December encouraging such bridge-building between membership and outside activists. "Within our union we are doing new things to build involvement, create resistance, and develop a sense of movement beyond just CWA," Cohen wrote. "We need to involve not just our members but other allies and progressive partners."
Cohen mentioned Occupy Wall Street in his email, acknowledging its impact on workers. "From Madison to Occupy Wall Street, the 99% were standing up against the attacks from the 1%," he wrote. "As they took their battle cry to State Capitals, city parks, and more, they led the fight and created a 'spark' for many of our members."
The day after the arrests, hundreds of CWA workers, Occupy activists and labor allies commemorated Valentine's Day by forming a heart and rally in AT&T's courtyard. Meanwhile, the camp expanded to more than 20 tents. Andrews said the CWA has people assigned to the camp, and the national office has sent funds to support the action.
The activists have no plans to leave until AT&T calls off the layoffs, they said.
Marty Richter, a spokesman with AT&T, told The Huffington Post that the protests are "a little misguided." He said the layoffs are due to consumers shifting away from wireline services as they come to rely solely on wireless phones.
Virtually all the affected workers will be offered other jobs within the company and that the initial plan of laying off 740 workers has since been lowered to around 550 as more workers decide to stay on, said Richter. "The jobs being offered are good union jobs," he added.
But Speight said the jobs don't fit his definition of good jobs. They offer lower pay, worse benefits and go without the security of a union contract. He argued if they were just shifting jobs around, why announce the layoffs anyway?
In a letter to CWA locals, Michael L. Matthews, an AT&T vice president, wrote: "As we have discussed many times in the past, no one likes having to make such declarations, but like any responsible business, we must work consistently to match our workforce to the needs of the business."
Richter wouldn't say whether the company would meet with the campers. "We are working with the CWA on this issue," he said.
"I think Atlanta can be creative and tugboat the rest of the movement to fresh ideas and also the concept of tangible wins, which I think is important," Franzen said. "How can we locally have an impact on real lives? If we have this win, that's 740 people in the Southeast that have a job."
Along with building the new camp, Occupy and the unions started holding GAs at AT&T headquarters. "We're pushing everybody's envelopes," Speight said. "We're pushing the envelope on labor and pushing the envelop on Occupy to see how we can maximize our capacity to grow this new economic justice movement … If we can do it here, we can do it anywhere."
Popular in the Community