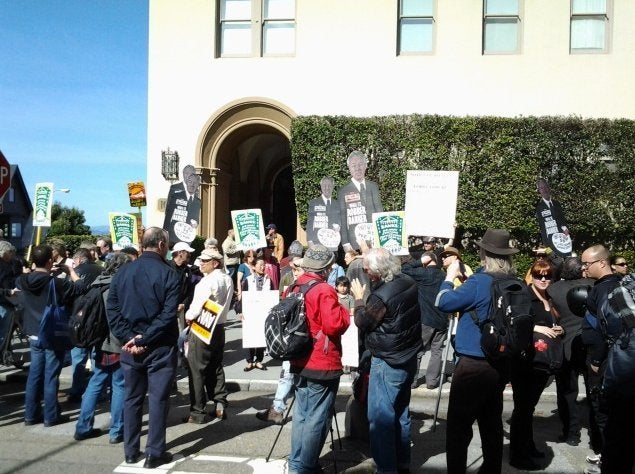 SAN FRANCISCO -- This weekend, neighborhood offshoot Occupy Bernal Heights, perhaps sensing the public's waning enthusiasm with the Occupy movement, took a new approach to protesting: public theater.
On Saturday, together with supporters and Bernal Heights residents facing foreclosure, demonstrators staged a mock foreclosure and auction at the glamorous Russian Hill home of Wells Fargo Chairman, President and CEO John Stumpf in San Francisco.
At noon, about 100 protesters gathered at the foot of the 14-story building (Stumpf reportedly lives on the 12th floor), waving fans of fake money and holding enormous Notice of Default boards alerting Stumpf to his "foreclosure," and claiming he was "in default under a deed of trust held by the American people."
After several speeches by owners of foreclosed homes, the group held a public "auction," bidding off Stumpf's home. Protesters wore black shrouds and carried a 10-foot puppet of Stumpf at the auction.
"There was lots of good theater," laughed activist and organizer Buck Bagot to The Huffington Post.
"I've gone to so many protests over the years," explained Bagot. "And I don't know about you, but I usually find them incredibly boring. So we're shaking things up a bit," he said. "I have a 17-year-old niece, and if I can't get her to go to something I'm doing, then I'm not doing it right."
But the group's unique approach to protesting is only the tip of the iceberg. Occupy Bernal has continuously focused less on protests and more on long-term solutions, evident in projects like the Homes, Not Tents campaign.
The group is also stringently nonviolent, a sharp departure from nearby incarnations like Occupy Oakland. For instance, during Saturday's protest, the group allocated four members to crowd control alone. "We didn't want anyone throwing rocks at John Stumpf's house," explained Buck.
Occupy Bernal has also worked with Wells Fargo to cancel foreclosure auctions on at least three properties, and earlier this month convinced three top Wells Fargo executives to fly out from Texas and personally meet with a Bernal Heights resident facing foreclosure. While the meeting was not very successful, Occupy Bernal appreciated the progress.
"We understand that our folks [the homeowners] are at fault here," said Bagot. "But the banks -- the ones who approved loans they knew those people couldn't pay -- they need to take some responsibility, too."
The creative protest is the latest project of Occupy Bernal, and the group doesn't have any plans of stopping soon. "I'm thinking about putting a mattress on the steps of City Hall with a sign asking if San Francisco is in bed with the big banks," said Bagot -- a nod to what he perceives as insufficient city intervention. Not a bad idea, as Saturday's event received plenty of attention.
But did the real Stumpf make an appearance at his Saturday "mocktion?"
"No," laughed Bagot. "That would have taken a lot of guts."
Calling all HuffPost superfans!
Sign up for membership to become a founding member and help shape HuffPost's next chapter