Wall Street and Big Coal corporations have no better friend than Rep. Hal Rogers (R-KY), the "prince of pork" and powerful chairman of the House Appropriations Committee.
Hailed as the most "corrupt member of Congress" by the non-profit Citizens for Responsibility and Ethics in Washington, Rogers' 5th District in eastern and south-central Kentucky also ranks at the bottom of the nation in virtually every quality of life indicator.
After thirty years of his abysmal record, Rogers' constituents have had enough. This Friday, at 3pm, Oct. 14, Kentuckians for the Commonwealth will hold a peaceful demonstration at Rogers' Somerset office to ask a simple question: Doesn't Kentucky deserve better?
There might not be a better 99% vs. 1% scenario of political and corporate wanton abandon in the nation.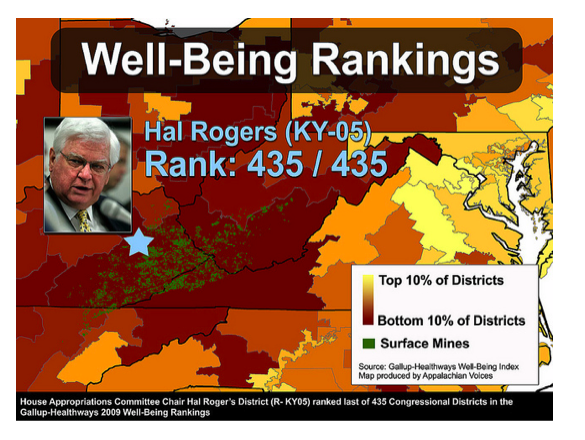 According to the Kentuckians for the Commonwealth press release:
Over the last several months, he's pushed policies that would make college less affordable, cut access to child nutrition programs, reduce opportunities for energy efficiency jobs, and block safeguards for our water and air. He has no job creation proposal. His positions put many families further at risk, allow additional degradation of our land and water, and do nothing to improve the quality of life for Kentuckians.
Since Rogers first came in office in 1981, an estimated 300 mountains and nearly 600,000 acres of hardwood forests, and hundreds of miles of headwater streams, have been irreversibly destroyed by mountaintop removal strip mining. In the process, more than 60 percent of the coal miner jobs have been stripped by the heavily mechanized operations, leaving the local economies in ruin and without any hope of economic diversification. According to recent studies, less than four percent of any mountaintop removal reclamation operation has resulted in verifiable post-mining economic productivity excluding forestry and pasture.
Whether or not Rogers will greet his fellow Kentuckians is another question. The Congressman reportedly avoids meetings with his constituents, including nationally known KFTC activist and Harlan County-native Teri Blanton, who says she plans to ask: "Mr. Rogers, considering you have been in office for more than 30 years and your congressional district falls at 435th on the list of the unhealthiest, unhappiest and some of the poorest counties in the nation, aren't you just a bit embarrassed by this?"
For more information, check out the KFTC site.

Popular in the Community