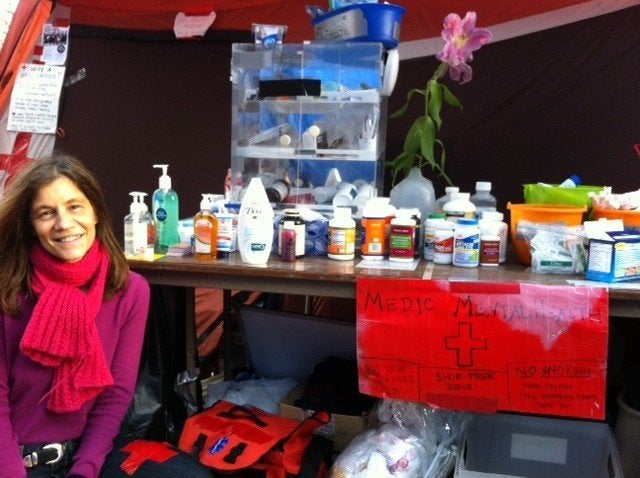 BOSTON -- After some gentle prodding, the woman paused at Occupy Boston's medic tent spilled her worries. She was losing her home in Mattapan, thanks to a skyrocketing subprime mortgage she could no longer afford to pay. She was depressed. Scared. She didn't know what to do.
The woman sharing her story wasn't an occupier, just a curious visitor walking through the makeshift campsite in downtown Boston's business district. But when she took off back to Mattapan, a Boston neighborhood hit particularly hard by the foreclosure crisis, she didn't leave empty-handed. Instead, a volunteer gave her the name and phone number of a local group fighting foreclosures, which may be able to help her case.
The medic tent at Occupy Boston -- easily identifiable by a homemade red cross peeking out above the sea of camping tents -- is stocked with over-the-counter medicines, tissues and tampons. But care at the tent goes far beyond attending to minor medical complaints, thanks to a volunteer staff of social workers who offer emotional support, defuse potentially dangerous situations and refer people to outside agencies when necessary.
"We have people living here who have lost their homes, lost their jobs," said Dawn Belkin Martinez, an associate professor of social work at Simmons College who has been donating her time at Occupy Boston since the first tents were set up across the street from the Federal Reserve Bank of Boston in late September. "The stress and anxiety they are under is intense."
The Occupy movement is a natural fit for social workers, who witness firsthand the connection between economic stability and physical and mental well-being. The Massachusetts chapter of the National Association of Social Workers has gotten behind the cause, releasing a statement of support on its website. "These protests are shining a light on the exacerbated income and social inequality that has gripped the nation in recent years," it reads. "America's 'new economy' is a tale of skewed wealth and income. The new economy generates extraordinary riches for the few, but creates declining wages, rising debt, and the risk of deep and persistent poverty for many."
The mental-health needs of the occupiers vary, said Emily Balazs, a volunteer who is pursuing a Master's in Social Work at Simmons. "Some just need to talk after a fight they've had with their boyfriend or girlfriend, and then there are other situations where, as in the night of the arrests, where people need more intensive treatment."
At Occupy Boston, campers strive to achieve "horizontal democracy," a social structure where there are no leaders and everyone has an equal voice. But when an estimated 200 people live in such close quarters, conflicts naturally arise. Chloe Frankel, another graduate student at Simmons, said she has helped organize mediation trainings that help keep the peace onsite.
"There is a mediation group now that works with people about basic communication and conflict resolution skills," she said, stressing that facilitators are there to support those discussions, not to lead them. "The power is in the people, we're just helping them build the foundation."
Frankel estimated about half of the people sleeping at Occupy Boston are homeless. "They are the bedrock of the camp," she said. "They work in all the groups -- they are in food, they are in safety, they are in media. They have been active in the day-to-day operation of the camp, and they've also been really active in the messaging and speaking out, sharing their stories as members of the 99 percent."
She pushed back against the media narrative that the homeless community in Boston migrated to Occupy Boston for a meal and a place to stay.
"I'd say we came to them, they didn't come to us," she says. "I talked to one man at the camp. He said, 'I've been sitting on this bench long before you ever came here.'"
The horizontal structure has also shifted the typical relationship between 'provider and patient' into something more organic, Frankel explained.
"In a traditional clinic setting I have this professional identity, and with it, inherent power, put on me," she says. "Here, I'm not treating people because some doctor told them [they] need to go see a social worker or they are going to lose their benefits or they are going to a jail," she says. "I am their ally in this struggle."
She says she's donating her time because she has the same concerns as the Occupy movement. "I believe mental illness is often a byproduct of poverty, so the movement addresses one of the root causes," she says. "I'm here because I'm worried about the same things."
The way Balazs sees it, she's putting her training to excellent use. "We are taught to take action, we are taught to fight systems of oppression," she says. "We are obligated by our Code of Ethics to empower and advocate for vulnerable populations and to speak out against people and institutions that threaten our ability to do so. That is the history of our profession. I can't think of a more perfect place for a social worker to be."

Calling all HuffPost superfans!
Sign up for membership to become a founding member and help shape HuffPost's next chapter