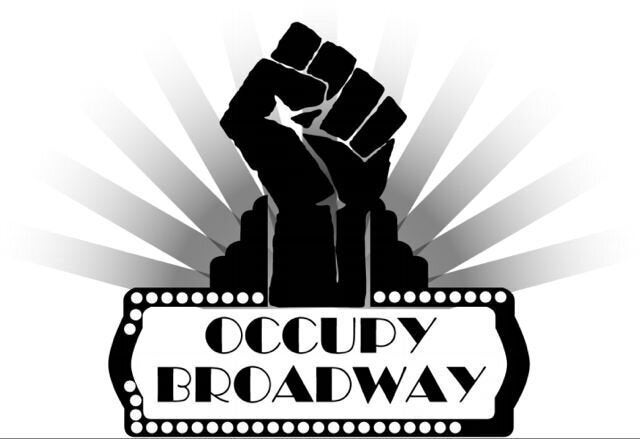 Occupy Wall Street descended upon Broadway Friday night, commencing a daylong occupation of Times Square. The move to New York's theater district is meant to be a show of creative resistance, with a series of street performances and speeches that symbolize the people "taking back the stage" -- in other words, the public spaces that belong to them.
Occupy Broadway is a symbolic attempt to regain the space of theatre as an accessible, popular art form, bringing it back to where it all started - in a public space, for the common citizen. We are using public space to create a more colorful image of what our streets could look like, with public performances, art, and music. Through this movement, New York re-imagines itself as a work of art, rather than a retail shopping mall.
Friday night's agenda began at 6 p.m., with a procession of protesters in theatrical hats and outfits playing trumpets and drums, and eventually winding their way to Paramount Plaza where activist/social worker, and HuffPost blogger, Benjamin Shepard took the mic:
Welcome police, occupiers, and fellow New Yorkers. You are all part of a show. Instead of sitting on the sidelines, regular people around the world are tearing up the seats and rushing the stage. And no one can tell the difference between spectators and participants. We are all the show -- you, me, us, now.
Reverend Billy then led a sermon and shared his experience watching Times Square transform into what it is today.
"I was protesting against sweatshops in front of the Disney store, and I saw the streets privatized," Billy said. "Times Square turned into a shopping mall."
Performances by the Foundry Theatre, the Bread and Puppet theater and others followed Shepard and Billy's statements. The program continues today until 6 p.m., with appearances by The Yes Men and Adam Rapp (see full schedule below).
Watch Shepard and BIlly speak, and check out a livestream of today's events below:
6pm Rude Mechanical Orchestra Meet at Duffy Square and lead to location

6pm-7pm carnival performers for opening ceremonies- Kate Brehm puff on stilts, magician, hoopers, Juggler unicyclist, clowns

6pm-7pm Ben Shepard MC Welcome, manifesto, First Amendment

6pm-7pm Reverend Billy sermon

ongoing from 7:00 PM WashMachine Productions

7:00 PM THE FOUNDRY THEATRE

7:15 PM The Civilians

7:30 PM The NY Labor Chorus

7:45 PM Penny Arcade

8:00 PM Dzieci

8:30 PM Five minute song interlude- Beau Borrero

8:35 PM Hungry March Band

9:00 PM HERE Arts Center/ Kristin Marting/ Jenny romaine MC

8-10 or 10-12 TBD short pieces Adam Ende Puppetry

9:30 PM Urban Research Theater company

9:30 PM tiana hemlock 7 min dance

9:50 PM Great Small Works

10:10 PM Jay stolar

10:30 PM The Living Theater

11:00 PM Bread and Puppet Theater/ Reno MC

11:30 PM jandthe9s

12:00 AM Mike Daisey

12:30 AM Kenny Wollesen's Sonic Massage

1:00 AM Dramatic Karaoke

1:00 AM Descent Artists- Gravity

1:30 AM Jesse Ricke 5min, UZIMON 10min, Tent Peg Theater 20min

2:00 AM Corporate Scary ghost stories

3am-5am The People Staged

5am- sunrise Kim Fraczek and tango dancers at dawn

7:30 AM Consensus Dance Jazzercise

8:00 AM OWS Puppet Guild

8:30AM reed mcgowan puppets

9:00 AM Open mic/ peoples staged

9:30 AM General Assembly

10:00 AM Aaron Landsman from Elevator Repair Service

10:30 AM Project Girl performance

10:30 AM Antigone

11:00 AM Tony Torn Family Show!

11:30 AM Radical Faeries and Sisters of Perpetual Indulgence morning ritual

12:00 PM Music Working Group

1:00 PM Kathleen Chalfant and Elliot Crown

1:10 PM Marina Tsaplina solo

1:20 PM Elliot Crown – Occupy Clown show (w/Marina, Mike deSeve, Elliot)

1:30 PM Marionette -Cosmic Bicycle Theater

1:30 PM Lopi LeRoe's student Debt performance piece

2:00 PM The Yes Men

2:20 PM THE TEAM

2:30 PM Iron Falcon

3:00 PM The Big Bank – A Musical

3:20 PM Adam Rapp one act and 10 min plays

4:00 PM Heelz on wheelz

4:15 PM April Yvette Thompson, Jessica Blank

4:30 PM Carlo Alban/Spanish songs-juggling

5:00 PM Judith Sloan, Yo Miss!

5:20 PM Yolanda Kay, Neo-Futurists

5:40 PM grand finale!Rocha dance/ Church of Stop Shopping sing the First Amendment

6:00PM END!
Popular in the Community