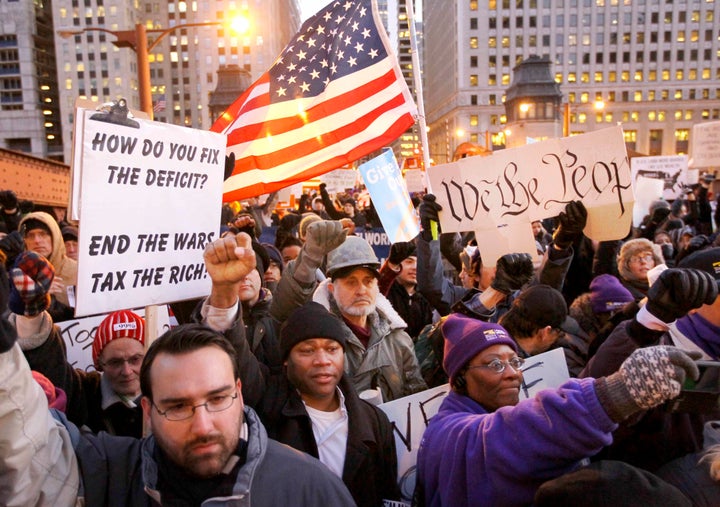 An activist coalition affiliated with Occupy Chicago on Monday launched a campaign against the harsh fines and restrictions Mayor Rahm Emanuel has announced for the upcoming G8 and NATO summits in the city in May.
Occupy the South Side and Occupy Rogers Park issued a notice to all fifty members of Chicago's City Council warning that any alderman's support of what they've coined Emanuel's "Sit Down and Shut Up" ordinance "will be met with strong and principled resistance in their respective communities."
The coalition said in a statement that "questions abound" regarding the ordinance, both when it comes to its scope and the veracity with which the mayor has called for its swift approval. They say that both the ordinance and the mayor's tactics with which he hopes to pass it "stand in stark contrast to Chicago's democratic values" and are urging council members to pledge to "stand against the Mayor's attempt to bully them into suppressing non-violent free speech in their communities."
Emanuel came under criticism as activists pointed out that new requirements initially said to only temporarily apply to the May summits would be the new law of the land in Chicago. The mayor, in response, claimed that he had misspoke and admitted that the new fines and requirements would, indeed, be permanent.
Meanwhile, the Chicago Police Department is continuing to gear up for the expected protests. As the Chicago Tribune reported late last week, CPD plans to switch officers to 12-hour shifts during the conferences. The U.S. Department of Homeland Security has already given the city some $55 million to prepare for the summits, some of which the mayor hopes will be used toward those officers' overtime pay.
Michael Shields, president of the Fraternal Order of Police, remained skeptical whether, even with the DHS support, Chicago police will be able to handle the sort of protests he anticipates.
"[T]hese aren't 14-year-old kids running wild downtown stealing iPhones," Shields told the Tribune. "These are people who travel around the world as professional anarchists and rioters."
"The more pugnacious the city gets, the more provocative it becomes," long-time Chicago activist Don Rose told NBC last week.
The City Council is expected to consider the new regulations during their next meeting on Jan. 18. Activists preparing to demonstrate against the summits have threatened to sue the city if the rules are approved.
Popular in the Community