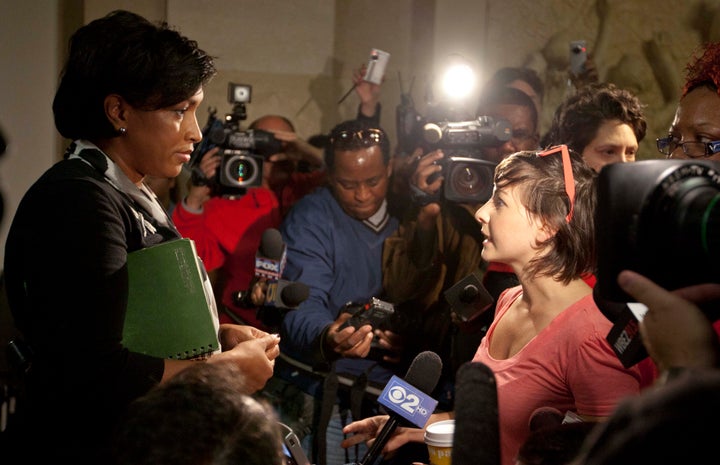 As promised, a group of nurses joined Occupy Chicago protesters outside of City Hall Monday to speak out against Saturday night's arrests in Grant Park.
Nurses who set up a first aid station near the park were among the 130 people arrested late Saturday into early Sunday, and some were held in Central District lockup for more than 20 hours.
"We were among the last protesters released, for no good reason that we can tell, except for they clearly knew when the media cameras had left," Jan Rodolfo, Midwest director for National Nurses United told the Chicago Tribune. "We were tearful and exhausted and shell shocked."
Dozens of nurses and other protesters showed up at City Hall about 10 a.m. Monday, where there was a confrontation between Mayor Rahm Emanuel's First Deputy Chief of Staff Felicia Davis.
In the build up to the confrontation Davis tried to speak to a single person out of a group of approximately 150, believing they should all be able to hear. Davis blamed Occupy Chicago for weeks of cancelled meetings and said she was not in a position to do anything about the arrests.

"It's very difficult to negotiate when the faces keep changing," said Davis. "I'm willing to sit down and have an open and respectful dialogue. I just need to know who the the real, appropriate, valid people are to have that happen."

"There's a balancing act," Emanuel said of the arrests Monday, according to NBC Chicago. "People have their first amendment right. It's protected and they're expressing their views. And I've expressed my understanding of those economic hardships while making sure the law is enforced."
Emanuel said he does not intend to drop charges against the protesters.
Some nurses and other activists were in jail until after 1 a.m. Monday. On their Twitter page, Occupy Chicago organizers complained of harsh treatment while in police custody. Some arrestees claim that they were unable to make their one phone call for more than 16 hours. Others said 30 men were left in a holding room with no toilet paper.
"I'm completed insulted by the way we were treated," Rodolfo told Progress Illinois. "Nurses would never treat patients the way we were treated last night in the jail. I believe there was a great deal of effort in the taunting, in general, to make it as punitive as possible, [like] he fact they were handing out mattresses on mainstream arrests, but our mattresses were confiscated. We were told a different set of rules applied us. We were told if we were uncomfortable we should have thought about that before we stayed in Grant Park."
Protesters told the Tribune Monday that free speech should not end at 11 p.m., and that the mayor should allow them to peacefully demonstrate without fear of arrest. Though news coverage has heavily focused on the Grant Park arrests in recent days, Occupy organizers want to make sure their message is not lost.
"Whether or not you agree with the arrests, the members of Occupy Chicago and National Nurses Union who were arrested Saturday night spent more time in jail for peaceably sitting in a park than any of the Wall Street criminals who ruined our economy, foreclosed the homes of thousands, and who continue to control our government through excessive corporate abuses," Occupy Chicago wrote on its Facebook page Monday.
WATCH NBC Chicago's coverage of Monday's protest here:


Related
Popular in the Community