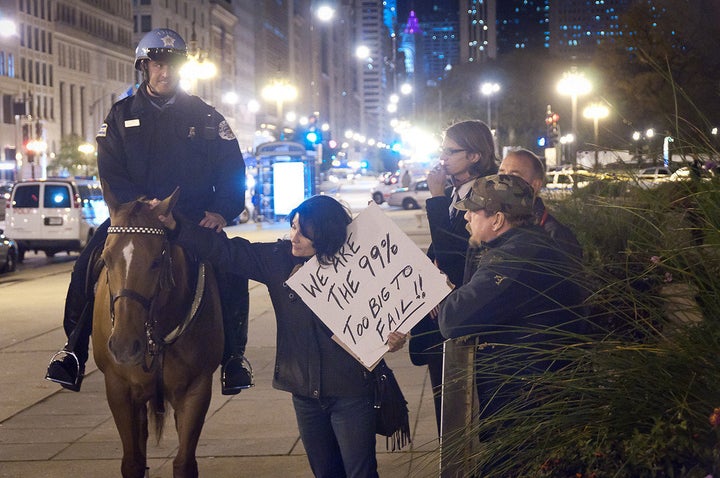 On Friday, October 21, 2011 at 1:30 p.m., fifty members representing Occupy Chicago hand delivered a petition to Mayor Rahm Emanuel's office in City Hall. The petition has already garnered 9,945 signatures since it was created last Sunday. It is written in response to the Chicago Police Department's arrest of around 175 peaceful demonstrators for a curfew violation last weekend.
The petition states the following: "Rahm Emanuel, stop the mass arrests of protesters in Grant Park. Respect their right to peacefully assemble, and allow them to have a base to protest from." The petition ends by urging Mayor Emanuel to rethink his approach to silencing the Occupy movement's presence in Chicago: "Don't let this end like 1968."
The Occupy Chicago demonstrations bear little resemblance to the legendarily violent clashes between Chicago Police and protesters during the 1968 Democratic Convention. The Occupy Chicago movement is committed to non-violent action, and until last weekend, no members had been arrested.
Last weekend's event, dubbed "Camp Out Chi" or "Take the Horse" by some, was an attempt to find a more permanent location to house Occupy Chicago in the upcoming winter months. A slew of oppressive ordinances prevent demonstrators from erecting a more sustainable encampment at the intersection of Jackson and LaSalle, the site of the group's ongoing protest.
Unlike the heavily regulated sidewalks near Jackson and LaSalle, demonstrators explain that Grant Park is "as unregulated as Wall Street" and would make an ideal site for an encampment if its 11:00 p.m. curfew were waived. Supporters of the movement have inundated the mayor's office with phone calls and emails asking for such a waiver.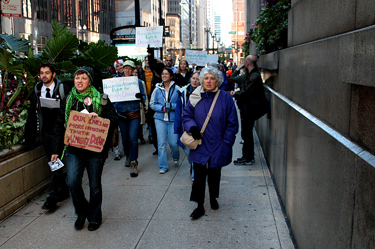 These efforts continued with Friday's "March to the Mayor." The march was spearheaded by Wyl Villacres, a charismatic spokesperson and author of the petition. Before the march, Villacre could be seen at a table in Daley Plaza coordinating the event. Dressed in a black jacket, button-down shirt, and tie, he juggled his cell phone while arranging the hundreds of pages containing supporters' signatures in Chicago's brisk fall winds.
The peaceful coalition convened at Daley Plaza at 12:30 p.m. and began a march to City Hall. The group -- consisting of a smattering of teachers, students, librarians, paralegals, and the retired -- marched smiling as they chanted the clunky slogan, "We want peaceful assembly rights for Occupy Chicago!"
Occupy Chicago's arguments about their constitutional right to free assembly were bolstered by a ruling earlier this week in Cincinnati. U.S. District Judge Susan Dlott blocked police from enforcing rules that prevent people from using Piatt Park after its scheduled closing time. According to Carrie Whitaker, Dlott called "for a 'standstill' on enforcing that rule [a 10:00 p.m. curfew] in the park."
Occupy Chicago marched into City Hall where they were greeted pleasantly by security personnel who directed them to available elevators. Once outside the Mayor's Office on the fifth floor, the group loudly echoed Villacres as he read the complete text of the cover letter and the petition. During the fifteen minute wait, the group also chanted, "Chicago Police need a raise!" and, of course, "We are the 99 percent!"
As expected, Rahm Emanuel did not appear. Instead, Andrés Orellana, Press Aide to the Mayor's Office emerged after having his lunch interrupted by the demonstrators. Before working as Press Aide, Orellana was a field organizer for the Emanuel election campaign.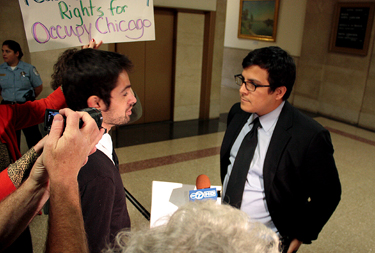 Orellana listened with a thoughtful expression as Villacres explained the intent of the petition and responded that he would pass this information along to the mayor. He distributed a handful of business cards, turned, and then vanished through a set of glass double doors. Somewhat satisfied, demonstrators returned to the streets.
Despite the onset of cold, rainy weather, Occupy Chicago persists. The Occupy movement worldwide is gaining breadth and strength as best practices are developed and shared across the Occupy community. It is a movement that Mayor Emanuel cannot simply ignore or arrest out of existence.
On Saturday, October 22nd, Occupy Chicago celebrates its one month anniversary and once again assert its constitutional right to free assembly. They have announced via Facebook the event, "The Occupation Will Continue!" In an official statement, Occupy Chicago says: "The 1st Amendment guarantees the American people the right to peaceably assemble. Tomorrow, we are going to use that right. Occupy Chicago calls on all local citizens to stand up and join us in this struggle. Our government is corrupt with money from corporate interests, and it is killing our democracy. America belongs to the people, and as the people, it is our responsibility to stand up and protect democracy when it is threatened."

Popular in the Community