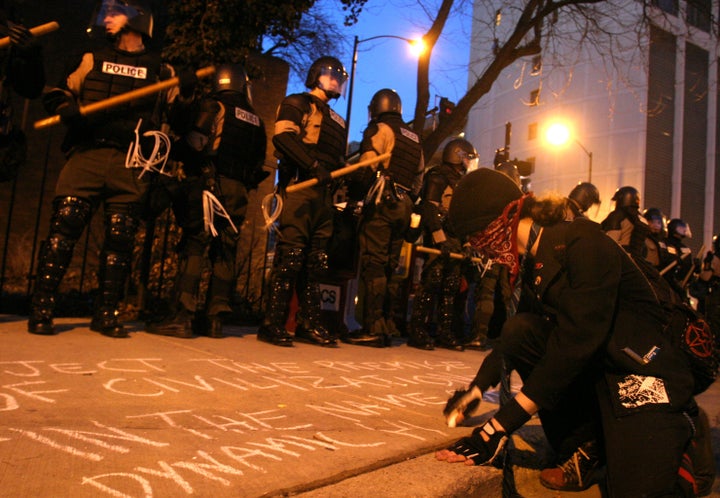 At approximately 10:40 p.m., Jack Amico, a supporter of Occupy Wall Street who had traveled to Chicago to take part in the anti-NATO demonstrations was allegedly injured by a Chicago police van.
Amico was one of as many as 1,000 demonstrators who had been marching through the financial district on Saturday night. The group stopped briefly near the intersection of W. Jackson Blvd. and LaSalle, the site of the the Chicago Board of Trade. By 10:40 p.m., the demonstration had moved further west along Jackson, near the bridge at South Wacker Drive. A large crowd of individuals were spread across the bridge when Chicago police van 6751 approached the with its blue lights on. Six individuals, some apparently recording video, block passage of the police vehicle as it chirps its siren. An individual near the middle of the crowd holds up both his hands and is bumped by the vehicle and appears to fall backwards.
It is unclear from video footage if the individual was run over by the van. However, a visibly shaken Natalie Wahlberg from Occupy Chicago, an eyewitness, explained near the scene that the police van suddenly accelerated and "pulled a man under." As the van passes, three demonstrators can be seen slapping its back doors with their hands. As this is happening, a crowd of Occupy medical personal and bystanders rush to Amico's aid who can be seen lying on the ground.
Several angles of the incident were recorded. Footage taken from the north side of Jackson shows a demonstrator being pushed by a police van and then moving out of the way. Conservative blogs have used this footage to claim that no one was injured and that supporters of the Occupy Movement have fabricated the incident. The individual being pushed by the van and stepping out of the way on the conservative blogs is not Jack Amico. Other angles show Amico being treated by Occupy medics and transported to an ambulance by Chicago police.
The victim was admitted to Northwestern Memorial Hospital and was treated and released into police custody during the night. According to @OWSBC, Jack Amico was released from police custody with no charges around 7:45 a.m. on Sunday, May 20, 2012.
Demonstrator Knocked Down as He Tries to Block Van: Around :25 seconds into the video, you can see an individual fall backwards as the van continues driving.
CBS News Reports on Incident: This video shows clear footage of Jack Amico being wheeled and loaded into the ambulance.
Victim Moved by Chicago Police: Jack Amico in transported in a wheel chair to an awaiting ambulance by Chicago police
Chicago Police Van Pushes Through Crowd: (View from South Side) At approximately 10:40 p.m., a Chicago police van forced its way through a crowd.