As Occupy Chicago nears its second month, its visible presence on the streets may have diminished, but its influence and reach has grown.
Three weeks ago, Chicago police evicted and arrested supporters of Occupy Chicago in Grant Park for the second time. Unlike other cities where demonstrations have been suppressed violently with batons, tear gas, rubber bullets, and concussion grenades, Occupy Chicago's encampment was dismantled without a single instance of violence. A round of failed talks with the Mayor's Office ensued, and Occupy Chicago decided not to pursue a permanent encampment downtown. Instead, they continued to maintain a 24-hour presence at the intersection of Jackson and LaSalle and worked to strengthen their outreach into the community.
Since Occupy Chicago's eviction, national attention has drifted elsewhere. Drawn to dramatic scenes of officers in riot gear standing toe-to-toe with thousands of demonstrators, media representations have highlighted "clashes" with police. Likewise, a series of incidents on the East and West Coasts -- a sexual assault at Zuccotti Park in New York, a shooting near the camp in Oakland, California, two drug overdoses in Portland, Oregon, and the suicide of a veteran in Burlington, Vermont -- have fueled the perception that the encampments are a threat to public safety. Attention to the economic and social issues raised by the Occupy Movement has been diverted.
However, unburdened by the logistics of operating and defending an encampment, Occupy Chicago is blossoming with successful acts of outreach, education, and direct action.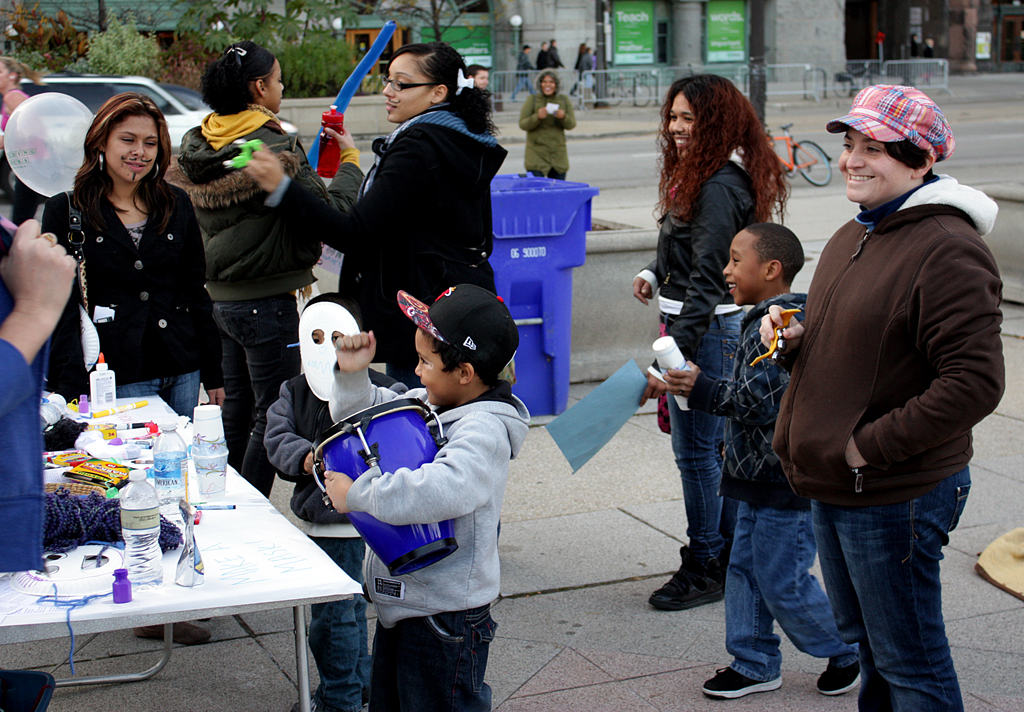 Outreach
Occupy Chicago has reached out to families. On November 5, 2011, in conjunction with the International Bedlam Society, they hosted "Keep Your Children Occupied" in Chicago's Grant Park. The family-friendly event featured "face painting, coloring, bubbles, hula hoops, live music, and sing-alongs."
Occupy Chicago has also reached out to area universities: On October 14, 2011, representatives discussed the history of the Occupy Movement at the University of Chicago. On November 10, 2011, Micah Philbrook and Josh Kaunert shared their personal experiences about Occupy Chicago at Calumet College of St. Joseph in Whiting, Indiana. On November 22, 2011 Occupy Chicago representatives will host an education forum about the Occupy Movement at the Political Science Honor Society and Politics Club at Northeastern Illinois University.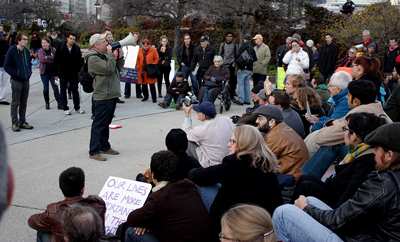 Education
Aside from university outreach, Occupy Chicago has hosted numerous teach-ins on a broad range of subjects. For example, 150 people attended a discussion by Ben Joravsky from The Chicago Reader. Joravsky explained the history and current state of Chicago's Tax Increment Financing (TIF) program. Although TIF funds are to be "used to build and repair roads and infrastructure, clean polluted land and put vacant properties back to productive use," Occupy Chicago highlights the fact that the city has promised $15 million in TIF funds to the Chicago Mercantile Exchange as an inducement to remain in the city. Likewise, the Hyatt International Corporation has also requested TIF financing to support the construction of a lavish hotel complex in Hyde Park on Chicago's near South Side. Occupy Chicago and others have asked that TIF funds instead be allocated for education and infrastructure in struggling neighborhoods.
Direct Action
Occupy Chicago's high profile direct actions bring their message to wider audience. On Thursday, November 3, 2011, members of Occupy Chicago "mic checked" union-busting Wisconsin Governor Scott Walker at an upscale breakfast in the Union League Club of Chicago. Demonstrators interrupted Walker's speech and expressed disgust at his attacks on public workers' collective bargaining rights: "Governor Walker has vilified unions and insulted the 99 percent who depend on living wages and adequate benefits to support their families." The video of this event has been viewed nearly 300,000 times.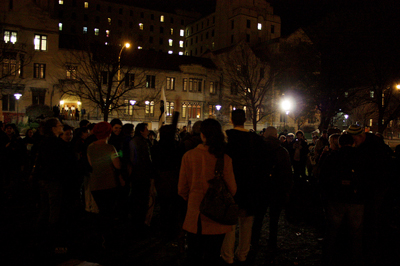 Occupy Chicago can also claim victory for postponing an event at the University of Chicago featuring former U.S. Secretary of State Condoleezza Rice and former U.S. Treasury Secretary Henry M. Paulson Junior. The University of Chicago unexpectedly announced the postponement on Monday, November 14, 2011, the same day of the scheduled event. Ire about Paulson and Rice's appearance elicited a campus wide email from administrators a day earlier that warned students not to disrupt the event. Monday evening, over 200 people gathered on the chilly, muddy Midway of the University of Chicago. Students, community leaders, and members of Occupy Chicago denounced Paulson and Rice's past behavior and celebrated the postponement.
While these recent actions have brought renewed attention Chicago's chapter of the Occupy Movement, a real test of their influence will come on November 21, 2011 when SB 405 comes up for a vote. This legislation is tailor made for opposition by the occupiers. Sponsored by Senate President John Cullerton and championed by Rahm Emanuel, SB 405 cuts the taxes on electronic traders by as much as a third and would give the Chicago Mercantile Exchange (CME) and the Chicago Board of Exchange (CBOE) an estimated $120 million dollars. This giveaway to the CME of CBOE seems particularly egregious in the face of Emanuel's budget cuts which will directly affect the lives of working class Chicagoans. His budget will close three police stations and numerous mental health clinics, cut funding to the CTA, and increase fees for dog and SUV owners. Can Occupy Chicago energize the public to oppose this legislation before it passes?
Occupy Chicago is going strong as it prepares for its two month anniversary. The group has raised over $20,000, has over 36,000 fans on Facebook, and over 21,000 followers on Twitter. This occupation is not leaving.

Calling all HuffPost superfans!
Sign up for membership to become a founding member and help shape HuffPost's next chapter