Saturday, April 7, 2012 marked Occupy Chicago's official reemergence after a milder than expected winter. The citywide day of action, known as "Take the Spring," marked the official launch of the "Chicago Spring," a two-month long series of actions that will culminate in the NATO protests during the weekend of May 19-20, 2012. The day was divided into three distinct parts. The morning featured 13 events throughout the city and in adjacent suburbs. These events addressed pressing neighborhood concerns and offered attendees an opportunity to participate in discussions about these issues. The afternoon consisted of a brief rally at Jackson and LaSalle, a march through downtown, and an extended festival that highlighted the diverse coalition assembled by Occupy Chicago. The evening concluded with a free meal and the first outdoor General Assembly since late fall 2011. The crowd dissipated from over 2000 at its peak to a die-hard group of 300 who chanted, cheered and danced under the shadow of the "horse" in Grant Park's Congress Plaza as the sun set.
Taking Action
My morning began at the headquarters of Jesse Jackson's Rainbow PUSH Coalition in the Kenwood neighborhood. Rainbow PUSH hosts a weekly Saturday Morning Forum that is a "unique blend of political rally, entertainment, information sharing, and church service." Representatives of Occupy Chicago, Occupy for Prisoners, and Occupy for Immigrants' Rights appeared at a panel discussion about the Occupy Movement moderated by Reverand Jesse Jackson.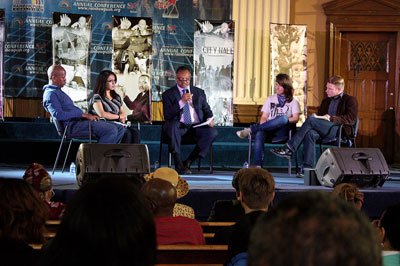 Inside Rainbow PUSH headquarters is a large hall. Corinthian columns line both walls and sunlight pours through multicolored stained glass windows. The columns continue behind the combination stage and pulpit. Above the stage in gold, capital letters it reads, "Know Before Whom Thou Standest." A crowd of roughly two hundred is ushered to their seats in rows nearest the front by a handful of helpful volunteers. Musicians warm up quietly while the television crew positions microphones and adjusts lighting. Jesse Jackson appears off stage wearing a light blue suit and conversing with a few staff members. The event begins. Energetic music swirls in the cacophonous space. Acclaimed Gospel musician Moses Tyson, Jr. glides his hands effortlessly across a Hammond B3 organ and the crowd claps and sways in concert.
Issues of social justice pervade the morning's discussion. A minister from an extreme south suburb, Monee, describes the positive economic impact a long-proposed, third Chicago airport in Peotone, Illinois could have on the lives of citizens. Along with economic issues, various speakers discuss failures of the American justice system. Although the Trayvon Martin case is mentioned, a case closer to home dominates: the recent sentencing of Howard Morgan. Morgan's wife of 35 years stands on stage as his story is told. Morgan, an ex-Chicago police officer and off-duty detective for the Burlington Northern Santa Fe railroad, was shot 28 times by four white officers after a routine traffic stop on February 21, 2005. After miraculously surviving, the 61-year-old Morgan was sentenced last week to 40 years in prison.
The panel discussion moderated by Jesse Jackson addressed similar issues. Panelists articulated thoughtful arguments against mass incarceration, mass deportations and privatization of public schools. The representatives from Occupy Chicago, Andy Manos and Kyla Bourne, spoke humbly about the group's desire to "get involved with the struggles that are already underway." The panel's overlapping interests suggest that politically formidable coalitions are developing throughout Chicago that shatter long accepted paradigms. New alliances could make a reelection bid by Mayor Emanuel more difficult. Even at this early stage of his term, it seems unlikely that Mayor Emanuel will coast to reelection as easily as his predecessor, former Mayor Daley.
Another dozen events occurred in the morning throughout the city. In Logan Square, protesters lampooned Chicago, and other cash-strapped cities who sell public assets to private companies to resolve short-term budget shortfalls. The mock "austerity auction" put the historic symbols of Logan Square and the Chicago's Northwest Side up for sale to the highest bidder. In Pilsen, on the near-West Side, supporters of "Occupy el Barrio" held a demonstration called "Carnaval del Barrio." More than 50 people, many of them youth, marched from Benito Juárez High School to the neighborhood center, Teotihuacan. Dressed in costumes and carrying signs, they protested poor air quality, the closing of an area library, and profit made from immigrant detention. Demonstrators wheeled a sculpture of a pig representing the greed of the rich, and they smashed a pig-shaped piñata filled with chocolate coins wrapped in gold foil. In the Austin neighborhood, the South Austin Coalition held an action to protect families from unjust foreclosure at the hands of BMO Harris Bank. Downtown, the American Friends Service Committee (AFSC) held a workshop on the theory and the practice of nonviolence. This training taught those interested in participating in non-violent civil disobedience how to avoid mistakes that could lead to potential injury or arrest.
Raising Awareness
In the afternoon, people converged for a rally at the intersection of Jackson and LaSalle near the Federal Reserve Bank of Chicago and the Chicago Board of Exchange. The traditional repertoire of signs were there along with a few new additions. One sign read, "Speed Cam Tickets: Blame Rahm." The group began a snaking march that detoured briefly to the Metropolitan Correctional Center in downtown. Protesters decried grossly disproportionate incarceration rates, the detention of undocumented immigrants, and the growing number of for-profit prisons. The marchers quickly crossed Michigan Avenue traveling along East Jackson Drive until they arrived at Butler Field in Grant Park.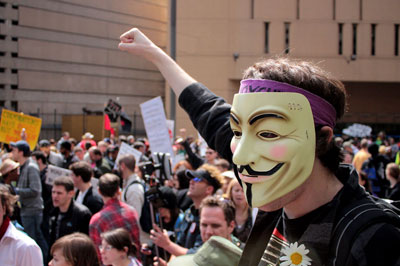 For over six months, Occupy Chicago participants have gathered almost solely on the unforgiving concrete of Chicago's public streets and parks, but today offered something new. A crisp Lake Michigan breeze blew in from the East while supporters of Occupy Chicago conversed, learned, danced, sang, prayed, meditated, and performed on the soft green turf of Butler Field.
Organizers divided the field into subsections that housed a variety of educational and artistic activities. Some attendees huddled close in corners of the park to overhear informative speakers while others perambulated from information booths, to guest lectures, to dramatic performances, and to the centerpiece art installation, "The Occupy Chicago Wishing Tree." The ten-foot tall artificial tree is composed of a wooden frame surrounded by wire and overlaid with papier-mâché. Visitors attach green construction paper leaves inscribed with their wishes for the future to it. As visitors tie their wishes to the tree in Butler Field, a virtual version of it is updated online. The wishes are also fed simultaneously to Twitter. A sampling of the wishes comports with the ambitious idealism of the Occupy Movement: "for the common good over political self-interest," "for the human race to thrive," "for no more evictions," and "for the end of austerity." Others are less lofty: "to be able to pay off my student loans," "living wages for the disabled" and "literacy for all."
A glance across Butler Field exposes why hasty generalizations about those who support the Occupy Movement fail to stick. Like the Tea Party, which attracted individuals in period dress or with tea bags attached to their head, the Occupy Movement offers its share of spectacle. Cross-legged individuals publicly meditate, Hare Krishna devotees slap tambourines and sing, and a lone unicyclist wheels by oblivious to everything except his own balance. An obligatory drum circle pounds away while the noted performance artist, satirist and long-time presidential candidate Vermin Supreme facetiously bellows through a megaphone while wearing a long black, rubber boot on his head.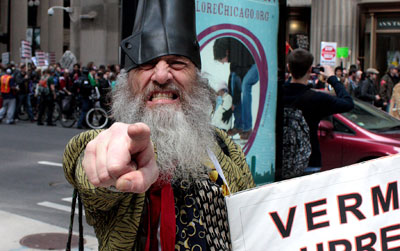 Not far away, however, other individuals sit and converse about ways to resolve pressing issues of economic and social justice. Tiny discourse communities spring up on unfurled blankets and in circles of unfolded lawn chairs. People listen earnestly to hour-long teach-ins and, between speakers, interrogate a range of issues. Some topics include "Non-Violent Direct Action Against Oppression," "Everything You Wanted to Know About NATO But Were Afraid to Ask," and "Education, Healthcare, and Housing Are Human Rights!"  The teach-in presentations incorporate the work of dozens of community organizations, activists, freelance journalists and concerned individuals who plan actions designed to achieve broad social change. No single issue dominates the discussion: people discuss gang violence, police brutality, unemployment, underemployment, single-payer health care, the war in Afghanistan, mental health care, education, immigration reform, mass incarceration, foreclosures, evictions, financial reform and other topics.
Overall, the scene in Butler Field was a disorienting blend of street festival, political rally and summer picnic. It felt at once familiar, yet with an amalgam of participants that is difficult to articulate. The closest approximation might be if Nader's Raiders decided to conduct their meetings in the midst of the Haight-Ashbury district in the summer of 1967. Then, add to this mix, more than a smattering of Trader Joe's customers.
At 5:00 p.m., the group relocated to Congress Plaza for a free dinner provided by the Chicago Chapter of Food Not Bombs followed by a General Assembly meeting.
Measuring Success
By any measure, Occupy Chicago's "Take the Spring" was a success:
It raised public awareness. The convocation in Butler Field allowed people to mingle, converse and network. It created a safe space where curious individuals could join the conversation and learn more about the Occupy Movement.
It reinvigorated the Occupy Chicago. The march and rally reaffirmed the social bonds of Occupy Chicago supporters and fortified feelings of optimism and empowerment. It broadened the coalition. Community groups that normally operate in separate geographic and discursive spheres connected on a wide range of issues.
It demonstrated that Occupy Chicago possesses tremendous creative, technical and organizational prowess. Evelyn DeHais of Occupy Chicago explained that a single person originally conceived the idea for "Take the Spring." Then, three people proposed the event at a General Assembly meeting last fall. From there, a number of individuals coordinated with committees within the organization to plan, promote and execute the event. It would have been inconceivable six months ago that a rag-tag group of occupiers sitting in the rain outside LaSalle and Jackson could pull off an event of this magnitude. Occupy Chicago's model of "direct democracy" appears to be working.
Lastly, it revealed Occupy Chicago's savvy understanding of how to garner media attention. The morning actions provided camera-ready locations from which news agencies could report. The afternoon march yielded "action" footage replete with noisy chants, while the events at Butler Field offered a colorful backdrop for follow-up reporting. It was also beneficial to include a high profile speaker, Reverend Jesse Jackson.
The group's next major action is scheduled for May Day, May 1, 2012.
REAL LIFE. REAL NEWS. REAL VOICES.
Help us tell more of the stories that matter from voices that too often remain unheard.