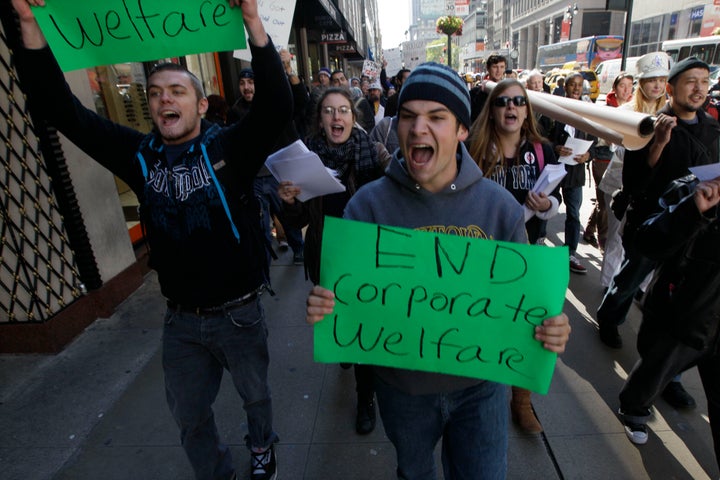 NEW YORK -- College students at more than 70 campuses around the country will hold teach-ins late Wednesday and on Thursday as a way of building awareness and showing solidarity with the Occupy Wall Street movement.
Over the past month, Occupy Colleges, a student-led initiative based in Los Angeles, has organized three acts of nationwide support.
"The whole idea behind the teach-ins is to bring students and their teachers together to start talking about not just the issues, but some answers," said Natalia Abrams, 31, one of Occupy Colleges' organizers. "This is all about gaining momentum and building consciousness."
Students at Occidental College in Los Angeles will gather Wednesday at lunchtime in the main quad to hear a range of speakers address such topics as corporate greed, community organizing and student debt forgiveness.
"There's a growing sense that this is the movement we've been waiting for," said Guido Girgenti, 19, a sophomore at Occidental. He helped organize both the campus-wide Oct. 13 walkout and Wednesday's teach-in. "Students are the ones who are at a stage in their lives where they can take time off to get arrested during acts of civil disobedience, to go to marches, to organize a movement."
In addition to organizing events on campus, Girgenti and a handful of his classmates have participated in Occupy Los Angeles. Every Saturday, students from eight private, public and community colleges gather at City Hall in downtown L.A. to hold cross-campus assemblies.
For Girgenti and many of the student activists interviewed, the issues raised by the Occupy Wall Street movement feel deeply personal in nature.
"I fall into a group of students who come from a strong middle-class background that are now seeing the American Dream of middle-class living slowly slipping away from them," said Girgenti, who grew up in Fort Greene, Brooklyn. "Like myself, a large portion of middle-class private university students are now seeing that their self-interest is deeply entwined with the self-interest of working-class students at public universities and community colleges."
While students may hail from different backgrounds, Girgenti sees the future direction of the student-led movement as hinging upon the acceptance of a shared vision and destiny -- especially during a time when many young people struggle to gain a permanent foothold in a down economy.
In New York, college students at both public and private colleges will gather in Washington Square Park for a rally at 4 p.m Wednesday. While some Columbia University activists are staging a formal walkout from class in order to attend, several New York University and City College of New York students are planning to assemble in the park later this afternoon.
Meanwhile, Ericka Hoffman, a 26-year-old junior at California State University, Bakersfield, sees the Occupy Wall Street movement as "justice for public education."
Hoffman, a sociology major, is helping to organize her campus teach-in later Wednesday. From 10 a.m. to 6 p.m., students will gather in the main quad as five professors give talks and answer questions.
Besides today's teach-in, Hoffman has helped organize protests outside the president's office over the past two weeks. Hoffman said students are taking issue with the chancellor's hefty paycheck, in addition to rising tuition rates and corporate membership on the school's board of trustees.
On Thursday, Erik de Jesus, a junior at the University of South Florida in Tampa, is helping to organize a campuswide teach-in at noon. In terms of turnout, de Jesus is hoping for a couple of thousand students, though he concedes that even "a couple hundred will do."
"Tuition is going up and the quality of education isn't getting better," said de Jesus, an anthropology major, who will have about $40,000 in student loan debt come graduation day. "I see this as an opportunity to do something about it."
Meanwhile, at Stetson University in DeLand, Fla., Tyce Herrman is helping organize his campus' first show of support. During Thursday evening's teach-in, Herrman hopes to help convey to his fellow student body "exactly what the Occupy Wall Street movement is all about."
Herrman, a 21-year-old environmental studies and philosophy major, grew up in an upper-middle-class home in Verona, Ill. At Stetson, a private school, many of his fellow students hail from similar backgrounds.
Even still, he believes his relative privilege doesn't discount him from taking an active role in the movement.
"Just because I've had the good fortune of not having to worry too much about paying for college, it doesn't mean that I'm not qualified to be a part of that conversation," said Herrman, who will have amassed about $15,000 in student loan debt come next spring. "Lately, there's been a real shift on social issues and activism around income inequality and these events are about getting that energy simmering, it's about getting that spark lit."
Calling all HuffPost superfans!
Sign up for membership to become a founding member and help shape HuffPost's next chapter