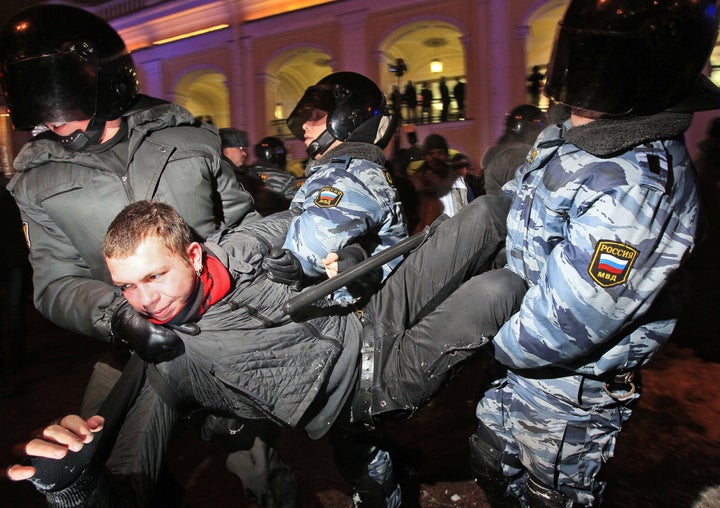 So as far as the Twittersphere is concerned, Occupy has come to Moscow. But one thing is for certain -- this isn't Occupy as we know it.
Following violent clashes between riot police and protesters last Sunday, the mood in Moscow has changed markedly. Police have stepped up their efforts to contain and disperse street protests, including through mass arrests, while the protesters themselves have taken to drifting around the city in order to evade their pursuers.
This game of cat and mouse has allowed the opposition to maintain a near permanent street presence over the past few days, though this is predominantly due to the vastly reduced numbers. From around 20,000 Russians who took part in Sunday's protest, only around 500-1000 activists have joined efforts to set up a camp in the capital.
Nevertheless a camp has finally been established on Chistye Prudy boulevard under the statue of Abai Kunanbaev, a 19th-century Kazakh poet. At the time of writing #оккупайабай (#OccupyAbay) was the second highest trending topic on Russian twitter.
While the protest camp in the city center has obvious links to earlier Occupy camps in Zuccotti Park and outside St Paul's cathedral, the Moscow opposition movement seem only to be similar in form not content. Both may lay claim to represent the majority of their fellow citizens, but the aims of fair elections and Putin's exit are hardly synonymous with a re-balancing of capitalism.
Indeed the ability of Russia's protests to shrug off labels such as "Russian Spring/Winter" was a defining characteristic of the early stages of the movement. Nationalists who called for a revolution at protest gatherings were roundly booed by their audience and no doubt the falling numbers since Sunday are partially a response to the radicalization of an enthusiastic minority.
I do not share the pessimism of some commentators predicting that Putin's inauguration marks the beginning of an inevitable decline of Russia's newfound opposition spirit. Embracing Occupy as a slogan at this stage, however, looks a little like cynical headline grabbing at the expense of strategic thinking.
Worryingly, the police in Moscow seem in no mood to indulge this latest stunt. If the last few days are a gauge then further standoffs with riot police followed by mass arrests should be expected (indeed many of the protesters now greet each other with "How many times have you been arrested?").
That said, peaceful protest is a right that must be supported irrespective of any reservations we may have about the wisdom of such action. In that regard the Chistye Prudy camp deserves our attention.
Yet we should not get caught up in the belief that just because we can't see instant results, progress is not being made. The days of mass protests across Russia may have passed for the moment but the possibility of their return will concern the new president, who saw no such public displays of dissatisfaction during his previous eight years in office.
Though the position of the players may barely have shifted, the rules of the game have changed.
REAL LIFE. REAL NEWS. REAL VOICES.
Help us tell more of the stories that matter from voices that too often remain unheard.