WASHINGTON -- U.S. Park Police arrested more than 30 people on Sunday after a wooden structure was erected in McPherson Square, the downtown park that has been home to an Occupy Wall Street-inspired encampment since Oct 1.

According to The Washington Post, police gave protesters a one-hour deadline to dismantle the structure and started making arrests shortly before noon. A nine-hour standoff started after protesters refused to stand down.
Police scaled the structure around 6:40 p.m. in an attempt to detain the protesters on the roof. By 7 p.m., at least two of those protesters had voluntarily jumped into an inflatable bag after discussions with police.
Two others, including local artist Adrian Parsons, were removed by police in a cherry picker around 7:40 p.m. The lone protester, who at one point urinated as police attempted to detain him, was finally brought down from the roof around 8:30 p.m.
Police began demolishing the "People's Pavilion" about 45 minutes later.
The protesters built the "structure-like tent" in about four hours Saturday night. Some of them were calling it a "barn raising."

Several occupiers said the group spent $1,400 on the wood. The structure was designed by an architect and built with help of donated time from someone from Annapolis.
During the course of Sunday afternoon, police did not move to evict the whole Occupy DC encampment in McPherson Square, just those at the wooden structure -- constructed from plywood and 2x4s and shaped like a pentagon.
Insulation, built out of water bottles, had been planned to be installed to help winterize the structure. Park Police, according to protesters, ripped down a tarp that had been covering the structure.
As documented in an Occupy DC live video feed, protesters remained in McPherson Square into the evening, periodically chanting and calling for the "unity structure" to remain. The structure was built as a shelter to host General Assembly gatherings and teach-ins.
Police, including mounted units, were deployed to the park and searched tents with dogs, according to thePost. Streets around McPherson Square were closed into Sunday evening as police positioned themselves around the "People's Pavilion" inside the park and pushed other protesters in the square away from it.
At approximately 3:05 p.m., protesters were able to throw a bag of clothes to other protesters who are sitting on the structure's roof. Later, police assembled barricades at the park.
After reports that members of the media had been asked to leave the park and relocate across the street, protesters in McPherson Square began chanting "media stay, media stay" around 3:40 p.m.
According to a press release from the Occupy DC media team, an Occupy protester, Robert Stephens, said:
"In a culture and city with chronic homelessness and foreclosures, this structure is a symbol of what people working together under principles of mutual aid can accomplish with limited time and resources. The police response demonstrates that our system is not committed to building up -- they're only concerned with tearing down."
Around 4:40 p.m., a member of the Occupy DC negotiating team reported back to the assembled protesters, according to the live video stream from the park: "We are not backing down from the structure," the unidentified Occupy protester said, adding that the group would make "a good-faith effort" to allow a safety inspection of the wooden structure.
With the sun setting by 5 p.m, police remained outside the wooden structure.
A safety inspector quickly examined the structure and posted an orange "Danger" stickers. Protesters later climbed back on the roof, and called for an independent building inspector to assess the structure's safety.
By 5:45 p.m., police delivered three warnings and soon made additional arrests at the structure. Six protesters remained on the roof as of 6 p.m. but there had been no concerted efforts to remove them until evening.
By 6:25 p.m., police brought in an inflatable bag to the structure. A type of "armored" vehicle approached the site which allowed police officers to better access the roof.
Police climbed on the roof around 6:40 p.m. in an apparent attempt to detain the protesters. Local artist Adrian Parsons, one of the protesters on the roof, waved an American flag and District of Columbia flag. Protesters then chanted "No Taxation Without Representation," recognizing the capital city's unequal voting rights in Congress.
Two other protesters, including Parsons, were removed by police in a cherry picker around 7:40 p.m. One "Rooftop Revolutionary" remained, according to a videographer broadcasting live from McPherson Square. That protester, according to Craig, urinated from the roof.
The last protester, prodded in the stomach with a police baton, remained on the structure, gripping beams. As officers moved to detain him, protesters chanted: "This is what a patriot looks like." Police threw an American flag from the structure around 8:20 p.m., according to the live video stream, but it was returned to the protesters later.
Just before 8:30 p.m., police appeared to have gained physical control of the lone protester, but he jumped to get a better grip, wrapping his legs more firmly around the structure. Police were able to get the man on the ladder and into custody shortly after 8:30 p.m.
Around 9:15 p.m., police began demolishing the structure and removed barricades that had been assembled earlier in the day. Parts of the square remained inaccessible to protesters of 10:30 p.m. as police searched tents.
Related
Before You Go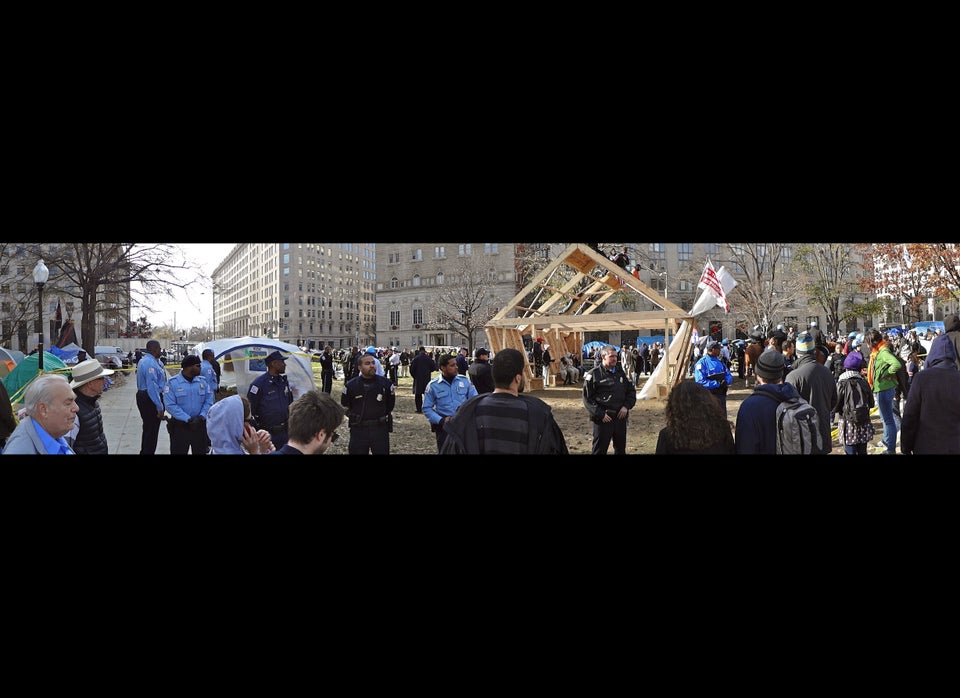 Occupy DC Protesters Prepare for Arrest on Roof of New Structure
Popular in the Community