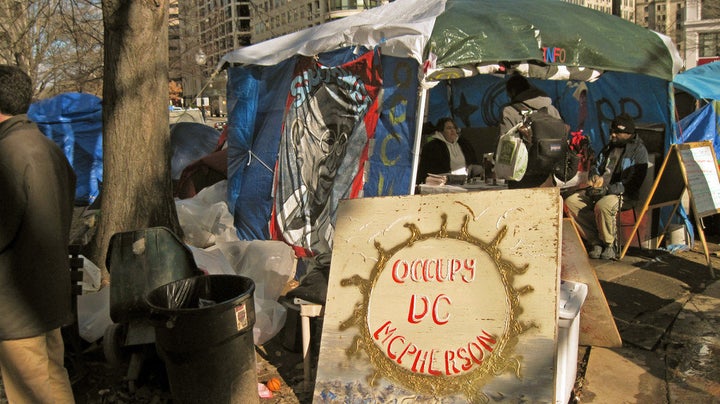 WASHINGTON -- Occupy DC has filed for an injunction that would permanently bar the government from dismantling the tent city in McPherson Square, where Occupy DC has been camped out since Oct. 1.
Interestingly, the complaint itself does not touch on the First Amendment, though a related memorandum, also filed by the Occupy DC protesters on Wednesday, makes the case that the McPherson Square occupation is both protected by the First Amendment and, seemingly, that it is not:
Consistent with National Park Service (hereinafter "NPS") regulations and as is their right under the First Amendment, Women Strike for Peace v. Morton, 472 F.2d 1273 (D.C. Cir. 1972)(per curiam), Plaintiffs erected symbolic tents in McPherson Square. Should Plaintiffs sleep in the tents overnight or otherwise violate the provisions of 362 CFR sec. 7.96(g)(vi) (2011) (hereinafter "camping regulation") by camping in McPherson Square, they would be subject to arrest. This suit does not seek to prohibit such hypothetical arrests as unconstitutional under the First Amendment. Such an argument would be foreclosed by the Supreme Court's decision in Clark v. Community for Creative Non-Violence, 468 U.S. 288, 289 (1984).
Also interesting is the complaint's description of what the tents in McPherson Square are meant to be -- more than just housing, and more than just the physical manifestation of the Occupy protest, the occupied park is a display of the world that the Occupy demonstrators are trying to create with their protest:
The tent city is not merely a symbol, but functions as a model community demonstrating the protesters' vision of a more just and equal society. Physically occupying D.C. is the only effective manner in which Occupy DC members can express
their message of taking back the city to create a more just, economically egalitarian society.
Demonstrators shut down their camp's kitchen for cleaning on Tuesday, and hope to reopen after another inspection on Thursday. The inspection was premised on the city's concern about rats and about the campers' well-being during the recent cold winter weather.
Occupy DC's request for a permanent injunction comes on the heels of an important legal victory secured by Occupy DC in early December when U.S. District Judge James Boasberg ordered that, absent "exigent circumstances," protesters must be given 24-hour notice if the government "intends to enforce its regulations prohibiting camping or sleeping in McPherson Square."
The government has until Jan. 17 to file its response to Occupy DC's request for the permanent injunction. A hearing before Boasberg has been set for the very dead of winter: Jan. 31.
CORRECTION: This post originally reported that the application for the permanent injunction was filed on Tuesday. It was filed early Wednesday morning.
Flickr photo by majunzk, used under a Creative Commons license.
RELATED VIDEO: Look for McPherson Square in the video for Thievery Corporation's pro-Occupy song "Unified Tribes (feat. Mr. Lif)"