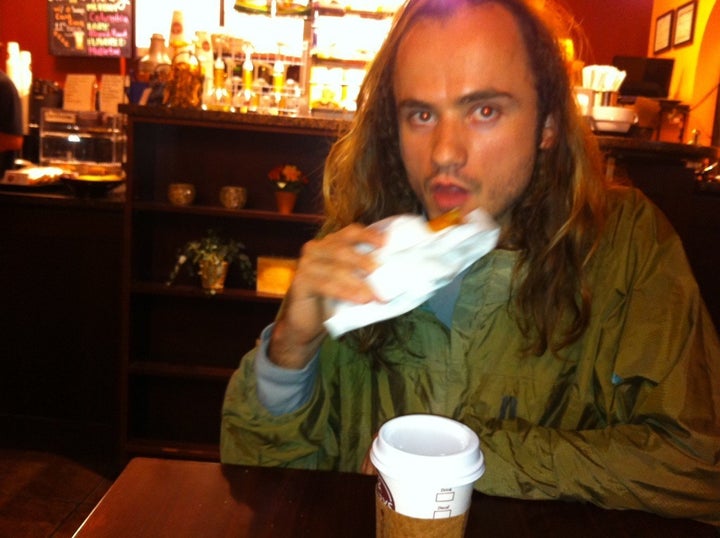 For now, Parsons, who has been living in Occupy DC's downtown D.C. encampment for more than two months, is eating as many cheese danish as he wants -- and pasta and anything else he's in the mood for. But on Thursday at noon -- "That's a tentative time," he says -- the tall and already quite skinny performance artist begins a hunger strike for D.C. voting rights that could go on for a long time.
"I'm eating a lot of ice cream," he says.
Parsons and three others -- the hunger strike is not an Occupy DC action, but the would-be strikers are all occupiers -- will be asking for three things as a condition of ending their strike: D.C. budget autonomy, legislative autonomy and voting rights. Currently, the city's budget must be approved by Congress and the president, and its legislation must be reviewed by Congress. The District has no representation in the Senate and only nonvoting representation in the House.
The strikers, who like many others in the nation's capital see D.C. autonomy and voting rights as a civil rights issue, have an initial strategy: In a letter they plan to send out Thursday, they will be demanding a meeting with House Oversight Committee Chairman Darrell Issa (R-Calif.), who recently introduced a bill that would give the District greater autonomy over its budget. But the bill comes with a catch -- a rider restricting local funding for abortions. This past April, 44 D.C. voting rights demonstrators, including D.C. Mayor Vincent Gray, were arrested while protesting congressional restrictions on the District's use of its own funds to pay for abortions. D.C.'s nonvoting representative, Del. Eleanor Holmes Norton (D), along with Gray and D.C. Council Chairman Kwame Brown, have come out against Issa's legislation because of the abortion restrictions.
Parsons opposes those restrictions, too. At the strikers' meeting with Issa -- which they hope will happen within the first five days of the strike while they are still "lucid," says Parsons -- they'll ask him to reintroduce the D.C. autonomy bill "without the riders."
But even if they have the meeting and even if Issa introduces a riderless autonomy bill, the strike won't end. Parsons says the strike will continue -- livestreamed 24/7 except when the strikers leave McPherson Square to meet with members of Congress -- until legislation granting D.C. autonomy over its laws and budget and giving D.C. voting representation in Congress is enacted.
"We want to see these enacted. If the budget autonomy isn't there, legislative autonomy isn't there and the D.C. vote isn't present, then we won't eat," he says. "This is one of those last hurdles. It's essentially disenfranchisement. The suffragettes used the same tactics."
There are obstacles. For one, even if the hunger strikers meet with success in the House, Parsons says they haven't yet devised a strategy for handling their issues in the Senate. For another, the struggle for D.C. autonomy has been going on for more than 200 years, with only incremental progress. Parsons isn't worried; he's not in a hurry.
"The hunger strike has no time cutoff," he says. "We plan to be serious, and we plan to seriously ask for these three things."
D.C. Shadow Sen. Paul Strauss, himself a longtime advocate for D.C. autonomy and voting rights, says that it's possible the meeting with Issa could happen, but that it's "a little tougher to say" what other impact a hunger strike will have. "Full voting rights has been a struggle since 1801," Strauss wrote in an email. "It's certainly a fresh approach and I applaud his dedication. Heck -- I can barely make it through Yom Kippur."
RELATED VIDEO: Shadow Sen. Paul Strauss and actress Hayden Panettiere push for D.C. voting rights.

Calling all HuffPost superfans!
Sign up for membership to become a founding member and help shape HuffPost's next chapter