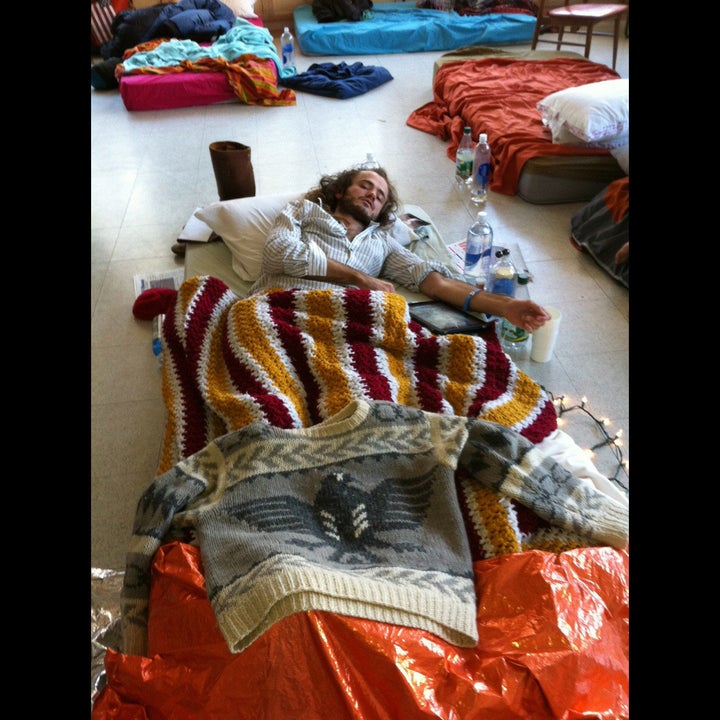 Adrian Parsons, Sam Jewler, Kelly Mears and Joe Gray, all members of the Occupy DC protest that has been camped out in McPherson Square since Oct. 1, said they would only drink water and take multivitamins until their demands were met. Mears ate after a week; Gray, who was experiencing medical problems, stopped his hunger strike on Sunday night. By Monday afternoon, 11 days after the strike started, the Washington Post reported that only Adrian Parsons was still striking:
Sam Jewler said he broke his fast with a glass of coconut juice and a bowl of miso broth around noon Monday. In an interview, Jewler said his family was pressuring him to give up the protest, at least for now.

"I was feeling pretty much the same way I was the last week, but my parents were becoming increasingly distressed," Jewler said. "I didn't feel like it was fair anymore to put that burden on them."
At what would ordinarily be lunchtime, before ending his strike on Monday, Jewler had been talking with Parsons -- who is now staying at the Luther Place Memorial Church, just north of Thomas Circle -- about food.
Jewler, sitting with his girlfriend, Sara Shaw, on one of the single mattresses on the church's choir room floor, was talking about how he was looking forward to Chinese food with his parents on Christmas. He'd been dreaming about food, he said. One night he dreamed that he was in McPherson Square and someone gave him a stalk of asparagus that he ate before remembering about the strike. Another night he dreamed about Chipotle.
Parsons, surrounded by bottles of Smart Water and vitamin pills, made a list of the foods he is most looking forward to eating, should the day come that he is eating food again: his sister's brussels spouts, chocolate with hazelnuts, food from Juice Joint Cafe and Ben's Chili Bowl, and Cheerios. He said he doesn't have a "death wish," but he's also not planning to stop his strike until his demands are met -- not even for Christmas, which he plans to spend with his family in Fairfax, Va., livestreaming his time with them in order to "be accountable."
This week, lying on his mattress, using a string of Christmas tree lights as an extension cord to power up his iPad, Parsons said he is too weak to go back to the Hill for more outreach. I'm "looking for the Hill to come to us now," he said.
Calling all HuffPost superfans!
Sign up for membership to become a founding member and help shape HuffPost's next chapter
BEFORE YOU GO