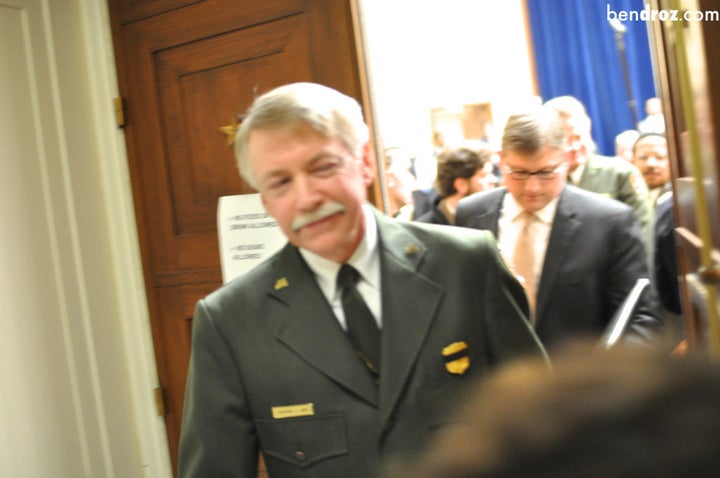 But Shaw said she is not happy with the announcement that the prohibition against camping in McPherson Square will be enforced -- it will negatively impact the park's homeless residents, she said, noting that Jonathan Jarvis, director of NPS, testified that enforcement would be against individual campers, not against the Occupy encampment as a whole.
Jarvis said during the hearing that his job "is to protect the individuals' rights under the First Amendment," and that he would work with the demonstrators to stay within the law.
"We appreciate them working with us," Shaw said. "If they were going to throw everyone out, we're not going to go easy. We're here fighting for our First Amendment rights. We're here standing up for what we believe in. And occupying that space is one of our tactics."
Nathan Gorecki, who joined Occupy DC on Oct. 5, said the hearing "went okay. Jarvis still stayed on our side, still stayed on the Occupy side."
Gorecki added that he is not worried about Occupy DC's tent city being dismantled if the camping prohibitions are enforced. "There's more to the Occupy movement than just McPherson Square," he said.
Adrian Parsons, looking healthy since ending his D.C. voting rights hunger strike in early January, said he was heartened to hear Davis, Rep. Elijah Cummings (D-Md.) and Del. Eleanor Holmes Norton (D-D.C.) compare Occupy DC to the civil rights movement and champion occupiers' right to continue the protest.
Committee Chairman Darrell Issa (R-Calif.), who in December sent a letter to Interior Secretary Ken Salazar asking him to explain the department's handling of the McPherson Square situation, kept going in and out of the hearing. Parsons said he took that as a sign that evicting Occupy DC from McPherson Square isn't the chairman's "bread and butter."
"The future is wide open in terms of tactics," he said.
"They're gonna do what they're gonna do," said demonstrator Phillip Benoit, who lives in D.C.'s other Occupy encampment -- the the tent city in Freedom Plaza. "Escalation is not a good idea amongst desperate people. We don't have homes, we don't have jobs. I'd say we are the very definition of desperate people."
On Tuesday afternoon, a few hours after the hearing ended, at least one of the people didn't seem so desperate:
REAL LIFE. REAL NEWS. REAL VOICES.
Help us tell more of the stories that matter from voices that too often remain unheard.