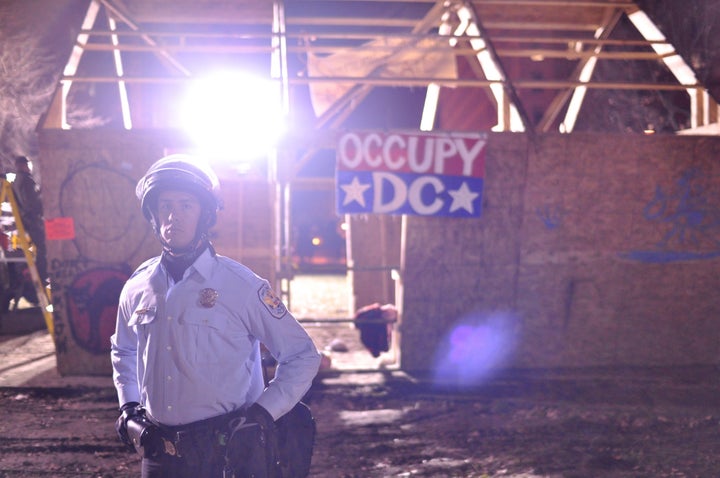 The area where the wooden barn was built and then demolished is now empty. Aside from that, McPherson Square looks more or less exactly as it did before Sunday's standoff. The park's many tents -- the dozens set up for sleeping as well as those that house the encampment's library, welcome committee, kitchen and other amenities -- are all there, as is the "bubble" donated last week by artist Agnes Bolt. Chess boards are set up, although no one's playing. There's still a tepee in the park's lower eastern quadrant. People are out talking to the media, sweeping the sidewalk, creating art, eating, chatting and just milling around.
Bloomberg reports that some occupiers say they plan to rebuild the barn. National Park Service spokeswoman Carol Johnson tells The Huffington Post that any similar structure would require a permit. "For a structure that size, the engineering specs would have to be given and would have to be approved by the Park Service," Johnson says. "To make sure we're ensuring the safety of not only the occupiers but also other visitors."
Sarah A. -- she doesn't want her last name published -- doesn't even want to talk about the wooden structure. She is sitting on a bench, feeding kibble to a small dog owned by a protester who remains in jail from the previous day. Sarah says that the protesters have not decided if they'll put up another wooden structure.
"I want to focus on the fact that we're still here, still strong. Focus on the positivity of tomorrow. We're trying to get back to our normal everyday thing," she says. "It's just a bump. In fact, we might get stronger."
The group is at least one stronger -- temporarily, anyway. Standing nearby is Dave Korn, who arrived in McPherson Square on Monday morning from Occupy Boston. He's part of the Occupy Wall Street communications team, on a tour of various Occupy encampments, and is planning to ship out to Miami within the week.
Korn calls the previous evening's events -- the arrests, the standoff, the putting up and tearing down of the barn -- a "relatively small thing in the overall movement."
"Occupy DC is one of the strongest movements across the country," he says.
Marc Scott is playing with his giant dog, Murray Bear. Scott brags that Murray Bear, who managed to push into the barn during the standoff, is the "only protester who broke through the police line and didn't get arrested." He described McPherson Square as "a little quieter" since Sunday's standoff. Mostly, he says, people are focused on cleaning up -- sweeping, picking up trash. He says he's about to take the very energetic Murray Bear for a walk by the White House. They might then swing by the Jackson Browne concert being held in Freedom Plaza, the city's other Occupy encampment, later in the afternoon.
Nathan Gorecki, unlike Murray Bear, was arrested on Sunday. On Monday, he's paid a $100 fine to get out of jail and is back in McPherson Square. He says that the demonstrators are too busy getting ready for that day's events -- a meeting with a labor group and a MoveOn.org meeting -- to talk about what happened on Sunday.
"We ain't even stressing that today," Gorecki says.
RELATED VIDEO: The Associated Press reports on Occupy DC's Sunday night arrests.

Calling all HuffPost superfans!
Sign up for membership to become a founding member and help shape HuffPost's next chapter