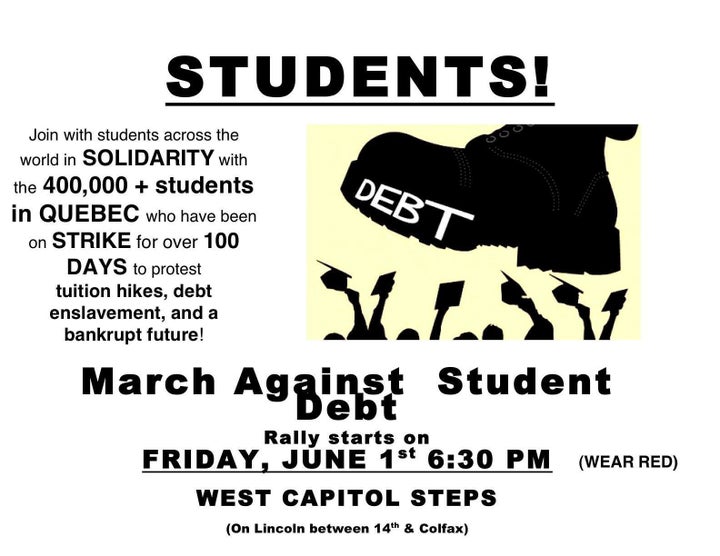 On Friday, Occupy Denver will join forces with student protest groups Occupy Auraria, Occupy DU and Political Active Ztudents (PAZ) to march in support of the now more than 3-month-long student strike in Quebec over college tuition hikes.
Tim Holland, Occupy Denver protester, told The Huffington Post that the Denver wing of the Occupy Wall Street movement is expecting a large turnout for this demonstration in support of Quebec's students. Solidarity marches are also expected to take place in cities across the U.S. like Chicago, Portland, Oakland and others.
Occupy Denver made this statement about their support for the Quebec student strike on their website:
The strike has been the result of over 2,500 arrests and draconian emergency laws banning protestors from wearing masks. The strikes have been largely ignored in the US press so as to not inspire us, but it is too late! We are inspired and we are taking to the streets! The students of Mexico are also taking to the streets by the thousands! This Friday, so will the students of Colorado!

Tuition hikes and austerity are already effecting campuses across the US, and it will only get worse as the 1% gradually tries to limit their losses and restrict our gains. We call on all students, all workers and non-workers, all victims of student-debt-slavery to march with us this Friday.
Rising tuition costs have affected college students across the nation. At the University of Colorado, after considering a rate hike of nearly 16 percent in early 2012, in April the University of Colorado Board of Regents still passed tuition increases across the system, but the increases were considerably less than the original proposal.
Tuition rates at the University of Colorado jumped in 2007-08 with a 19 percent increase, but generally increase around 9 percent a year.
The Denver Post reports that at the Boulder campus, the increase equates to 5 percent -- meaning that an in-state resident undergraduate student enrolled in the School of Arts and Sciences will pay roughly $8,000, up from about $7,600. The Colorado Springs campus saw an increase of 4.9 percent, and the Denver campus saw a 0.8 percent increase in tuition for the 2012-13 academic year.
The march is scheduled to begin at 6:30 p.m. on the Capitol steps behind Lincoln Park. It is Occupy Denver's first march since the controversial "unauthorized" camping ban passed by Denver City Council earlier in May went into effect.
LOOK: An Occupy Denver flyer for the June 1 march [via Occupy Denver]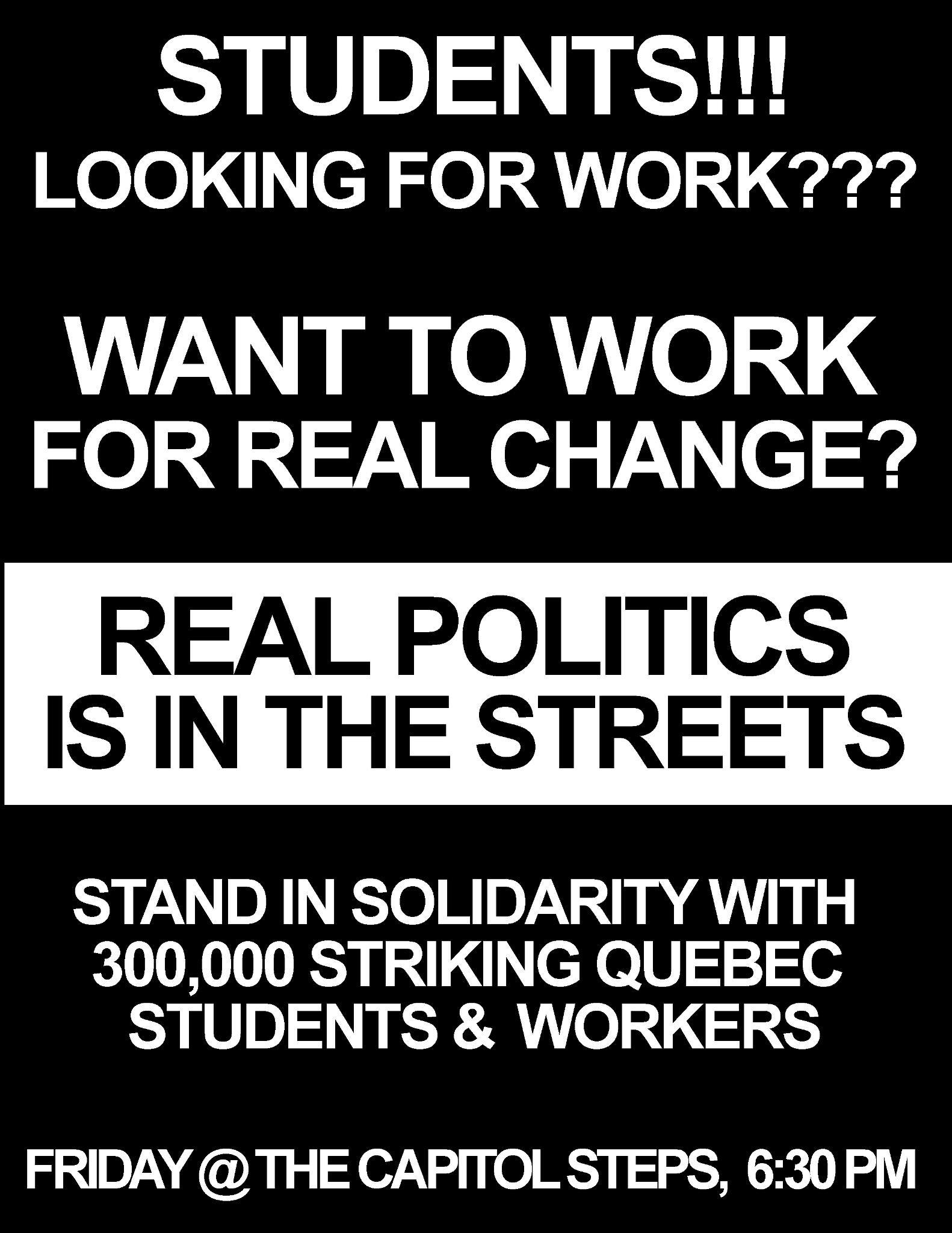 Calling all HuffPost superfans!
Sign up for membership to become a founding member and help shape HuffPost's next chapter
BEFORE YOU GO
PHOTO GALLERY
Signs Of Occupy Denver