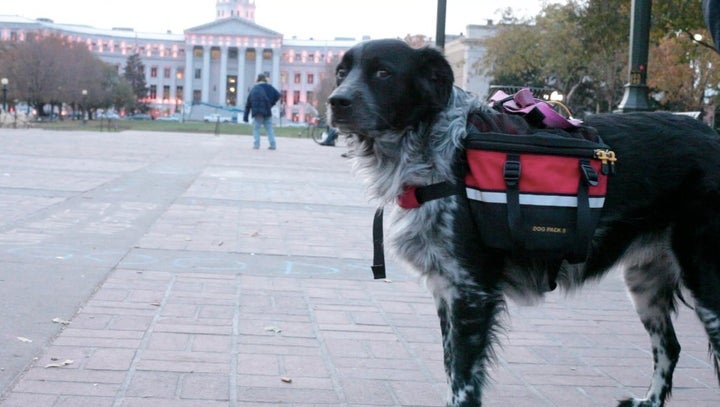 One of the loudest critiques of the 'Occupy' movement centers on its lack of leadership. As a democratically-structured protest, Denver occupiers meet twice daily (3 p.m. and 7 p.m.) to discuss needs, group policies, etc. at a 'General Assembly.' While this is certainly an equitable process, city and state officials lament they have no one person at the movement to contact.
In what may be a first for the national movement, Occupy Denver has elected a leader. Don't expect her to add clarity to protesters' grievances, however: the leader is "Shelby," a three year-old Border Collie. Occupy Denver explains in a press release:
In response to Denver Mayor Michael Hancock's insistence that Occupy Denver choose leadership to deal with City and State officials, and drawing inspiration from the notion that corporations are people, Occupy Denver's General Assembly has elected a leader: Shelby, a three year old Border Collie. "Shelby is closer to a person than any corporation: She can bleed, she can breed, and she can show emotion. Either Shelby is a person, or corporations aren't people," said a Shelby supporter at the time of her election.

Occupy Denver reserves the right to alter leadership status, but for now, Shelby exhibits heart, warmth, and an appreciation for the group over personal ambition that Occupy Denver members feel are sorely lacking in the leaders some of them have voted for on national, state, and local levels. Accordingly, Occupy Denver looks forward to communication with Mayor Hancock and Colorado Governor John Hickenlooper sometime this week to introduce their leadership.

Newly-elected leader Shelby will be leading this Saturday's Occupy Denver march against Corporate Personhood, and invites all other civic minded dogs (and their leash-holders) to join.
Related
Popular in the Community