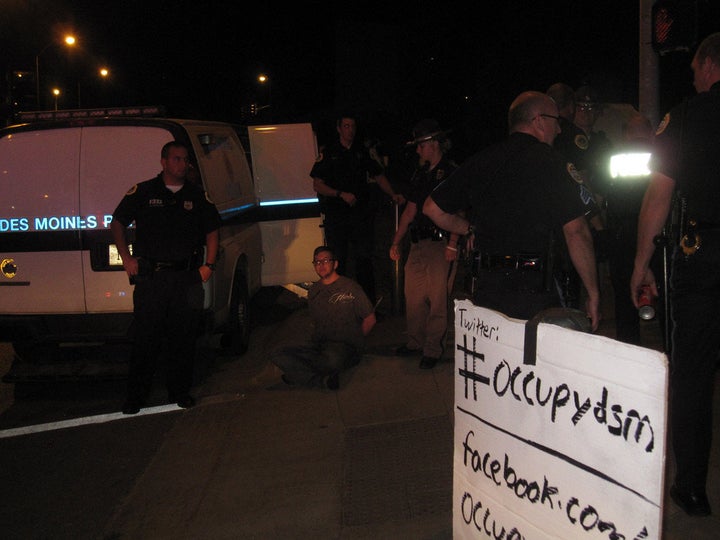 Dozens were arrested at the first Occupy Des Moines event Sunday night, including a former Iowa state representative and a 14-year-old girl. All but one of them have pleaded not guilty, and some are now asking how much the state's governor knew beforehand.
Video from the event shows police officers dragging or carrying away some protesters. Others were escorted away with their hands zip-cuffed. According to some who were arrested or witnessed the arrests and later spoke with The Huffington Post, many had bruises, cuts and scrapes from the arrests -- and they believed police had used excessive force.
Police arrested the protesters remaining on the Iowa statehouse's west lawn Sunday night for "trespassing" because they said the area closes to the public at 11 p.m.
Sgt. Jana Rooker, the public information officer for the local sheriff's office, told HuffPost she didn't have an exact number, but estimated around 40 people were arrested for trespassing and various other charges.
Sally Frank, a Drake University law professor who is providing legal guidance to the protesters, said she believes the arrests violated the protesters' constitutional right to peacefully assemble. Frank accused the police of going too far.
"There was a level of force that was used that I have not seen before in Iowa, and I've been doing legal support for protesters since 1990," Frank said.
Protesters had gathered on the lawn of the Iowa statehouse Sunday at noon to start a general assembly for the first Des Moines version of the protests that have spread around the country since Occupy Wall Street began on Sept. 17. At many Occupy events, general assemblies have been used to make consensus decisions about how to proceed. The Des Moines protesters decided to rename the area "People's Park" and later to stay beyond the 11 p.m. curfew.
They also heard from a lawyer about what to expect should police try to clear them off the property. They had been warned that if they did not leave at 11, the state police would begin making arrests.
David Goodner, who was arrested, told HuffPost that police began arriving at 10:30 p.m. Another attendee, Jon Vaage, said at least two police vans arrived near 11 p.m.
About 150 people reportedly remained at 11, and around 40 to 50 stayed in the area they had been told to vacate. Frank said two officers approached them at 10:30 with a warning that arrests would begin at 11, but she said the protesters were not given one last chance to leave at 11.
"They came right at us, and we chanted our statement of intent," Goodner said. He added that protesters linked arms and sat down -- a common tactic for resisting arrest during political demonstrations.
A 14-year-old girl was among those arrested and was taken to a juvenile detention center. Frank said that usually in such cases the teenager would be promptly released to her parents, but the troopers opted to take her away instead. The girl was released around 1:30 a.m. Monday.
A similar protest began in Iowa City near the University of Iowa only two days before Occupy Des Moines. Several more demonstrations are planned in smaller towns around the state.
Police have not interfered with the protest at Occupy Iowa City, in part because that group inquired about obtaining a permit from the city. The protesters in Des Moines couldn't get a permit for their location at the capitol building.
Former state Rep. Ed Fallon was one of the first to be arrested Sunday night. Fallon said he has walked through the area late at night many times before without being stopped, and he wondered who made the call to begin arrests and whether Iowa Gov. Terry Branstad (R) was involved.
"The governor did not order these arrests," said Tim Albrecht, communications director for the governor's office, in an email to HuffPost. "The governor supports the Iowa State Patrol's actions, which followed proper protocol. The citizens were informed a permit was needed, and chose not to pursue one."
At a press conference on Monday, Branstad said that permits are not available to stay overnight on the state capitol grounds.
"My feeling is I think it's all right to have a demonstration here at the capitol, but it's not meant to be a place to camp out overnight," the governor said.
State troopers reportedly told protesters that the capitol grounds are considered a state park and close at 11 p.m. But Frank said there are no signs to indicate either of those things.
Fallon said he thought the state police were out of line Sunday. "We were in public space, not obstructing traffic," he said, "so there was nothing to be gained except to just bust us up. … It ruined my fond impressions of the state patrol and also just fueled this movement. We are not intimidated by this."
Vaage, who watched the arrests from a distance, said he couldn't believe how they took place.
"After I left, I was thinking to myself how unbelievable this is happening here. It doesn't seem like the product of what this country is about," Vaage said. "It was unnecessary to coordinate such a large force to eradicate this movement at this park. It was kind of, like, shocking to see that kind of show of force or show of authority over something as simple as a curfew."
Goodner, Fallon, and other protesters told HuffPost that, despite the setback with the arrests, they felt optimistic the movement was gaining power.
"I've been a political activist for 27 years and never seen anything that carries this much potential for change," Fallon said. He planned to go back to the Occupy Des Moines protest. More Occupy events are scheduled to begin later this week in Iowa.
Frank said the protesters who were arrested would request a trial by jury to fight the trespassing charges.

Popular in the Community