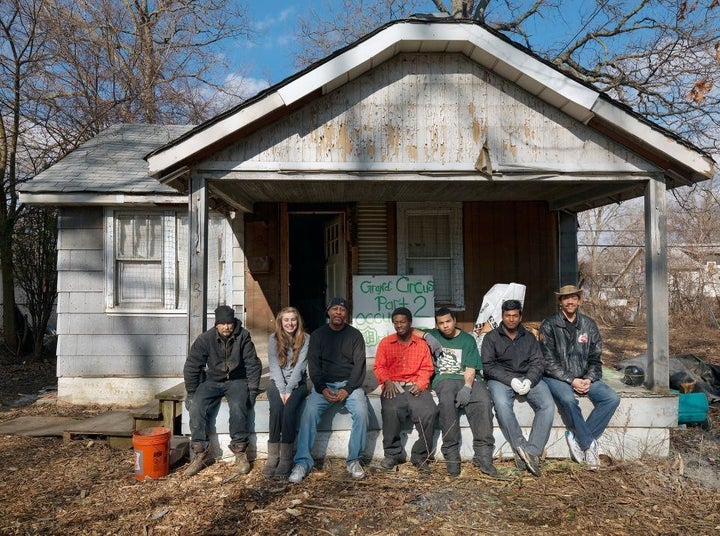 Occupy Detroit has been less visible since its campers left downtown's Grand Circus Park in November. But the local branch of the Occupy Wall Street movement, which will celebrate its six-month anniversary this weekend, is planning a busy spring that it hopes will grab the city's attention.
Since then, because of its dire financial situation Detroit has faced possible takeover by a state-appointed emergency manager, then recently signed a consent agreement with the state designed to give the governor and state treasurer more control over city finances and operations.
Union leaders and local activists opposed to the consent agreement see it as a state takeover and violation of Detroiters' democratic rights. As the Detroit City Council pored over drafts of the consent agreement in meetings, residents and local organizations came forward to voice their disapproval of any state involvement in the city.
Occupy Detroit member Dianne Feeley said the city's struggles with state oversight are in some ways symbolic of systemic, national problems the Occupy movement has rallied against.
"What's happened with the takeover of Detroit through the consent agreement and the number of bills that have passed in the legislature around decreasing welfare and taking away union rights ... all of those have been anti-working people," she said.
Occupy Detroit was surprisingly silent as it played out, with no attempts to occupy city hall or mic check Detroit's financial review meetings. But some members recently began working with other groups opposed to the agreement, and outside the public eye, Occupy Detroiters have developed a range of initiatives over the last few months.
Occupy Detroit has subcommittees for planning different facets of the movement, including eviction defense, and arts and culture. "It's allowed people who haven't really been involved in activism before to be linked up with organizations or to take on their own projects," explained Occupy member Shannon McEvilly.
Detroit Occupy members Nina Chacker and Erik Shelley pointed to the successful campaigns to fight foreclosure for Alma Counts and Bertha and William Garrett, Detroiters who are remaining in their homes.
"We want to involve communities and support them in defending their own neighborhoods," Chacker said. "We've made it easier for people to connect over fighting foreclosure."
One faction has taken another approach on a small scale to the housing crisis in Detroit. The Goldengate Restoration Project has fixed up 10 houses in a northern Detroit neighborhood where on some streets abandoned buildings greatly outnumber lived-in homes. Members are working to make livable space for a small and rotating group of homeless people and Occupy members.
Shelley, who has worked extensively to fix up the houses, said they're doing what they can to help the community. "We're trying to be the best neighbors on the block," he said. "I think your actions speak louder than your words, and while we're in the yard (working), people (driving by) are slowing down, opening their windows and saying thank you."
Some of the restoration work has been helped along by funding from donations to Occupy Detroit, but for the most part, the group repurposes materials. Shelley said he searches an industrial park where debris from foreclosed homes is dumped. "It's kind of an urban composting process," he said. "One house gets broke down and we turn it into another."
Occupy Detroit is also recruiting through several spring events aimed at the general public.
On the group's anniversary this Saturday, members will hold a general assembly meeting in Eastern Market at noon, and in the evening, they've planned a celebratory ox roast and open house at their community space at 5900 Michigan Ave.
But the question of whether Occupy Detroit will re-occupy a public space with a large outdoor camp remains unanswered. The group endorsed a tent city in the Brightmoor neighborhood this week, where members plan to demonstrate against foreclosure and other issues.
Chacker said the original Grand Circus Park occupation was important, but the group has seen positive results since the camp disbanded. "It has allowed people to redirect a lot of their energy," she said. "I don't think the movement as a whole has gotten weaker without a camp."
Debate and disagreement are an inherent part of Occupy, but Shelley pointed to the drawn-out decision-making process as one of the good things about the movement which values inclusiveness.
"I think one of the great things about the Occupy movement is it's a horizontal organization," said Shelley. "People vote with their feet; if people decide we're going to Grand Circus Park tomorrow we'll get up and go there."
Some may see the Occupy movement as petering out, but its members wouldn't say so. "There's an understanding that we're in this for the long haul," Feeley said. "It's the spring. It's the time for renewal."
REAL LIFE. REAL NEWS. REAL VOICES.
Help us tell more of the stories that matter from voices that too often remain unheard.
BEFORE YOU GO