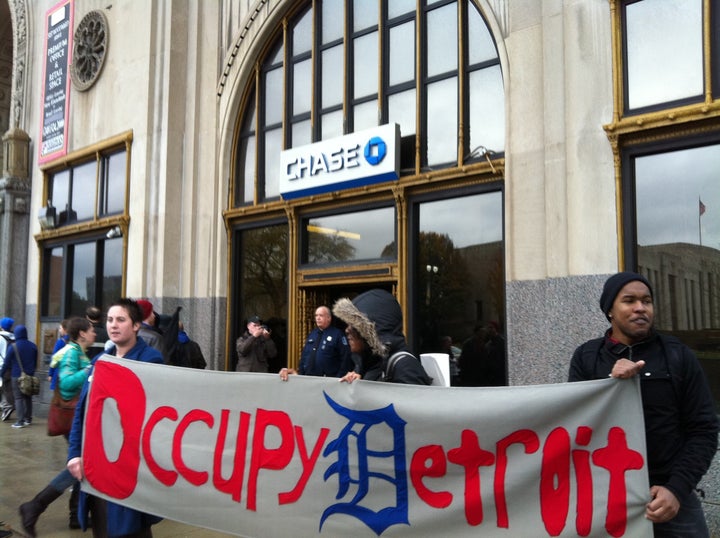 This story has been updated.
Detroit Police Chief Ralph Godbee Jr. tweeted on Monday night, "Many thanks to #OccupyDetroit for working with DPD to truly maintain peace and exercise free speech in a manner we all should be proud of!"
Occupy Detroit will be using a private warehouse building on Michigan Ave. in southwest Detroit for some of their operations. Grand Circus Park will still be used for rallies and demonstrations, said Lee Gaddis, an Occupy Detroit spokesman.
But other sources in the Occupy Detroit movement disagreed with Gaddis, and with the the statement on the Occupy Detroit website that suggests the protesters will soon be occupying the warehouse space.
"We don't have any plans to occupy any buildings at this point," said Joe McGuire, who is a part of the Direct Action working group.
Protesters may occupy a building in the future, McGuire said, but they have no final plans to do so right now. McGuire added that any decision about plans for the group's future would need to be decided by consensus at a General Assembly.
One source involved in Occupy Detroit told HuffPost there had been tension around the warehouse site, with some members wishing to continue the occupation there and others objecting. Some members intend to live at the site, the source said.
The Occupy Detroit movement -- affiliated with the Occupy Wall Street protests that began in New York City in September -- began officially on Oct. 14 with 150 tents, a welcome station and a kitchen that serves 300 meals a day, according to the Free Press.
In the group's first month, Occupy Detroit planned several protests. On Oct. 21, 300 people marched to the Bank of America branch at the Guardian building, according the Detroit News.
A protest targeting Detroit International Bridge Company owner Manual (Matty) Maroun had 100 activists stopping Ambassador Bridge traffic for an hour at 5 p.m. on Oct. 27. Protesters from Occupy Detroit and several other activist groups formed a human chain on the Detroit side of the bridge, according to HuffPost Canada.
The first and only arrests so far for Occupy Detroit members occurred Nov. 2 at Wayne State. McGuire and Susie Reed were arrested by Wayne State Univiersity police after interrupting the taping of a segment of Detroit Public Television's "Leaders on Leadership" with Duncan Niederauer, chief executive officer of the New York Stock Exchange Euronext. Occupy Detroit protesters picketed outside the University Police Department until McGuire and Reed were released, according to the South End.
On Nov. 15, City Council granted a one-week extension to Occupy Detroit campers' permit, through Nov. 21. Occupy Detroit's previous permit had been granted through Nov. 14, and members of the group attended a Detroit City Council meeting Monday to ask for a two-week extension on the group's permit to camp in Grand Circus Park. The request for extension was filed by the non-profit group This Hood of Ours, Inc., according to a press release.
Occupy Detroit members were given verbal agreement that they would not be evicted from Grand Circus Park before the council meeting Tuesday, according to Gaddis. The newly-granted, one-week extension runs out two days before the Thanksgiving Day Parade down Woodward, which would pass the encampment at Grand Circus Park.
Check back here for live updates and continuing coverage of Occupy Detroit.

Calling all HuffPost superfans!
Sign up for membership to become a founding member and help shape HuffPost's next chapter