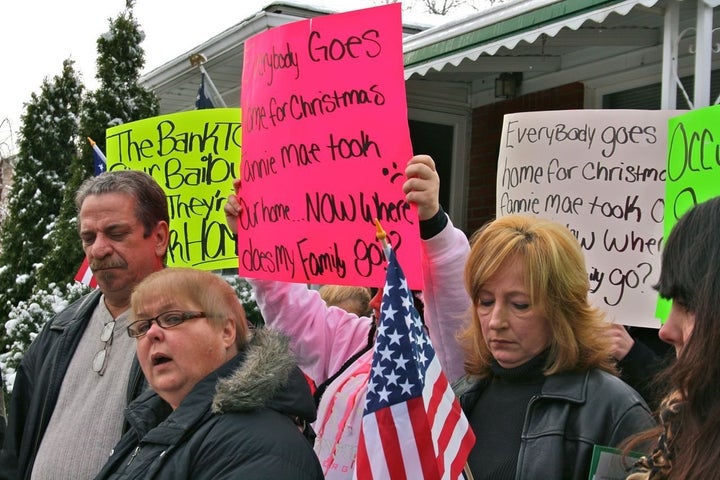 As part of a countrywide day of action planned to combat foreclosure practices and home evictions, two Metro Detroit households will open their homes to Occupy Detroiters Tuesday in an effort to halt foreclosures at the homes.
The actions in Detroit are in part spearheaded by Occupy Detroit and Occupy Our Homes, a national coalition focused on foreclosures that has developed out of the Occupy movement.
On Tuesday protesters affiliated with those two groups will try to bring attention to the plight of Debbie and Rob Henry, a married couple from the Detroit suburb of Southgate. They could be kicked out of their home of seven years by January, according to Shannon McEvilly, a Detroit area spokeswoman for Occupy Our Homes.
McEvilly says the Henrys got into trouble on their mortgage payments after Debbie suffered a stroke that forced her out of job. She recovered and sought a modification of her home loan with Countrywide Financial, which is owned by Bank of America. But during the modification process, the loan changed hands from Countrywide to Fannie Mae, which halted the modification and accelerated the foreclosure process. Like thousands of other Detroit families, McEvilly said, they now face eviction from their home.
The couple plans to tell their story at a press conference on Tuesday at the Henry family home. McEvilly said Occupy Our Homes will also be rolling out an organizing plan at the event.
"Occupy Our Homes is behind Debbie and Rob 100 percent," McEvilly said. "And we're going to be putting as much pressure on Fannie Mae as possible. So we're going to be rolling out a pretty substantial organizing campaign in terms of knocking on doors and phone calls and things like that."
William's attorney, Vanessa Fluker, said she expected to buy the property and was unaware the property had gone into foreclosure until the actual eviction proceedings had begun. "She was literally paying an extra 25 percent each month towards the purchase of the property."
According to Fluker, Williams had worked out a deal with CitiMortgage, a division of Citigroup, but CitiMortgage backed out of the deal.
"I think that's just unconscionable. ... You have a tenant here who was not part of the underlying mortgage itself, and you still want to throw them out, in spite of the fact that they have the ability to purchase the home."
Jerry Goldberg, an organizer with the Moratorium NOW!, said William's case is a perfect example of the insensitivity banks have shown to Detroiters facing eviction through no fault of their own. His group has challenged dozens of foreclosures through litigation and on the street actions since 2007.
"The home is foreclosed on. She put money in the home to fix it up. She thought she was renting with an option to buy, and her attorney negotiated a resolution where she would be able to purchase the home through the aid of the community to keep it occupied and retain value," said Goldberg, "And yet [CitiMortgage] decided, rather than work arrangements out to keep this woman in her home, they would rather throw her out."
Detroit has lost 250,000 occupants in the last five years, according to Goldberg, who said the loss is directly related to the foreclosure crisis. He blames the federal government for contributing to this depopulation by bailing out banks who engaged in predatory lending.
Goldberg said Moratorium NOW! hopes individual anti-eviction actions will encourage people to fight for a legal stay on foreclosures.
But he also focused on policy fixes, saying that in the Great Depression Michigan had a foreclosure moratorium that lasted five years:
"In the 1930s in Michigan, we had a moratorium on foreclosures where the banks were not allowed to foreclose on homes, and someone facing foreclosure could go to court to get a stay, an automatic ban, on foreclosure, and courts were mandated to set reasonable payments on their ability to pay."
Joe McGuire, who works on Occupy Detroit's Direct Action Committee, said he is excited about working with Moratorium NOW! He says the goal of the rally is to draw publicity to the case so that CitiMortgage works out a new agreement with Williams that lets her stay in her home.
"We're going start to use the power we have to keep Detroit's neighborhoods occupied and to keep neighborhoods together and to fight this insanity that has homeless people and empty homes in the same neighborhoods."
McGuire said a number of other community groups, such as the Michigan Welfare Rights Organization, have pledged to be at the rally as well.
He also said the public should see this as the beginning of a new direction for the local movement. "This isn't just a one time event. This is going to be a regular event that Occupy Detroit is involved in."
The rally will take place at 5 p.m., Tuesday, at Williams home on 1140 Hibbard St. in Detroit.
UPDATE: 4:40 p.m. -- The Henry family sent out a release detailing their decision to engage in civil disobedience in order to remain in their home:
The Henry family announced that they would not comply with any foreclosure or eviction from their home. In protest of the treatment of taxpayers and homeowners by bailed-out banks, including Bank of America, the Henrys will stay in the home as an act of civil disobedience. They are working with their neighbors and allies from the Occupy Detroit movement to organize non-violent resistance to any attempt to evict them.

Surrounded by friends, neighbors, and community supporters, Debbie and Robert Henry explained their situation.

"Our home was our future, and we thought that we'd invested wisely. We were making our payments, even though now it's worth a third of what we paid for it. But after I had my stroke, we just couldn't keep up. We tried to work with the banks to get a fair deal, but they gave us the run-around for years. Now they want to throw us out. I thought they got all this taxpayer money so that families like us could have a second chance," said Debbie, a former manager at a food services company.

The family has lived in the home near where Debbie grew up for 7 years. Though purchased for $140,000, it is likely worth $40,000-$50,000 now. Husband Robert works as a mechanic, and the couple was able to make their payments until Debbie's stroke in 2008. The mortgage was originated by Countrywide Financial, which was later bought by Bank of America. Bank of America then received $45 billion in federal bail-out funds with the expectation of issuing mortgage modifications to families like the Henrys. Bank of America's CEO Brian Moynihan made $10 million in 2010 in cash and stock bonuses.

Instead of using the government bail-out to arrange a more reasonable payment for the Henrys, Bank of America sold the loan to federal loan guarantor Fannie Mae, likely making a profit. This move also ironically shifted the costs of performing the foreclosure onto taxpayers.

Robert and Debbie hope their campaign leads to a loan modification from Fannie Mae instead of foreclosure, and brings attention to the plight of millions of American homeowners in similar situations. The family and their friends announced that they would engage in non-violent civil disobedience, up to an including their arrest, if local authorities attempted to remove them.

"The taxpayers and citizens of this country are sick and tired of seeing bailed-out bank CEO's make million dollar bonuses while good, tax-paying families in Southgate get thrown out of their homes," said Shannon McEvilly, a volunteer organizer with Occupy Our Homes, "When it looked like the whole financial system was going to collapse, we sucked it up and bailed out the banks. We thought that meant they would turn around and do right by homeowners and small businesses. It's time that banks lived up to their promises and put our community before their profits."

The protest is being held in coordination with a national day of action called by the Occupy Our Homes campaign.
UPDATE: Wednesday 5:20 p.m. -- Bank of America disagreed with the Henrys' remarks on how they lost their home and Fannie Mae's involvement with the property's title. Bank of America Spokeswoman Jumana Bauwens offered the following statement in an email to HuffPost:
We have been working with the Henrys on various home retention options since 2008. Unfortunately, at times they were not eligible for any programs or chose not to make the modified payments. Bank of America services the mortgage on behalf of its investor, Fannie Mae. We worked with the Henrys directly during the default stage and handled the foreclosure process for the investor.

At foreclosure sale, since the house did not sell at auction, the home reverts back to the investor, Fannie Mae. Fannie Mae handles the property management from that point forward.
Related
Popular in the Community