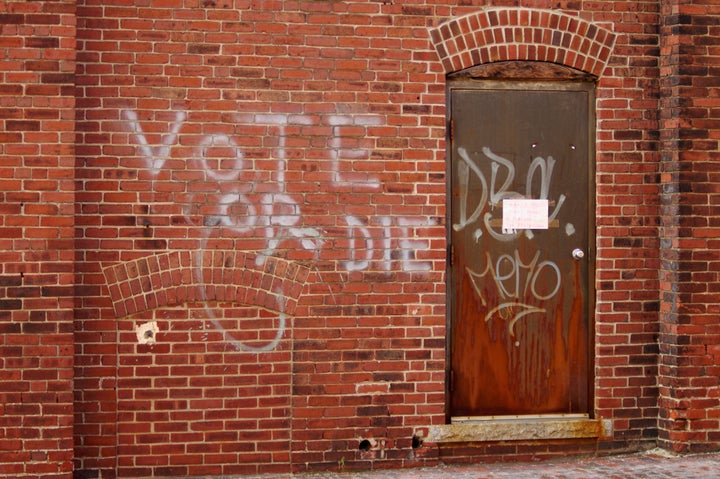 This Saturday, look for a group of Occupy Detroiters dressed in Santa hats, handing out candy canes and asking if you're registered to vote.
Shannon McEvilly, an activist with Occupy Detroit who works with the media and women's working groups, has taken on the task of voter registration and education as a new element of Occupy Detroit's efforts in the city.
On Saturday she and others interested in the cause will kick off voter registration efforts downtown, counting on the large turnout for Noel Night to give them visibility. Next, McEvilly plans to hold weekly voter registrations in different areas of the city.
"I've made it my mission to get Occupy Detroit involved in civics," she said.
While the voter registration drive has been approved by the Occupy Detroit General Assembly, McEvilly said that it is not a priority, or interest, to everyone.
"There are people who don't want to be involved with voter registration because they think it's playing into the system we have that's completely corrupt."
While some of the Occupy groups across the country have stayed away from voting issues, for others it is an issue of great significance.
On Tuesday evening in San Diego, Ray Lutz, an Occupy San Diego activist and former congressional candidate, was arrested after setting up an unofficial voter registration drive at the city's Civic Center Plaza on charges of trespassing, the San Diego Union Tribune reported. The San Diego Police Department has made over 100 arrests since clearing Occupiers from Civic Center Park on Oct. 14.
"In an Oct. 28 letter to CB Richard Ellis, the building's owner, Lutz said he should be allowed to use the square for peaceful political activity under the First Amendment and the California Constitution, regardless of whether he was on private property or in the greater public courtyard outside City Hall," according to the San Diego Tribune.
McEvilly, who has a background in community organizing and ran a voter registration drive in 2008, has strong feelings about why voting is relevant to the Occupy movement -- and for Detroit residents generally.
"I don't think that most of the inhabitants of this city, particularly women and people of color, can afford to sit out an election."
"We saw what happened last year with the welfare cut and how that's directly affecting and damaging families in the city," McEvilly said. She also considers women's health and access to reproductive services as key issues to herself and other women in Detroit.
"Occupy getting behind certain candidates and parties is a bad idea, my personal political leanings aside, and that's not where I'm planning to take this," McEvilly said. "Any law or appeal, anything electorally-speaking that I would want to get behind, would have to be approved by the General Assembly."
"There have been a lot of criticisms of [Occupy Detroit]," some of which McEvilly thinks hold an element of truth. "[People say] we kind of just make noise and have yet to do anything to really affect change in the actual community."
McEvilly hopes her voter registration efforts will help improve the goodwill towards Occupy Detroit in the city. "There are a lot of people who are really excited about this. It's a chance for us to do something real and tangible for the people in the city and the suburbs."
"It's a very easy and simple step ... but I do believe when you register people to vote you empower people."
Popular in the Community