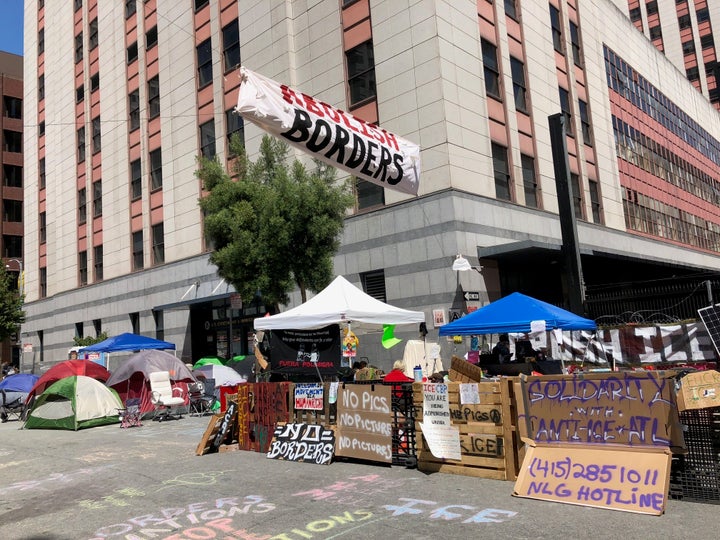 SAN FRANCISCO — Protests outside the offices of Immigration and Customs Enforcement have been cropping up in cities across the country in recent weeks, with demonstrators calling for abolishing the agency.
In San Francisco, a small group of about a dozen people were stationed outside the local ICE offices in the downtown on Thursday, amid about two dozen tents and signs reading "F**k ICE" and "Defend the criminalized." A large banner hanging across the street read "Abolish borders."
"We are here because we are, and are in solidarity with, undocumented immigrants," an organizer at the protest, who asked to remain anonymous, told HuffPost. "We are calling for the abolition of Immigration and Customs Enforcement."
"We can envision a blueprint for alternatives to detention" of the undocumented, the organizer said. "Particularly any kind of detention that calls for the inhumane treatment of children and indefinite detention of families."
The group started its "occupation" on Monday, and its members said they intended to stay indefinitely.
In Portland, Oregon, protesters set up camp outside the local ICE office in mid-June, and are still there. The demonstration succeeded in shutting down the office for over a week.
An ICE spokesperson told HuffPost by email, responding to the San Francisco protests, that the agency "fully respects the rights of all people to voice their opinion without interference," and that officials would continue to monitor and "make necessary modifications to ensure operations resume appropriately."
It was unclear which of the agency's operations, if any, had been disrupted by the protest.
A protest organizer named Shannon told HuffPost on Thursday that the group hadn't been trying to stop business in the building. The office's entrance on the side street where protesters' tents are pitched had a sign inside reading "entrance closed." The front entrance appeared to be functioning normally.
On the July 4th holiday alone, two separate protests took place at the Statue of Liberty in New York. A half dozen protesters were arrested after hanging a sign reading "Abolish I.C.E.," and another protester was taken into custody after climbing onto the base of the statue, temporarily causing the closure of the monument grounds.
Last weekend, thousands took to the streets in cities nationwide as part of the "Families Belong Together" rallies.
The push for abolishing ICE has appeared to be gaining steam among leading Democratic politicians ― including some of those expected to seek the party's 2020 presidential nomination ― after congressional candidate Alexandria Ocasio-Cortez won a primary upset in New York with that idea a key part of her platform.
The "occupy ICE" protests are part of the outrage over Trump's zero tolerance immigration policy, which refers all unauthorized migrants crossing the border for criminal prosecution and has led to officials separating thousands of children from parents at the southern U.S. boundary. As of Thursday, as many as 3,000 kids have still not been reunited with their parents, according to the government.
Before You Go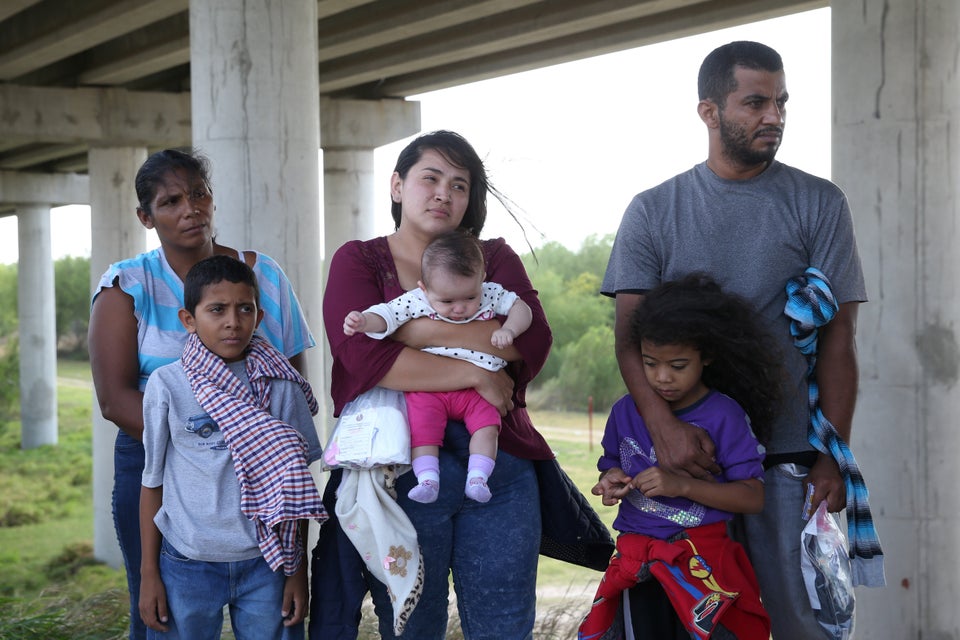 Immigrant Families At The U.S.-Mexico Border
Popular in the Community