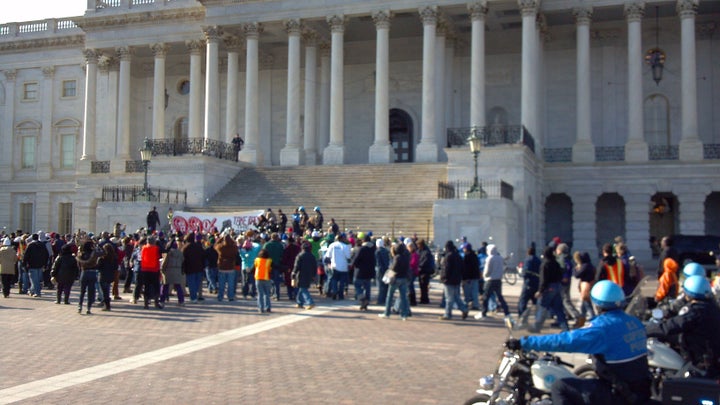 WASHINGTON -- Thousands of protesters have descended on Capitol Hill to bring attention to the inequalities between the bottom 99 and the top 1 percent of Americans. Much of the media coverage has talked about the income inequalities, but those who stormed congressional offices and powerful K Street offices this week had a more specific message: The inequalities that matter are in power and opportunity.
Activists have come from every corner of America to the nation's capital to recall that it's the middle class that's too big to fail.
"[Congress] sees an indicator that a big financial institution may fail, and they act within hours, but there's all this evidence that the middle class is disappearing, and what do they do?" asked a protester from Florida at a sit-in in a congressional office on Tuesday. "Nothing. They do nothing. They only bail out the one percent."
Jose Suarez from Miami said, "Funny how quick Congress will act to bail out too-big-to-fail. We want to change the debate from one of cuts for the 99 and bailouts for the 1 percent to focusing on the people. The American Dream is slipping away."
On Tuesday, activists stormed more than 40 congressional offices, demanding to see the politicians who purport to represent them but are most often unavailable and out of reach of ordinary constituents. They sat down, overfilling reception areas, overflowing into hallways, refusing to leave until their senator or representative showed. Wednesday, they filled K Street (a.k.a "Lobbyists' Boulevard"). Thursday, they will go back to congressional buildings, demanding to be heard.
Many of the protesters say they've tried to get meetings with their elected officials back home but were refused appointments. Activists who sat in Senator Jon Kyl's (R-Ariz.) office Tuesday said they had gone to his Phoenix office with a group of veterans, but after waiting 7 hours, they left with no appointment time, just a promise that Kyl would respond. He didn't. On Tuesday, they waited in his Washington, D.C. office until it closed. Like many other members of Congress, Kyl avoided his office for the day, and they left again without an appointment.
Down the hallway, Senator Tom Harkin (D-Iowa) offered the group free popcorn. Around the corner, Senator Joe Lieberman's (I-Conn.) office told to the group to stick around, and he would stop by to see them in the early afternoon.
Rep. Elton Gallegly's (R-Calif.) staff told activists he was not there, even giving a specific cover story regarding his whereabouts. (He was supposedly on a plane.) He was spotted shortly thereafter, and R.L. Miller (my DC roommate for the week), who lives in his district, asked him, "What are you doing for the poor and unemployed in our area?"
"I just gave 700 toys to the needy," he retorted, adding, "Merry Christmas!" as he dashed away. Before he could get onto the elevator, Miller told him she's a constituent and asked for a meeting.
"You just had your meeting," Rep. Gallegly told her, as the elevator doors closed.
As I roved the offices, talking to activists from across the country, the stories began to meld. They have the same stories we hear from our friends and families across the country. A protester from Chicago summed it up with a grim chuckle: "Laid off. Bouncing between good jobs, crappy jobs, and no jobs. There aren't enough good or crappy jobs for everybody. I apply. So do a thousand [others]."
From time to time, the normally normally sedate congressional hallways were enlivened by cheering or chanting from one group or another, but most of the day, people sat quietly waiting, earnestly hoping to be seen. Only one person was arrested. While a very small handful of members of Congress were willing to meet with their constituents, and a few locked their office doors completely, most offices allowed the sit-ins in their reception areas and hallways.
The office of one member of Congress, Rep. Vicky Hartzler (R-Ark.) had a protester arrested who refused to leave her reception area. He was charged with trespassing.
The K Street protest, on the other hand, was chaotic, loud -- unseemly by DC standards. Several crowds marched from different directions, converging upon an intersection.
Many of the groups who came to K Street had different agendas, goals, and actions. Some wanted to be seen and heard, to have their issues raised. Others wanted to disrupt the rich and powerful who frequent the area. A not-so-rich friend who works in a nearby area asked me about it later in the afternoon, complaining, "What was going on over there? I was stuck in traffic forever."
The headlines focused on the dozens who were arrested for blocking traffic, but thousands participated peacefully without civic disobedience.
Calling all HuffPost superfans!
Sign up for membership to become a founding member and help shape HuffPost's next chapter