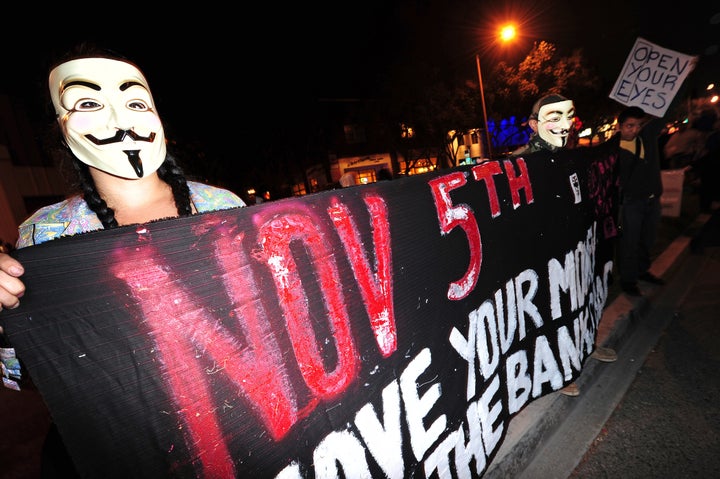 Just about everyone was irate when Bank of America announced a new monthly $5 debit card fee. But Kristen Christian, 27-year-old Los Angeles gallery owner, decided to do something about it. She wrote on her personal Facebook:
If you don't want to pay the likes of Bank of America $5 a month to access your money via debit card, just transfer your cash to your friendly, local credit union.
Christian has turned what started as common-sense advice to her friends into a nation-wide Bank Transfer Day this Saturday, November 5. While not technically connected to the Occupy Wall Street movement, Occupy movements nationally have rallied behind the day of action.
Occupy Los Angeles has a weekend of events planned, including a Mass Bank Action day on Friday. Although the name of the day is similar to Oakland's Day of Mass Action, which ended Wednesday in some violence and arrests, LA's day of action is expected to be peaceful. LA's Mass Bank Action Facebook page explains:
After weeks of impromptu bank marches through the financial district with 8 - 30 people, the protesters have decided to ramp up their stand by calling for a city-wide march on major banks who have defrauded consumers, mixed investor and consumer banking, foreclosed on peoples homes and taken advantage of the weak economic climate by adding new banking fees. More than call attention to these financial giants and the special interests in government that protect them, OccupyLA urges consumers to transfer their money to credit unions or local banks that actually invest in their communities.
Friday's events will take place in the downtown LA financial district, at Grand and 5th St, and will include:
3-5:30pm march and teach-ins at 4 major banks in the financial district (route released at Pershing)
6pm March converges at LA public library space for dinner
7pm Community Speak Out! at LA public library
In solidarity with Saturday's nationwide Bank Transfer Day, Occupy LA will have a downtown rally at 10:30am at 350 S. Grand Ave. The rest of the weekend will include a series of speakers and panels.
PJ Davenport, television producer and member of Occupy LA's press committee, told Huffington Post Los Angeles:
Occupy LA expects a strong turn out for our Bank Transfer Day March. Additionally, many Angelenos indirectly participating in the Bank March will be quietly closing their bank accounts and transferring to credit unions. Across the nation credit unions have seen a major increase in account holders in 2011. If they continue to put people before profits, credit unions may well reshape the banking industry as we know it.
Calling all HuffPost superfans!
Sign up for membership to become a founding member and help shape HuffPost's next chapter