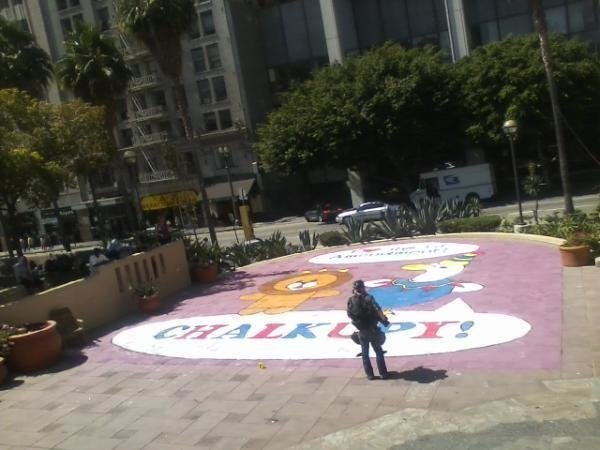 Members of the Occupy LA movement have made plans to chalk up Downtown LA Thursday evening, but event organizers promise the "chalkupy" won't interfere with the Downtown LA Artwalk.
Pershing Square is two blocks west of Spring Street, where the Artwalk takes place between 4th and 7th Streets.
CLICK HERE OR SCROLL DOWN FOR UPDATES.
In the Facebook event, Occupy LA writes that the festival, which will include food to share and a market of free stuff, plans on being confined to Pershing Square until the park closes at 10:30 p.m. "This is a non-violent, peaceful family event," write the organizers. "We hope the city can allow us this day to celebrate art and community unobstructed."
Joe Moller, executive director of the Downtown LA Artwalk, hopes so too. In this statement to the Huffington Post, Moller pleads with occupiers, "Don't chalk the Walk!"
Moller's statement in full:
"Don't chalk the Walk!" Small businesses, artists & gallery owners depend on the success of every month's Art Walk to continue their businesses in Downtown Los Angeles. Unrepresented artists rely on the monthly audience to show and sell their work to support themselves. The Downtown Los Angeles Art Walk has always been an agnostic platform, not political in any way an we humbly ask the protestors and anyone else with intention of disrupting tonights event to please do it somewhere else. Let the artists & small business owners that participate in Art Walk do so without incident.
A busload of occupiers from out of town arrived in LA Wednesday, reports the Los Angeles Times, ready to show their support for Occupy LA after last month's clash over the right to chalk on the streets. The group from Oakland plans to create chalk murals at the Pershing Square festival, and anti-war activists Cindy Sheehan and the group Code Pink are also scheduled to appear, notes the Times.
In a letter to organizers, president of Public Works, Andrea Alarcon said this about the planned chalkupy event:
Unfortunately, a request for a permit to assemble in Pershing Square for the purposes of "chalking" does not fit within the parameters of our permitting structure because the use of chalk to deface public or private property is not lawful.
One person has already been arrested in advance of the evening's events, reports the Times. In a morning protest that gathered about 60 people, LAPD officers arrested one person for "chalking."
Chalk protests are expected to continue throughout the day.
Related
Before You Go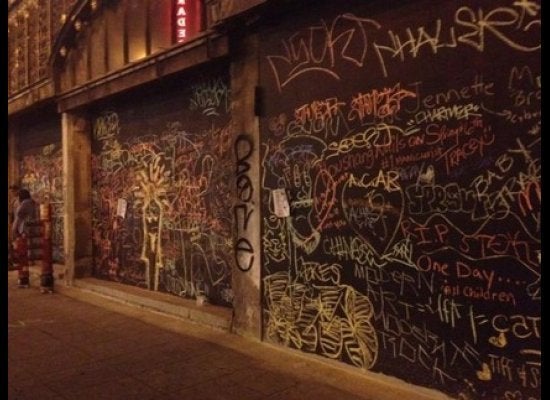 Downtown LA Artwalk Chalk Protest
Popular in the Community