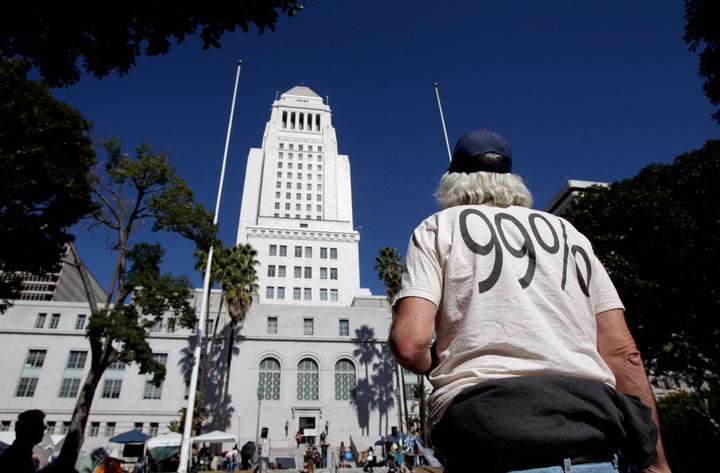 The Occupy LA encampment on the lawn of City Hall, which has been in place since Oct. 1, has racked up a $120,000 tab so far, according the Mayor's Office.
That figure includes fees associated with Recreation and Parks, Transportation, Sanitation, General Services and the City Attorney's Office. It does not include any one-time costs to repair the lawn and irrigation system, nor does it include the cost of materials and labor to construct the wood structure around the foundation and firefighters' memorial on the South lawn.
A letter sent to Mayor Antonio Villaraigosa from the head of Recreation and Parks shows the extent of some City Hall insiders' frustration with Occupy LA.
"Some individuals have compromised the park's irrigation system by disabling sprinkler heads, and vandalizing the various irrigation valves located throughout the park," General Manger Jon Kirk Mukri wrote in his letter.
"Additionally, the persons now living on the grounds of the park have: 1) created several unsafe conditions; 2) monopolized the park grounds, thus limiting access for other park users; 3) greatly impacted (Recreation and Park's) ability to properly maintain and irrigate the park; and, 4) caused damage to the park grounds including landscaped areas, hardscape areas, and trees."
Park repairs will take several weeks -- once Occupy LA leaves the lawn and once city funding is identified, according to Mukri.
Citing staff's pride in the city's parks, Recreation and Parks has distributed a flyer to Occupy LA folks on how to protect the park's trees.
Popular in the Community