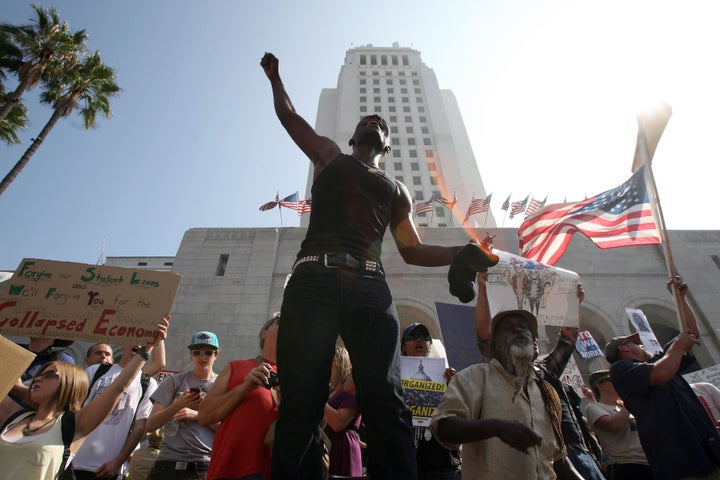 Hundreds of protesters camping out at City Hall could be on the verge of their first policy win -- but it will cost the city at least $58 million, at least according to an report (PDF) from the City Administrative office and an analysis by the Los Angeles Times.
At stake is a two year-old proposal, the "Responsible Banking Initiative," written by councilman Richard Alarcon (and explained in a blog for the Huffington Post). It would allow the city of Los Angeles to score financial institutions based on their community investment and lending practices, presumably to evaluate whether or not to continue doing business with them. He explained the importance of local investments in his blog:
...what good does it do Los Angeles if the banks in which the bulk of our tax dollars sit in are reinvested in another City, far away?

That's why the Los Angeles City Council unanimously supported my proposal to create Responsible Banking Standards in Los Angeles, based on a Philadelphia model put in place in 2002. Los Angeles alone has a cash and pension portfolio of over twenty-five billion dollars, which allows us to leverage these investments in such a way to benefit the residents of our city - not just through the rate of return, but by looking at how the banks and financial institutions reinvest in our community. The ordinance will require that any bank looking to do business with Los Angeles would have to submit a report to the City Treasurer who, in turn, would grade the banks based on their investments in Los Angeles.
At the time that Alarcon's ordinance was passed unanimously in March 2010, the city had nearly $30 billion in savings, pension funds, and other investments tied up in various financial institutions. But implementing the measure has been a slow process because, according to The City Maven, the proposal had "languished" for more than a year in a committee.
But with the recent passage of another City Council ordinance pledging support to the Occupy LA movement and its goals, Alarcon's proposal is picking up steam again. The city's formal support of Occupy LA means that the issue is back on the table for both the Budget and Finance Committee as well as the entire City Council. The discussion (but not a vote) is set to take place on or before November 21, according to The City Maven.
In advance of the discussion, City Administrative Officer Miguel Santana issued this warning on Tuesday: divestment from banks that refuse to re-negotiate foreclosures (and other "big bank" behaviors) could cost Los Angeles at least $58 million, reports the LA Times. The LA Times has more on the specific consequences of Alarcon's measure:
Severing agreements with major lenders could trigger sizable termination fees and lead to higher interest rates, Santana said. That could in turn complicate financing for an array of city initiatives, from replacing deteriorating sewers to rebuilding part of the Convention Center to make way for an NFL football stadium, he said.
Officials who once expressed support for Alarcon's measure are taking a step back in light of the administrative office's analysis. Councilmember Paul Koretz said to the LA Times, "If it costs us $20 million or $30 million or $40 million to do the right thing, then we're probably doing the wrong thing." Councilmember Bernard C. Parks also expressed doubts about winning a moral victory at the cost of $58 million, saying, "I don't think we ever want to stand here at the mike and say to the public, 'We showed Bank of America. We just cost you $2 million because we didn't use them.' "
Let us know by voting in the poll and posting your comments below: should Los Angeles pursue an ordinance that would cost the city tens of millions of dollars in order to dissociate from banks that don't invest in the community?
Popular in the Community