 Miami-Dade County has issued an order to vacate to Occupy Miami, warning protestors to leave their long-time "Peace City" encampment on the West Lawn of the Stephen P. Clark Government Center by sunset Tuesday or face arrest for trespassing.
Hey, insomniacs. Won't be much sleep at the Occupy Miami campsite tonight. There's been some restructuring of the camp. There will be more in the morning. Quite a few people have cleared out but others have come. I'm sure there will be more of this later on as well. Word is the police are coming to remove us at 5 p.m. any way they deem fit. All leftover personal property will be declared abandoned and confiscated and destroyed. We burned the eviction notice. Time things got serious over here. We've decided to take a stand and not let them take our occupied territory so easily. We hope to see others stand with us. WHO'S STREETS? OUR STREETS! WHO'S PARK? OUR PARK!
According to an Occupy Miami release, the demand comes three days after a permit to vacate was denied on grounds of "current site conditions and unsafe activities." The group believes the move is related to a January 5 memo to Mayor Carlos Gimenez from County Commissioner Joe Martinez, urging the Mayor to declare overnight campers were trespassing and stating some of the group's activities were being watched by an unnamed federal agency.
"What may have started as free speech exercise has turned into a tent city without a visible purpose or end," the memo reads. "Your department issued an open-ended permit which is not customary...There have been various criminal complaints at tent city."
"The County believes every individual is entitled to express their First Amendment right and has supported the efforts of those willing to do so in a peaceful manner. The Victorian Sunshine Corporation's permit to use the West Lawn at the Stephen P. Clark Center was denied based on the unsanitary site conditions and unsafe activities, which have resulted in a number of arrests by the Miami-Dade Police Department. The safety of those at the site as well as the safety of County employees and residents and visitors to the Stephen P. Clark Center is our top priority."
Members say the timing is suspicious.
Peace City has been Occupy Miami's all-hours presence in the Magic City since October 15, 2011, and the most movement the group had been subjected to previously was shuffling 50 feet around a construction crane and back. According to the county memo signed by physical plant manager Juan C. Silva, protestors must now clear out by the time the sun goes down, or else:
You are hereby advised that you must vacate the West Lawn and remove all personal property by sunset, Tuesday, January 31, 2012. Anyone who remains on the West Lawn past sunset, Tuesday, January 31, 2012 will be subject to arrest for trespassing pursuant to Chap. S10.09 Florida Statutes and any personal property left will be considered abandoned and be confiscated and destroyed.

In the wake of the order, according to a release, Occupy Miami remains defiant:
"Occupy Miami is much more than simply a camp. It is a fluid, ever-evolving movement...Tuesday's eviction does not signal its demise, but rather the tangible shift to an exciting, new phase in a movement continually growing stronger, larger, and more powerful. Occupy Miami could never be encompassed by a camp, since its efforts are as diverse and flexible as the occupants of Miami itself.

"While the County may try to evict the camp, they can never evict the idea."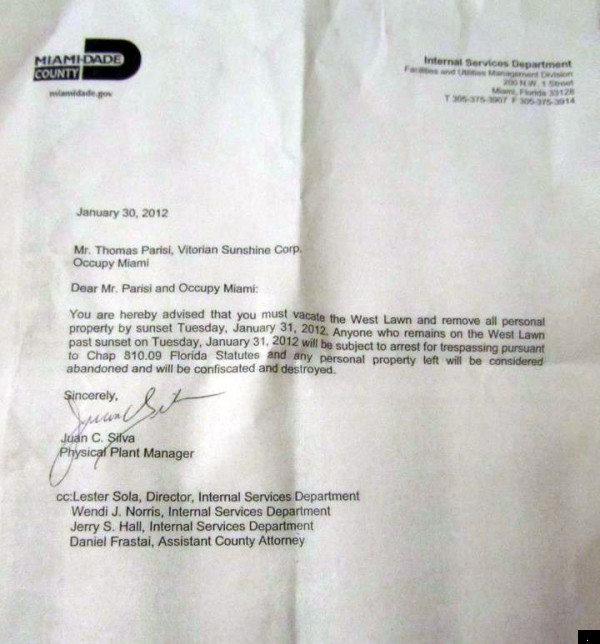 Related
Popular in the Community