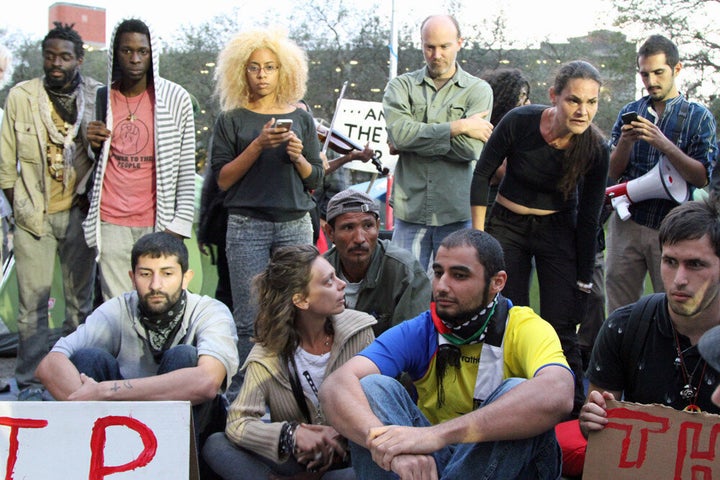 As many Cuban-Americans living in Miami, my family's nightly dinner-table conversations were thoroughly (and, course, regularly) dominated by discussions about the economic, social, and political conditions in Cuba. My family's impressions rendered the sacred tempered by the profane; Cuba was our "lady in waiting," who had been defiled by a totalitarian regime. But this is neither surprising nor paradoxical.
My family came to this country not necessarily to avoid communism, but to escape the state repression of an authoritarian government. While our Miami streets are not infiltrated by the same type of omnipresent masses of boogeymen (who seemingly lurk at every corner, at every hour, threatening to arbitrarily report every action as possibly "subversive"), the crackdown on Occupy Miami protestors which I witnessed last night could only be described as an outrageous application of the unmitigated might of state authority.
It was an intensely authoritarian might that seems more fitting in my family's region of Camaguey, along with every other town and city of Cuba. Just as in Cuba, where the exercise of this sort of might certainly doesn't spring from "enlightened" concern about the well-being of the community, this might was unleashed onto protestors to squash political dissent aimed at criticizing our government's callous and flagrant rejection of economic democracy.
Peaceful young activists gathered last night at Government Center to take a peaceful stand, in the militantly non-violent tradition of Gandhi and Martin Luther King, against the city's planned destruction of the Occupy encampment (otherwise known as "Peace City"). In the dark of night, numerous contingents of riot police, in full combat gear and armed to the teeth with various types of menacing weaponry that seemed more fit for a combat zone, created a human barricade around activists and media, effectively trapping us onto the street directly behind the Government Center.
As they did this, another group of riot police formed a wall around the media and pushed them off the camp entirely, so that the media could not properly document the police escalation which was planned to take place. This occurred despite numerous attempts by Occupy Miami liaisons who, before the action, spoke to the commander-in-charge and implored him numerous times that respect for media and civilians should be a paramount priority -- this, to no avail.
Not very long after sunset, riot police closed in and physically pushed us onto sidewalks until we were fully engulfed; block by block, away from the encampment, police beating their metal batons on their shields, chanting "Back! Back! Back!" The images of police repression elicited flashbacks of the awful stories about Cuba that I had heard during my childhood.
I was reminded of the trials and tribulations that traumatized my people. We, the children of Miami, were threatened with bodily harm and treated as outright criminals -- merely for disagreeing with our government. The dreams of freedom that my family sung to me, as lullabies, had become a discordant nightmare of oppression that would cause any freedom-loving person to recoil in disillusionment, if not disgust.
In the Occupy movement, I have had the amazing honor to stand shoulder to shoulder with young Cubans who embody much of the future of this city. We carry with us the hopes and dreams of our parents and grandparents, and we fight, as they did... for liberty. Our families came to this country, as many do, to seek solace in what we are told is a free nation. But the scenes of last night beg a few very important questions:
Where was that freedom last night in Miami, as dozens of peaceful activists were viciously chased by riot police in full combat gear? Where was that freedom in the midst of an imminent threat of tear gas, the blows to our bodies by batons, the threat to use pepper spray to douse our spirits in unsolicited submission, and the threat to use rubber bullets to shatter our dreams of a better society?
The corporate media described the situation as being inherently violent, but, as so many intelligent, strong-willed, young activists pleaded with the riot police over and over as they surrounded us in a terrifying display of repression, we are reminded of an old saying: "The only weapon we have is our voice!"
I do not want to live in a nation in which our voices are the most feared weapons of all. A silent nation is a nation on the verge of death. To ensure that the dreams of our forefathers can truly become a living reality, we must embrace freedom and denounce repression, wherever it takes place. Failing to do so means we will have embraced the very tyranny our ancestors labored so diligently to escape and overcome.
Popular in the Community