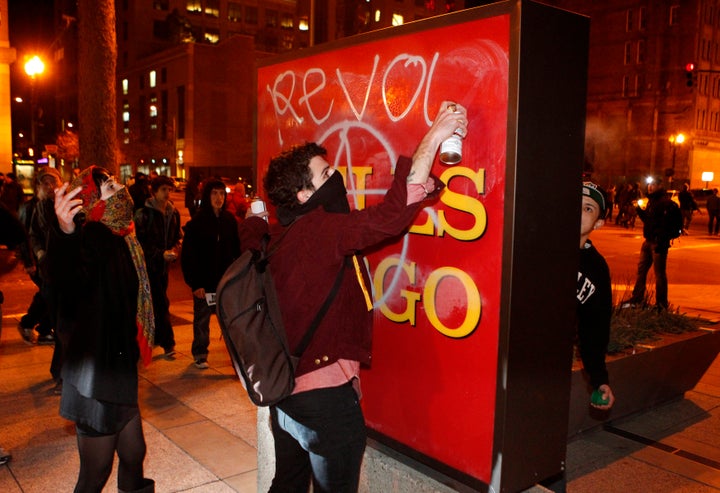 And now, as three occupy protesters face charges for robbery and a hate crime stemming from an incident at last week's Occupy Oakland protest, that relationship is nearly boiling.
At Friday's protest, three Occupy Oaklanders -- Michael Davis, 32, Nneka Crawford, 23, and Randolph Wilkins, 24 -- were arrested when a woman not associated with the protest alleged that they attacked her, stole her wallet and made hateful comments about her sexuality.
According to a statement from the Oakland Police Department, the victim claimed that she encountered a group of protesters in front of a Wells Fargo bank on 40th Street in Oakland. Allegedly, she criticized the protesters, and told them not to riot in her neighborhood, when she was attacked by Davis, Crawford and Wilkins.
"She was surrounded by three protesters and battered as they yelled vulgar epithets regarding their perception of her sexual orientation," said Oakland Police Spokeswoman Johnna Watson in a statement.
"In the department we have zero tolerance for hate crimes," said lead investigator Sergeant Randy Wingate in the statement.
In a post on the group's website, Occupy Oakland denounced the charges, claiming that they are merely part of a smear campaign by the District Attorney and the Oakland Police Department:
Rally in support of 3 Occupy Oaklanders facing false and outrageously inflated charges as part of the DA & OPD's campaign of collusion to target and repress Occupy Oakland.

Three Occupy Oaklanders were arrested last week on charges stemming from an alleged stolen wallet. This alleged incident has promped the DA to pursue felong robbery and hate crime charges against these individuals, who are now being held in custody with bails exceeding $100,000 each.

On Monday, March 5, 2012, Occupy Oakland will descend upon the courthouse to protest this gross manipulation of the "justice" system to target members of our movement. We will also be holding a celebration to honor the birthday of one of these jailed occupiers.
According to the Los Angeles Times, activist and former White House Green Energy Advisor Van Jones spoke to the crowd. "All you want is a chance," he said. "You're not asking for charity."
Related
Popular in the Community