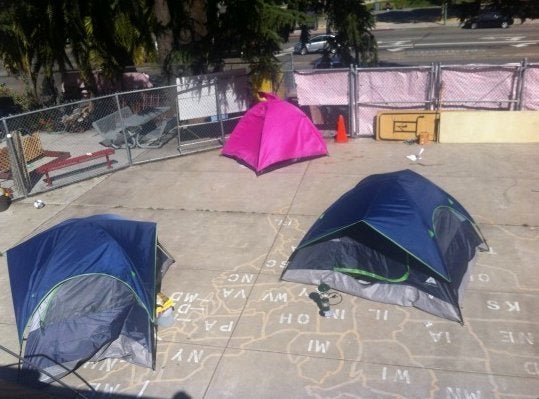 Authorities arrived on scene just after 4 a.m. and ordered protesters (a.k.a. teachers, parents, and probably some tutors) to disperse -- now. Like obedient students, most protesters listened, however, police handcuffed two individuals who refused to leave.
The sit-in which started in mid June, was initiated by parents, teachers, and others in the community (yes, some occupiers) who are vehemently opposed to the school district's plan to close five of its elementary schools, including Lakeview, Lazear, Marshall, Maxwell Park, and Santa Fe.
The school district tolerated the group, which modeled itself after Occupy Oakland, sans the police scuffles, for long enough. But when it became really clear these parents planned to spend the whole summer vacation occupying the site, district officials called in the big troops.
"We allowed the protesters to stay for 17 days even though they were trespassing," said Troy Flint, spokesman for the school district. "But we finally moved in because we had to start preparing for the new school year."
The shuttered school buildings will be used as family services buildings, which includes student services, enrollment, translation, and mental health facilities. "People think that we're moving the superintendent into these buildings, but that's not the case ... they'll be used for basically everything that supports the social and emotional side of what goes in school," said Flint.
On a positive note, Flint was happy that the squatters did not cause any damage to the property -- in fact they took pretty good care of it. Still, that wasn't good enough reason to let them stay.
"We are taking some defensive measures to safeguard the site and prevent a recurrence," said Flint.The district has installed a temporary fence with personnel on the lookout and has also begun changing the locks around the property.
"We don't want anyone to interpret this as provocative, or a challenge, but we will be monitoring the site," Flint said.
Related
Popular in the Community