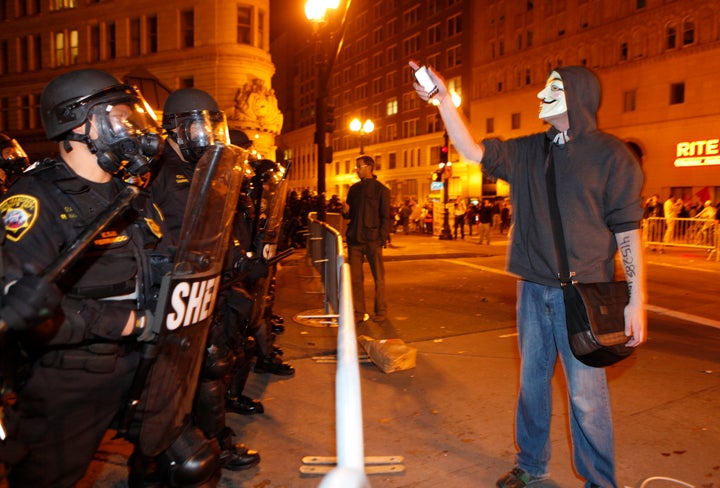 SAN FRANCISCO -- The eruption of violence at last week's Occupy Oakland protest prompted shock across the country, leading some to ask if the long-simmering tensions between the East Bay city and its troubled police department were at least partially to blame.
"Underneath the surface here is a slow burn that could erupt at any point in time," Oakland civil rights attorney John Burris told The Huffington Post. "There are a lot of people in the community who have problems with the police, and it could cause an eruption -- particularly around controversial issues."
Last week, days after city officials gave the protesters camped out at Frank Ogawa Plaza an ultimatum to immediately vacate or face the consequences, Oakland police forcibly cleared people from the encampment using tear gas, sparking a large march later that evening.
The demonstration snaked through downtown and ended back at the plaza at the foot of City Hall, where police surrounded the protesters and ordered them to immediately disperse. When that didn't occur, police -- who were pelted with rocks and bottles during the confrontation -- unleashed a storm of tear gas canisters, one of which allegedly struck 24-year-old Iraq war veteran Scott Olsen in the skull, causing serious brain injury.
Seven police officers were also injured during the protest.
While Olsen is expected to make a full recovery, he has become a symbol not only of the entire Occupy movement, but of the difficult relationship the city of Oakland has with its police force.
Howard Jordan, the city's current top cop, is only running the department on an interim basis. Jordan's tenure only stretches as far back as the beginning of the Occupy Oakland tent city he was tasked with removing.
Early last month, the previous chief, Anthony Batts, abruptly resigned, citing an "overwhelming load of bureaucracy" and frequent battles with the city's political establishment.
Batts often butted heads with Mayor Jean Quan and the Oakland City Council. Both the mayor and city council members refused his requests for expanded civil gang injunctions and the implementation of a youth curfew. Batts believed the measures were necessary to control Oakland's violent crime rate, the highest of any city in California.
"I found myself with limited control, but full accountability," Batts wrote in his resignation letter.
Under Batts' watch, the Oakland City Council decreased the size of the city's police force by around one-fifth. Without as many officers at its disposal, Oakland was forced to rely on help from neighboring agencies, such as the San Francisco Sheriff's Department, in its response to the last week's Occupy rally. In many ways, the number of agencies involved has made it difficult to ascertain precisely what occurred. For example, video from the march shows police using what appear to be flash-bang grenades; however, Oakland police maintain they didn't use any such measures.
While Batts publicly claimed political reasons for leaving the department, many speculated that the looming threat of a federal takeover of Oakland's police force also factored into his decision. Last year, Judge Thelton Henderson threatened to put the department into federal receivership because of its failures to institute significant reforms during the decade following the infamous "Rough Riders" scandal.
In 2000, the city negotiated a settlement with over 100 plaintiffs stemming from allegations that said "Rough Riders," a group of rogue officers, planted evidence, used excessive force and falsified police reports. The officers were fired, but failed to be convicted of any charges. Moreover, the jury was criticized for having no black members in a city where African Americans make up the largest ethnic group.
As a result of the scandal, the department was put under external oversight by a district court and ordered to clean up its act -- something Henderson accuses the department of not being sufficiently willing to do. The department was given around 50 reform benchmarks it was supposed to meet within five years. Since being granted two multi-year extensions, its has still only completed about half of them.
Burris blames the department's inability to effectively reform itself largely on "a lack of consistent leadership." In the past decade, Burris argues, there have been a handful a chiefs, none of whom were able to serve long enough to significantly address the department's myriad issues.
Burris represented a number of protesters in a class action lawsuit against the city for aggressive tactics used by the police department to disperse a 2003 anti-war demonstration at the Port of Oakland during which a number of people were severely injured. As part of the settlement, the department agreed to a new crowd control policy banning the use of non-lethal projectiles and only permitting the use of tear gas under a specific set of circumstances.
It's abundantly clear that the department violated its own policies in response to the Occupy Oakland rally, Burris told HuffPost.
The Oakland Police Department did not immediately respond to requests for comment.
Meanwhile, the progressive Quan, who now faces a recall campaign, has walked the fine line between attempting to stand up for the free speech rights of the Oakland's notoriously volatile protest culture.
When Bay Area Rapid Transit Police Officer Johannes Mehserle was given what many believed to be an especially lenient sentence for shooting the unarmed Oscar Grant at a train station in Oakland's Fruitvale neighborhood, Quan (then a member of the Oakland City Council) joined a public protest against the verdict, but attempted to calm the crowd when people began throwing objects at the police present.
In the week following the most recent clash between police and protesters, Quan has softened her stance on the Occupy Oakland tent city that was quickly rebuilt in Frank Ogawa Plaza. "It's a complex situation," she said at a press conference with Jordan. "There may have been mistakes made, probably on both sides."
Quan has attempted to strike a similar balance for upcoming protests -- giving government workers leeway to participate while increasing the number of police officers on hand. This move has drawn criticism from the Oakland Police Officers' Association, which sent a letter to the mayor criticizing the decision. "Is it the City's intention to have City employees on both sides of a skirmish line?" they asked.
Last Thursday, Quan attempted to speak at another Occupy Oakland rally, but organizers prevented her from doing so.
No matter what happens with the police department, Occupy Oakland's ongoing saga seems unlikely to end anytime soon. This Wednesday, local labor organizations will join with protesters and some student groups for a general strike designed to bring the city to a virtual standstill.
REAL LIFE. REAL NEWS. REAL VOICES.
Help us tell more of the stories that matter from voices that too often remain unheard.