By Marcus Wohlsen, Associated Press
OAKLAND -- Police in riot gear cleared anti-Wall Street protesters on Tuesday morning from the plaza in front of Oakland's City Hall where they have been camped out for about two weeks.
Television news footage showed numerous people in plastic handcuffs being led away from the site by police around 5 a.m. The protesters did not appear to be resisting, although an officer did fire a non-lethal projectile from a shotgun at a protester who lobbed a bottle, authorities told the San Francisco Chronicle.
One of those arrested, Aiyahnna Johnson, 30, of Oakland, had been living at the camp with her 2-year-old daughter. "We want the best for you guys, that's all," she was quoted by the San Francisco Chronicle telling two officers who were leading her away.
The police action began around 4:40 a.m. when an officer on a loud speaker told the protesters they were illegally blocking the plaza and were subject to arrest, according to the Chronicle. The newspaper reported that several hundred people appeared ready to defend the camp about an hour before police moved in, placing Dumpsters, boards, pallets and even metal police-style barricades around the plaza.
Anthony Owens, 40, of Oakland, said some people in the camp left as word spread about possible police action. A core group of about 150 people locked arms and shouted as officers moved in from four corners, Owens said.
Witnesses reported seeing smoke rising from the area. The plaza was "contained" around 5:30 a.m., according to city officials, although tents and trash remained strewn there.
Police maintained a heavy presence around downtown Oakland into the morning. Streets were closed off by police barricades, and at least two helicopters were in the air shining lights down. Dozens of officers were in the streets.
City officials advised downtown businesses to delay opening and told city employees to come in late.
A small group of people near the plaza were seen dragging police barricades into the street as police stood nearby. Police also cleared a smaller encampment from a park near the plaza on Tuesday morning.
A police spokeswoman did not immediately return a message from The Associated Press.
City officials had originally been supportive of the protesters, with Oakland Mayor Jean Quan saying that sometimes "democracy is messy."
But the city later warned the protesters that they were breaking the law and could not stay in the encampment overnight.
They cited concerns about rats, fire hazards, public urination and acts of violence at the site, which had grown to more than 150 tents and included health, child-care and kitchen areas.
But protesters over the weekend said they had no plans to leave.
Owens said the protesters plan to try to retake the plaza at some point. Asked whether they would be discouraged by the loss of the encampment, Owens said, "I think it's going to fire up people even more."
Watch a video of the raid courtesy of ABC7 and check out photos from our slideshow below: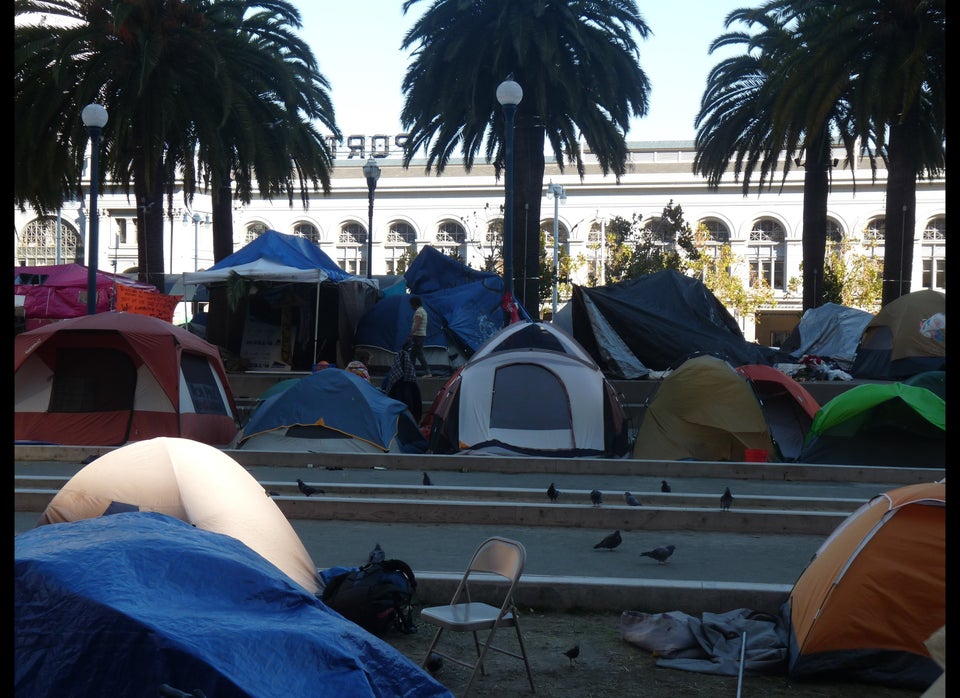 SF Protests
Popular in the Community