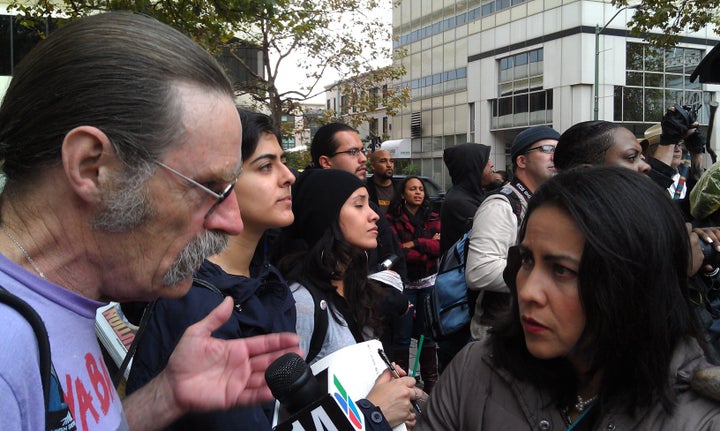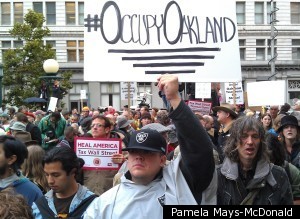 Oakland, California, 10 October 2011---Oakland's Frank Ogawa Plaza set the stage for this city's entry into the "Occupation" phenomenon that is spreading across the country. Following on the heels of "Occupy San Francisco" and "Occupy San Jose," the Oakland event began Monday under cloudy skies. Occupy Oakland would begin, rain or shine.
Unlike the New York protests, this revolution will be televised. Every network, including Spanish-language Univision, posted satellite trucks along the perimeter of the civic center, hoping to catch sound bites from people on the ground.
On the plaza green, a few hundred people gathered before the advertised 4 p.m. start time. Within two hours the crowd swelled to perhaps a thousand, a diverse throng of concerned citizens mixing easily with union representatives and well-prepared anarchists, recognizable by their "uniform" of black clothing, masks or bandanas, and visible telephone numbers written in marker on their forearms. Oakland witnessed these same black-clad activists during the violent aftermath of the Oscar Grant marches, which resulted in many arrests and millions of dollars of property destruction to the downtown area. Some protestors were unemployed; others were students; some had experienced home foreclosure and some had health issues.
Using the method of "the people's microphone" like their nationwide cohort, an assorted group of speakers delivered personal statements like "They don't care about us," and "America can be the America we are meant to be." Some urged participants, "Don't give money to corporations," or "Boycott banks; switch to a credit union," following the movement promoted by HuffingtonPost CEO Arianna Huffington in 2009. Finally a new arrival brought a megaphone and then later, an amplifier and speaker setup.
A highlight of the day was a telephone call from an Occupy Wall Street spokesman in New York. The speaker declared, "It's not our fault that we can't pay our bills. The system works for the corporations and the politicians, but it doesn't work for We the People." These words were relayed, amplified and raptly absorbed by the hundreds packed near the stage. By this time the crowd had swelled and more were steadily arriving from the BART station and by auto and foot from the surrounding city. Around the edges of the crowd, experienced demonstrators did not strain to hear the call. They chatted, mingled and staked prominent locations for their larger and more elaborate signs.
Along busy 14th Street, passing cars honked their horns in solidarity with demonstrators. Union members, representing a number of organizations, milled in the crowd; nurses, SEIU, teachers and others protested proposed cutbacks in the public service sector, such as the US Postal Service. "Bail out schools and social services, not banks," read a typical message from this group.
As speaker after speaker echoed frustration with the financial, defense, environmental and social justice realities of today's America, it became clear just how 'Oakland' this protest had become, how it reflected the city's heritage as a nexus for progressive and leftist organizing. Rather than a traffic-stopping, radical act, the protest appeared to be just one more opportunity for folks to get together around a political issue. This was made abundantly clear after dark, when Elaine Brown, former heroine of the Black Panther Party, founded in Oakland in the 60s, made megaphone remarks while present-day party members circulated literature and sought new recruits.
This 'only-in-Oakland' theme was repeated throughout the day. Protesters represented every ethnicity in Oakland: Asian, Caucasian, African American, Latino, Pacific Islander, Native American. As is common in Oakland, there was an easy intermingling of age groups, income brackets and ethnicities. It was a friendly and polite crowd that included seniors, babies and even a few small pet dogs. Yet, as peace-loving as they seemed, the Oakland audience roared with approval when a speaker noted that the event's coincided with the Columbus Day holiday, joining in an expletive-fueled chant about Columbus' role in subjugating the original American inhabitants.
The crowd was most active when chanting "OAK-LAND! OAK-LAND! OAK-LAND!" demonstrating the heightened civic pride of the past decade. And unlike the early days of the New York protest, every network -- English and Spanish -- had satellite trucks parked around the perimeter of the City Hall square with reporters prepared to remain through the 10 and 11 o'clock "live shots" that evening. Reporters and photographers milled around the crowd.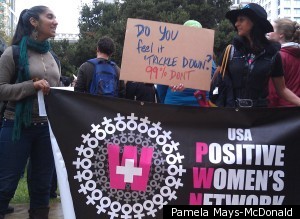 Theo Williams, a media coordinator for the event, discussed the challenges of presenting a unified message to the public and the press, due to the diversity of the protesters.
"Yes, it is challenging, crafting a single message with so many voices," said Williams. "But it's like a choir with various harmonic tones. This movement is about creating a broad tent that everyone's issues can fit into. It's still early. Things will iron out as we continue day after day. But yes, it is challenging."
Explaining why Oakland was not one of the first American cities to join the Occupy protest movement, Williams said that this movement is more reflective of Oakland's history.
"We took the time to prepare a local twist on this national phenomenon, to uncover local issues," he said. "We've been fighting on the streets (against injustice) since the Oscar Grant case. We don't need much motivation. We feel that every day... We localized this international movement by introducing local issues, such as Oscar Grant, solidarity with the Pelican Bay (a Northern California prison) prisoners on hunger strike. Local labor is represented. Local politicians were involved today: City councilmember Nancy Nadel and Oakland vice mayor Desley Brooks were here."
Local media was also well represented. How would they spin the story?
By 8 p.m, as a slight chill began to fill the night air, more than two dozen tents had been quickly erected. One was designated as a First Aid station and another as a food tent, distributing hot coffee and energy bars to a steady line of hungry, chilly protesters. After dark, as the rain set in and the temperature dropped, the crowd dwindled to perhaps a hundred die-hard, well prepared young people and curious observers. From the microphone, a young man's cheerful voice announced a hip-hop music performance to come. Meanwhile the stream of speakers continued to express their personal stories of frustration, disappointment and ideas for change. Above the City Hall steps hung a banner for the Oakland youth musical group, PopLyfe, who had performed three days earlier to a large crowd in this same space, after competing on the program, "America's Got Talent."
It's true; Oakland's got a pool of talented youth. But how will they be affected by the issues expressed in the Occupy Oakland forum? How will Oakland's youth fare in the current economic crisis, with looming cuts in education and social service programs?
Was Day One of the Occupy Oakland protest "just another day" in a city known for its progressive activism and high level of civic involvement in protest movements? Only time will tell, as more and more Oaklanders become aware of the events transpiring near City Hall, not only from the media, but from their participating friends and colleagues.
Popular in the Community