San Francisco's public health department issued a sobering warning to the Occupy San Francisco community Tuesday, letting protesters know that the city has deemed their encampment an "imminent health hazard."
"Evidence of excrement, urine and vomit were observed throughout the park," officials said in a notice first reported by SFGate. "Fecal material was observed on stairs and grass. A container of human waste was observed along the Embarcadero side of the park."
The unsettling description didn't stop there.
"Several piles of vomit were observed along the Embarcadero side of the park," the department said. "Pile of feces and tampons found at a nearby pathway. Flies and urine observed along pathway."
Occupy SF posted a copy of the notice, signed by Police Chief Greg Suhr, on their website. "You are subject to arrest," it reads in bold lettering at the top. The message follows similar threats issued on October 11 and 16.
Meanwhile, the estimated 200 demonstrators who have been living in the tent community only plan to expand. The encampment members, currently situated along the Embarcadero in Justin Herman Plaza, vowed they will relocate their entire operation to a more centralized area to show support for the other Occupy Bay Area contingents, most notably violence-plagued Oakland.
CBS San Francisco reported:
"Standing in solidarity and with all of the other cities coming to San Francisco would be probably one of the most empowering things for this entire movement," said Christopher Ray, one of the most vocal and visible members of the San Francisco encampment.

Ray said the plan is to move the Occupy SF base of operations to the Civic Center a week from Saturday, setting up a new, much larger camp right across San Francisco Mayor Ed Lee's City Hall office.

"We'll still have a presence down at Justin Herman Plaza and at the Federal Reserve," said Ray. "But we will be taking Civic Center by November 5."
The protesters continue to defend the conditions in their camp, claiming San Francisco officials have been exaggerating the situation. "I think it is a bunch of bull [crap]," said Jeffrey Herwatt, who has been spending in Justin Herman Plaza, told SFGate. "There was some dog poo in a grassy area, but we cleaned it up."
Take a look at images from the ongoing Bay Area protesters below. Have you taken part in the action? Be sure to submit your own photos for a chance to be featured.
Before You Go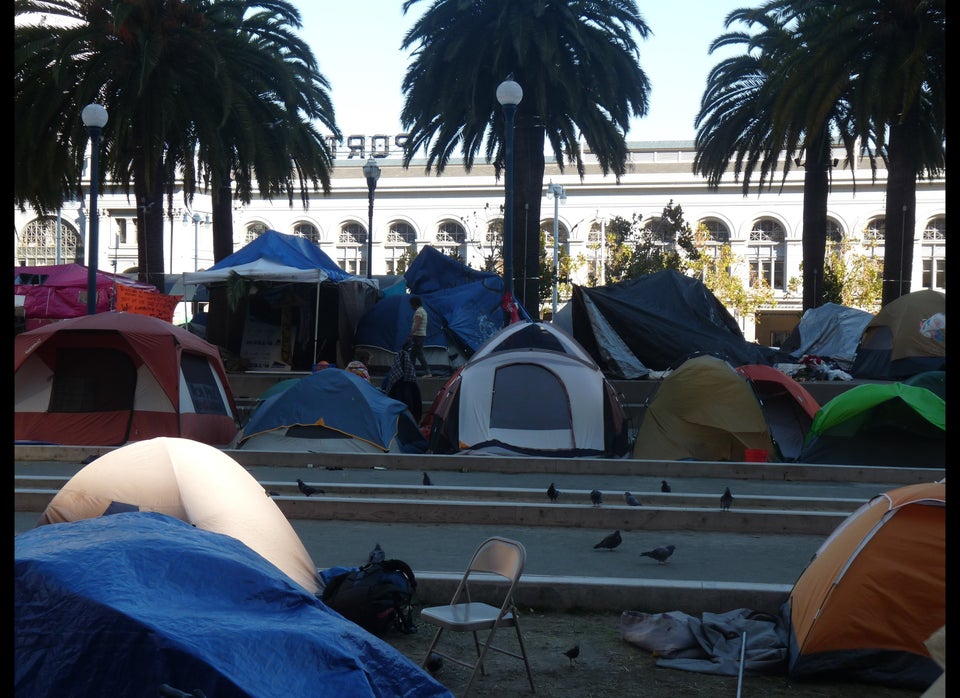 SF Protests
Popular in the Community