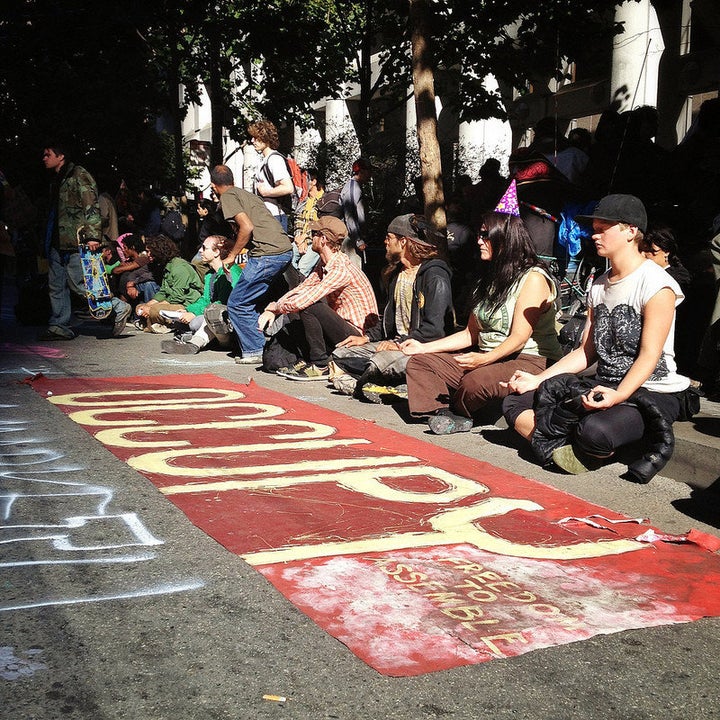 It's strange to think that Occupy is only a year old.
Maybe it's because the movement so powerfully tapped into currents long pulsating within the cultural zeitgeist that when it finally erupted it almost instantly felt immeasurably older. Or, having been obsessively tweeted, blogged and live streamed since its inception, it's been the subject of a virtually infinite number of news cycles from the moment the first protestors planted themselves in Zuccotti Park.
While the movement was born in Lower Manhattan, amid the skyscrapers of global finance it aimed to take down, Occupy arguably reached its fullest expression in the San Francisco Bay Area, where the sprouting of controversial tent cities and violent clashes with police quickly became a regular occurrence.
Much of the movement's popular energy has deflated from that initial high last year, but the Bay Area's Occupy chapters are still around. On Monday those groups held a rally in downtown San Francisco to commemorate the one year anniversary of the self-described uprising of the 99 percent.
Hundreds of protestors snarled traffic in downtown San Francisco for hours yesterday, carrying signs reading "Topple the 1%", banging on drums and chanting, "All day, all year, Occupy is still here."
After marching through San Francisco's Financial District, the protestors amassed in Justin Herman Plaza along The Embarcadero, the site of a contentious tent city that stood for months until being cleared by police. The plaza was "occupied" overnight but, in contrast to the strained relations between the protesters and City Hall that reigned last year, the city ordered the demonstrators to clear out by 6 a.m. on Tuesday morning and everyone complied without much resistance.
The San Francisco Examiner noted that, unlike in many previous Occupy protests, this week's action saw little presence from organized labor groups. While unions didn't immediately jump onto the Occupy bandwagon, subsequent protests saw heavy involvement from those contingents.
During Occupy's heyday, these protests seemed to happen on a near-weekly basis, but haven't appeared on a similar scale in the city since May Day.
Over in Oakland, where the Occupy protests were decidedly more anarchic and violent than in San Francisco (including an incident where Iraq War-veteran Scott Olsen famously suffered a fractured skull after being hit with a tear gas canister fired by police), the East Bay anniversary was relatively muted. Occupy Oakland directed much of its energy toward the city of Davis for a protest against agribusiness giant Monsanto's use of GMO crops in the nation's food supply.
As the Bay Area's large-scale Occupy protests have largely died down, the tactics employed by the region's activist groups have shied away from the take-to-the-street actions that caused widespread annoyance among commuters. Instead, organizations are taking a more localized, community-centered approach.
Neighborhood-based group Occupy Bernal Heights has been staging small protests and providing pro bono legal assistance in fighting hundreds of evictions. A group of Occupy-affiliated activists in Oakland broke into an abandoned building that formerly housed a social services center, gave it an overnight renovation and transformed it into a makeshift public library. A singing group billing itself Occupella performs tunes like "Take Me Out Of The Big Banks" at a weekly "Tax The Rich" rally in front of a row of banks in Berkeley.
Not every Occupy group has abandoned utilizing long-term camping as a form of political protest. A handful of occupiers still regularly sets up tents along Market Street in front of the San Francisco branch of the Federal Reserve Bank only to have their belongings confiscated SFPD every few days.
Much like the Tea Party, the corresponding conservative populist reaction to the financial crisis, Occupy's success was less in toppling the global power elite: The big banks are still around, bigger than ever. Instead, Occupy's real accomplishment (all the evictions prevented through the actions of groups like Occupy Bernal Heights withstanding) was the re-introduction of concepts like socio-economic class and income inequality into the widely accepted realm of American political discourse.
"Occupy changed the conversation in the U.S. so we could talk about the concentration of wealth and power," Rabbi Arthur Waskow of Philadelphia's Shalom Center, who came to Berekely on Monday to participate in the protests, told the Oakland Tribune. "Before it wasn't even taboo to talk about, it didn't exist. Suddenly, it was talkable. Now people are focused on keeping their houses and [on] the banks that were the center of the financial collapse."
Check out these photos from previous Occupy San Francisco protests:
PHOTO GALLERY
San Francisco May Day General Strike
REAL LIFE. REAL NEWS. REAL VOICES.
Help us tell more of the stories that matter from voices that too often remain unheard.
BEFORE YOU GO