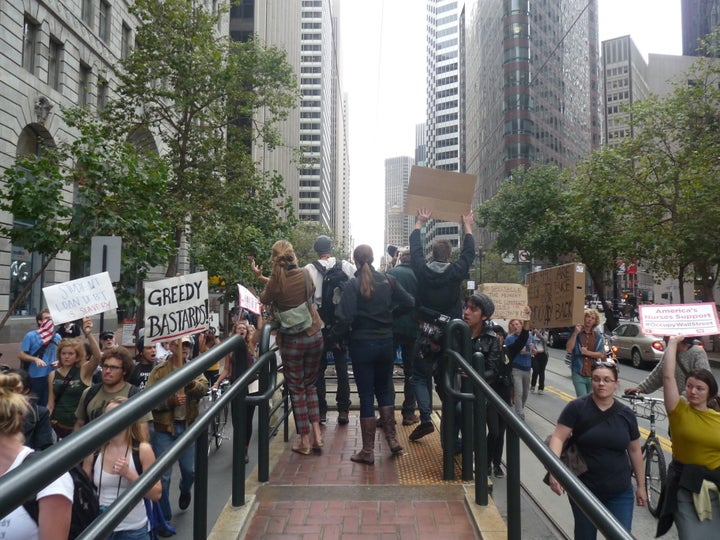 SAN FRANCISCO -- Hundreds of protesters, including teachers, families, nurses and plenty of suits on lunch break, gathered Wednesday at San Francisco's Federal Reserve Bank to march down Market Street as part of the growing Occupy San Francisco movement.
Marchers beat drums, carried signs and chanted "Enough is enough, invest in us!" and "Who bailed the banks out? We bailed the banks out!" while walking down Market Street, through the City Hall plaza and back to the Federal Reserve Bank, stopping at the Bank of America building on the way.
Occupy SF is the local offshoot of Occupy Wall Street, a nationwide protest against economic inequality, an uneven tax structure, the bank bailouts and alleged corporate greed. Demonstrators have also cited unemployment, aggressive bank loan policies and high interest rates on student loans as part of the frustrations. Since materializing in New York in mid-September, rallies have spread to Boston, Los Angeles, Chicago, Seattle, Denver, Portland, Miami and other cities across the country.
(SCROLL DOWN FOR PHOTOS AND VIDEO)
Here in San Francisco, protesters have been camping out on Market Street for over a week and have orchestrated peaceful biweekly demonstrations. Wednesday's activity was part of Occupy Wall Street's nationwide, synchronized march, which took place in nearly every major city at noon. Some 15,000 people came out for the New York City event.
In San Francisco, National Nurses United, a group that includes the California Nurses Association, was particularly vocal, carrying signs that read: "Heal America, Tax Wall Street."
"Remember when Obama told us all to invest in education? That education was the way to strengthen our economy for the long term? Well that's what I did," Colin Spake, a registered nurse who went back to school to become a practitioner, told The Huffington Post. "Now I'm facing $200,000 worth of debt from student loans and a quarter of my salary goes just towards the interest. My wife is a teacher and we just had a newborn baby, and we don't know what to do. Meanwhile, we're bailing the banks out."
Other protesters cited unemployment and cuts in the health care industry. "I know so many people out of work right now," said Mercedes Weatherford, a local protester. "And there've been cuts in Medicare, cuts in Medicaid, cuts all around. What are the people who can't find work supposed to do? I just heard Medicaid cut their dental coverage. Come on. People need their teeth!"
Though individual interests differed, the sentiment was the same. "It's important that we refrain from one end point," said a protester wearing an 'Anonymous' mask. "We're opposed to the whole idea: the increased separation of wealth, the corporate greed and the general disenfranchisement of the public."
After marching several miles, the crowd gathered back at the Federal Reserve Bank and stocked up on food and water provided by tent camps. "We have so much donated food, we don't know what to do with it," said one of the camping protesters, smiling. "People are really behind this." Campers passed out dates, French bread, hummus and cups of water to reporters and protesters as they passed by.
The core group of Occupy SFers has been sleeping at a tent camp lining the intersection of Market and Drumm streets for more than a week. Campers work in shifts, cooking, cleaning and taking care of supplies, while others manage a whiteboard of tasks and update the Twitter feed on iPads. "We're hoping to get solar panels soon," said one camper. A central area features a kitchen equipped with grills and stocked with donated food.
When a supportive protester asked the cook what he needed, suggesting additional food or water, the cook shook his head and asked for a wok. "People brought us all of these fresh veggies from the farmers market and we have a bunch of rice and pasta," he told HuffPost. "What I need now is a huge wok." This is how San Francisco does a protest.
While some of the campers are homeless, many have left their homes to camp out in solidarity. Patrick Griffiths, for example, decided to leave the warmth of his home and join the camp when it started raining Tuesday evening.
"That's when people really need to come together: when it gets tough. When it's pouring rain and freezing," he said. "It's been so awesome to see people leave their homes and come together. It's energizing."
Griffiths, who lives in the Tenderloin and works as a bartender, said he usually doesn't involve himself in activist causes. "It's been a long time since I was a revolutionary," he laughed. "But this is that important."
Cory Morse came to San Francisco from Portland last week for the Hardly Strictly Bluegrass festival, but was so moved by the protests that he joined the camp instead. "I never even made it to the festival," he said. Since then, he's been making signs, setting up for the protest and taking care of the camp. "I think this is the real reason I was supposed to come to San Francisco."
Beyond rallies and camping, the people behind Occupy SF have built a full-on activist community, complete with collective breakfasts, liberation yoga sessions and open mike nights. According to their online calendar, the group has events planned through the end of the year.
And they'll be marching again this Saturday. "Until then," Morse said, "we'll just be getting ready."
UPDATE (9:30am PST): According to OccupySF, the SFPD confronted protesters at the tent camp on Market Street on Wednesday evening and demanded the immediate disbandment of the camp. Supervisor John Avalos rushed to the camp to try and persuade officers to allow the protesters to remain on site, to no avail. According to OccupySF:
Last night the SFPD issued us an unsigned, undated notice that declared we had to pack up our tents without giving us a timeline or else we would risk arrest. They said that we could remain occupying if we pulled down our tents and complied with their other demands. We complied with their demands by taking down our tents and beginning to clear-out the rest of our infrastructure that was allegedly in violation of City and/or State laws. We made a call to action. Our numbers doubled within half an hour. Occupy Oakland, along with many others, immediately responded when we announced that the cops were here to take us down. Thank you Occupy Oakland and all others! Yet still, the police, wearing helmets and carrying batons, formed a perimeter around our goods and prevented us from saving anything while they supervised Public Works employees as they stole everything...We are still at the camp indefinitely.
Check out videos and photos from the Occupy SF protest below:
REAL LIFE. REAL NEWS. REAL VOICES.
Help us tell more of the stories that matter from voices that too often remain unheard.