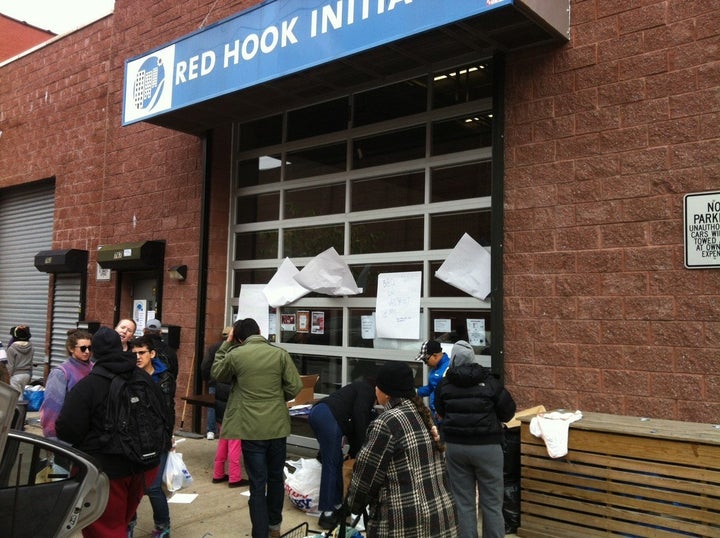 BROOKLYN, N.Y. -- Conor Tomas Reed stood beside a flagpole in front of a pair of high-rise apartment buildings in Brooklyn's Red Hook neighborhood on Thursday afternoon, waiting for more volunteers. These buildings, like many in the neighborhood, were mostly still without power.
"I've been here pretty much 10 a.m. to 10 p.m.," said Reed, a doctoral student at City University of New York and a professor at Baruch College. "Last night, we just went around handing out food, dry goods, flashlights, anything people needed."
The flagpole had become a meeting place for Hurricane Sandy volunteers, and earlier Thursday, it served as a rallying center for people in the hurricane-battered neighborhood to request food, clothing and other necessities. Reed said he learned some elderly people had been stuck on higher floors of their buildings without power or running water, marooned by elevators that weren't working.
"Since then we've been walking up and down stairs, providing care packages of food and flashlights and bottled water," Reed said.
Reed and others have been volunteering in Red Hook since Sandy hit, mostly organized via "Occupy Sandy," a now burgeoning offshoot of the Occupy Wall Street movement, websites like Recovers.org, a social hub for organizing volunteers online, and word of mouth.
Occupy Sandy volunteers aim to help smaller communities, where government relief organizations may not have arrived, Reed said.
"Occupy has gone from general protest work to now direct community support," Reed said. "What we're trying to do is build communities, not just charity."
A few blocks from the flagpole, the offices of the Red Hook Initiative, a community non-profit, was a bustling center for people needing clothing and hot meals. Boxes of clothes lined the street nearby. Inside, tables were stocked high with boxes of donated food. There were hand-written signs announcing the next hot meals and flagpole meetings.
Lisa Sikorski, an artist who lives in Brooklyn's Bedford-Stuyvesant neighborhood, found out Red Hook needed volunteers through Recovers.org, and immediately offered to help. She said she was given a leadership position because she'd had lots of previous volunteer experience at homeless shelters and food banks.
"We've been getting tons of donations. This is all donations in here," Sikorski said, pointing at tables. "We also gave away a ton yesterday. Stuff has gone out to the Rockaways, Sunset Park, Coney Island. There are people coming in with rolling carts, school communities have come up with truckloads of stuff and unloaded it. This is all community-driven donation right now, all of it."
Federal Emergency Management Agency workers were were nowhere to be seen, Sikorski said. She said she was told they may have been nearby Thursday afternoon. "They're not here," she said. "I don't see them."
The Red Hook Initiative's social work intern, Catherine McBride, asked Sikorski if she should set up a table in front of the building to welcome volunteers.
"Is there one out there already?" Sikorski asked.
"No," McBride said. "I'll go do it."
McBride, a full-time student at Hunter College, said many Brooklynites probably don't realize how badly Red Hook got hit. The email she sent to friends Thursday morning asking for donations got an immediate and overwhelming response.
"I think the key is connecting people to a tangible thing, because everyone wants to help out," McBride said. "Just telling people to go and do this. And then they'll do it."
More Occupy-organized volunteer operations have been set up in other badly damaged neighborhoods, including Sunset Park, Coney Island and the Rockaways.
Justin Wedes, an Occupy organizer, said the response from the Occupy movement has been "incredible," and Occupy Sandy groups were active in all five boroughs.
"We already have dozens of organizers working in hubs, working out of homes, mobilizing hundreds of volunteers," Wedes said. "We've worked with local community organizations, Recovers.org, and this really shows that communities do band together, reach out, and support each other."
"It's a pretty diffuse operation here," Wedes said. "But it's reaching thousands."
*************************
The Huffington Post is eager for insights from our community, especially people with experience in power, infrastructure and engineering, on the adequacy of emergency preparation in advance of Hurricane Sandy, and the degree to which past disasters have informed adequate planning and construction. Please send a note to sandytips@huffingtonpost.com with insights and suggestions for the important questions that need to be asked of relevant private sector and government officials, and point us toward stories that need to be pursued.
Scroll down for live blog updates.