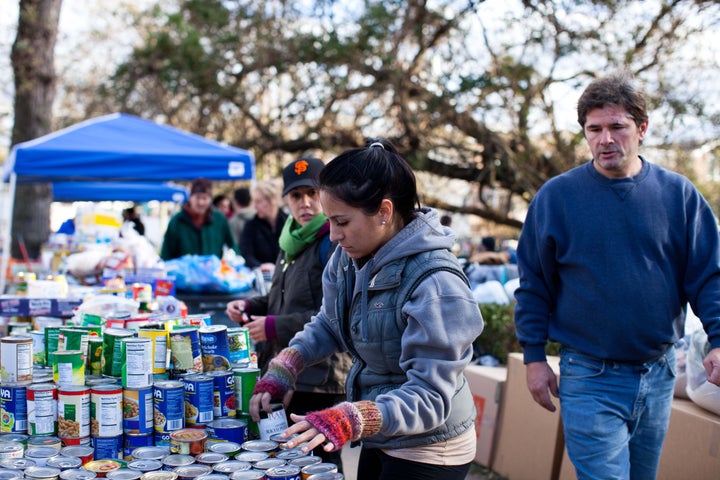 As local leaders and citizens complain of FEMA and the Red Cross and general government absences in their own neighborhoods, independent and local volunteer relief organizations have sprung up in droves, organized almost entirely through word of mouth and extensive social media campaigns.
Last week, The Huffington Post spoke with many crowdfunding and philanthropy experts who warned of the traps of social media (a "retweet" is not the same as real action, suggested Robert Wolfe, the co-founder of social media funding platform Crowdrise). But now, almost week later, social media has largely been the key link between those looking to help and the tangible work to be done.
And Occupy Sandy, an off-shoot of Occupy Wall Street, has undoubtedly been a leader in spreading the word about local volunteer and donation efforts online, and thereby spurring real, tangible responses. Though certainly not a well-oiled machine by any means -- seamless organization is hardly expected, anyway, in a movement that sprang up so quickly -- the group's Twitter and Facebook accounts have posted up-to-date information about exactly what is needed and where. And while the Red Cross doesn't take donations of individual household items and certain bare necessities, these very same needs have become Occupy Sandy's primary focus.
Sample Occupy Sandy Tweets: "Red Hook Initiative needs bowls and paper plates for food"; "Sunset Park Volunteer Hub needs Ham Radios and Operators or VHF Marine Radios"; "If you have a car or truck and want to help transport donated goods & volunteers, link in by texting '@osdrivers' to 23559."
Occupy Sandy's #Medics hashtag on Twitter found doctors for their hubs in Brooklyn and Queens. Hot meals are being prepared every day and night, with volunteers setting up makeshift food kitchens in the Rockaways, Coney Island and Sunset Park. And the network has even set up a wedding registry, via Amazon, so anyone who wants to send blankets, flashlights, dry goods, mini-fridges, batteries and toiletries from anywhere in the United States or around the world can easily do so.
On Saturday, a Brooklyn-wide relief effort co-organized by environmental group 350.org drew hundreds to the Red Hook Initiative, a nonprofit center-turned-volunteer hub from which people fanned out into groups and dispensed supplies to buildings like the Gowanus Houses, the public housing complex that has been without power for seven days and counting.
"This whole hurricane has also shown how so many people in New York need so much help, regardless of the hurricane," said Lisa Sikorski, an organizing volunteer in Red Hook. "There's a lot of problems around here."
Justin Wedes, an Occupy Sandy organizer, said that ever since Occupy Wall Street was formally evicted from Zucotti Park, the Occupy network has been working on building communities and fostering relationships around the country, in neighborhoods like Red Hook and Sunset Park.
"We've been building neighborhood assemblies and community support networks," he said. "So this relief is a natural response for us, where communities band together to reach out and support each other."
In Sunset Park, a neighborhood in South Brooklyn of predominantly Mexican and Chinese residents, Occupy Sandy has created a virtual and literal hub at St. Jacobi's Church. On Sunday, generators, electrical supplies and dry goods were packed into volunteer's cars and shipped off to the Rockaways and Staten Island. Some organizers were getting fuel personally delivered from other activists as far away as Boston and filling up discreetly on the side of the road. Pounds of clothes were sorted and food was prepared. Hundreds of incoming volunteers from around the city were given quick orientations by Occupy volunteer leaders and then dispatched to locations around the city.
It's truly a 21st Century relief organization, suggested Joan Donovan, an organizer behind Inter-Occupy.net, the online network that helped organize Occupy Sandy.
"One of the things we do every night with the organizers is hold a conference call to get ready for the next day," Donovan said. "Everybody gives a report back on the day's events at their different locations. We coordinate in Google Groups, Facebook chat, through Twitter. I've got 20 different browser windows open with calls coming in."
Whereas the larger government organizations and nonprofits still need to fill out paperwork and trudge through various government red tape to get anything done, Donovan said, Occupy is able to act fast and quickly, without worrying about a lot of that same bureaucracy.
"Occupy can just call a church and say, 'Are you willing to be a donation center?' And then within four or five hours, you've got a donation center up and running," she said.
On Sunday, New York City Mayor Michael Bloomberg said the city was overwhelmed with volunteers and suggested people donate money, rather than show up at a volunteer site. But as Occupy Sandy's Twitter feed shows and organizers confirm, help is still needed in many forms.
Daiva Deupree is a volunteer working with Occupy Sandy and Recovers.org, the online hub that has helped organize Occupy and other, unaffiliated local relief efforts in badly hit areas. She said she's just been liking organizations of Facebook, following others on Twitter and finding numerous opportunities to help.
"I signed up for the [Occupy] email and text list, and they'll send things out that are so specific, like, 'Go to this address, there are people who need help,'" said Deupree. "It's really not easy, what they're doing."
She said the quick reaction time for these organizations has been remarkable, and Occupy's Donovan stressed that this kind of immediate connectivity is something at which they've excelled ever since they began communicating from camp to camp during the height of Occupy Wall Street. Now, instead of protest, they're offering relief.
"We've been able to mobilize very localized networks through inter-Occupy throughout the year," Donovan said. "So when it comes to a point when there's a lot of recovery that needs to happen, we know we can call on these networks of people and they'll put their normal lives aside to be part of this effort."
Certainly the larger organizations like FEMA and the Red Cross will be necessary as the city rebuilds and thousands of the displaced need resources, homes and myriad repairs, but in the immediate aftermath of the hurricane, Occupy Sandy has shown that collectively they can be a modern relief organization, both online and on the ground.
And whereas many may have dismissed the Occupy movement since the Zuccotti Park eviction and the months of protests, the same movement may have found a new and slightly redefined home in the public eye, as a community-building organization. On Sunday leading technology entrepreneur Anil Dash tweeted:
Below, images of volunteers working for Sandy relief:
Related
Popular in the Community