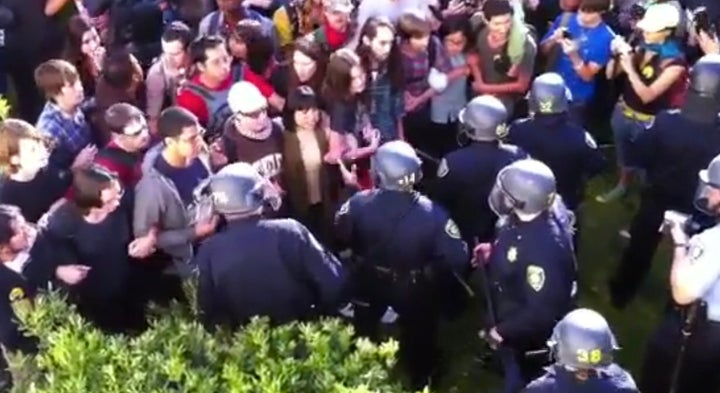 U.C. Berkeley students trying to set up an Occupy encampment faced a violent altercation with campus police, who arrested several protesters and tore down tents along the campus' Sproul Plaza Wednesday afternoon.
The police, wearing riot gear, clashed with students again Wednesday evening as they attempted to reestablish their camp.
The Berkeley students were gathering as part of a statewide 'Occupy' effort to unite against the cost of California's higher education system. Chancellor Robert Birgeneau sent a letter to members of the campus Monday warning against engaging in such demonstrations. Birgeneau wrote:
Any activities such as pulling fire alarms, occupying buildings, setting up encampments, graffiti, or other destructive actions that disrupt with anyone's ability to conduct regular activities -- go to class, study, carry out their research, etc. -- will not be tolerated.
Indeed, as soon as the students had erected their first tents Wednesday, campus police descended on Sproul Plaza wielding batons and bean bag guns. According to the San Francisco Chronicle, students joined arms and chanted "Hold the line!" before the officers managed to break through and destroy their tents.
The footage shows police using their batons to beat protesters who resisted. "Stop beating students!" the demonstrators shout in retaliation. "Put the guns down!"
Doctoral student Shane Boyle, who was struck during the confrontation, told the Chronicle that "It really, really hurt - I got the wind knocked out of me."
After the officers disbanded, the students quickly pitched their tents again and vowed to stay in the plaza all night. Take a look at footage from the incident below.
Related
Popular in the Community