NEW YORK -- Since graduating a year and a half ago from the Rhode Island School of Design, Nate Barchus hasn't shaken a nagging feeling: that he's aimless.
During college, the 23-year-old illustration major had grown accustomed to feeling like a productive member of society. But ever since Barchus got his college degree, prospective employers have told him that his credentials either overqualified or underqualified him for nearly every position he coveted.
Earlier this fall, he relocated to Brooklyn from Winston-Salem, N.C., hoping that a new and larger city might offer better opportunities. But when that plan fell through, the self-described "overeducated and underemployed" Barchus packed up his belongings, and moved off his friend's couch and into lower Manhattan's Zuccotti Park.
"I came here for a job search and was so demoralized by the lack of meaningful jobs that I figured this was a more valuable use of my time," says Barchus, standing in the middle of Zuccotti Park in early November. "Here I am utilizing all of my skills, which is more than I could say about any job I could possibly land right now."
Prior to the early morning raid in mid-November, when the New York Police Department evicted thousands of protesters from Zuccotti Park, Barchus had been living there for six weeks.
By day, he worked as a librarian who tended to the Occupy Wall Street's library of about 5,000 donated books. By night, he participated as a facilitator of the LGBTQ caucus, acclimated to the challenges of living outdoors, and shared a tent with the five other librarians.
Barchus says he can relate to the struggles facing many of his peers. Unable to find work, he is also on the hook for about $25,000 in student loan debt.
"Our futures are on the line because of this overwhelming debt," says Barchus. "Our entire generation is behind the curve and it's been unbelievably devastating."
Barchus sees the physical occupation stage of the Occupy Wall Street movement as particularly appealing to many 20-somethings because it represents a tangible space for activism -- one that many in his generation have read about in history books but had yet to experience firsthand.
"Because we are disproportionately unemployed and a lot of us are sort of wandering around, it was great to have those spaces to bring us together," says Barchus. "Finally, we had a space to talk about what our generation is capable of doing, what our obstacles are, and learning to really find solace in knowing that we aren't alone in the struggles we face each day."
Over the past few months, 20-somethings from around the country have flocked to the Occupy Wall Street movement in droves and have found an outlet for their growing frustrations.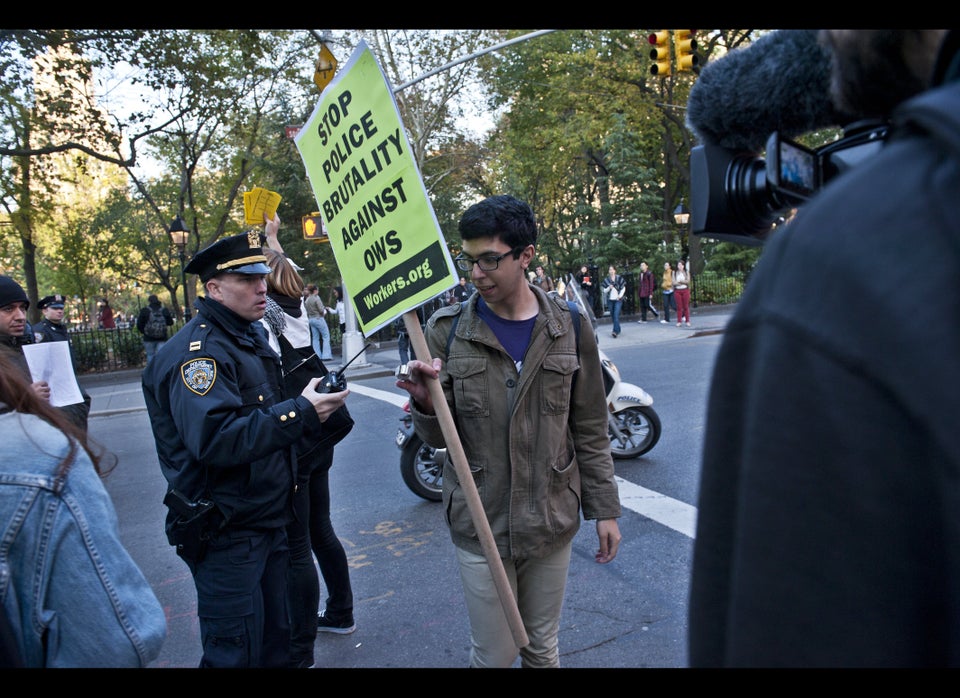 "Occupy Wall Street" Student Protest Photos
According to the "State of Young America," a national poll released in mid-November, young Americans are growing increasingly unsure that they can attain the American Dream. Further, nearly half believe that their generation will be worse off than their parent's generation.
While a majority of the 872 18-to-34-year-olds surveyed still perceived a college degree as a vital pathway to success, many simultaneously reported feeling strapped by the rising cost of college.
In November, the Institute for College Access and Success, an Oakland, Calif.-based non-profit, released its annual report looking at average debt loads. Amid a difficult job market, it found that 2010 graduates owed an average of $25,250 -- with many in their generation struggling to pay off far more.
Though many 20-somethings embarked on their dream of a college education when a decent-paying job was virtually a guaranteed part of the package, the rules have changed, and a new generation is learning to readjust its expectations.
The morning of the Zuccotti Park raid, Barchus had been getting ready to close up the library when massive floodlights suddenly beamed down on the tree-lined park as hundreds of police in riot gear lined its perimeter.
Along with many of his fellow protesters, Barchus gravitated toward the center of the park to lock arms. But rather than face arrest, he moved on to Foley Square just as the sun came up.
Barchus believes the Occupy Movement has the potential to continue, but he returned to Winston-Salem just before Thanksgiving and has now resumed his job search. He's also participating in local activism by helping to conduct facilitation training for Occupy Winston-Salem. Meanwhile, he's also weighing whether to apply to graduate school in public policy. Eventually, he plans to seek public office and advocate on behalf of the 99 percent.
He credits the Occupy movement with revivifying his passion and refocusing his ambition. While he says he does his best to tune out his mother's relentless chorus of "get a job, get a job," Barchus sees a potentially larger victory at stake.
"I think I'll always look back on this and wonder what might have happened had this movement not existed during this very crucial period in my life," says Barchus, who plans to enroll in graduate school if he can stomach the possibility of taking on more debt in order to finish. "In all honesty, it really brought me back to where I needed to be."
Occupy Wall Street first swept up Christy Thornton on a balmy Wednesday afternoon in October when she walked out of class at New York University to meet up with thousands of fellow college students in Washington Square Park.
From there, the group moved south on Lafayette Street and later linked up with tens of thousands of other Occupy supporters in Foley Square. The crowd continued snaking its way farther south, ultimately ending up in Zuccotti Park.
Later that night, surrounded by thousands of like-minded protesters, Thornton was hooked.
A 31-year-old Ph.D. student, she had watched the first rumblings of the movement from the sidelines -- by reading blogs and news stories or by scanning friends' Facebook and Twitter feeds.
But after helping to organize NYU's first student-led walkout and illegally marching down the middle of Lafayette Street and ignoring law enforcement officials along the way, Thornton says she forged a deep and abiding commitment to the burgeoning movement.
"At first, I'll admit it, I was skeptical. I didn't think it was possible for this to happen and I didn't know whether very many students would get behind it," she says. "But it was really empowering to be out there that afternoon and first take the street -- to feel that you could actually be a part of helping to change the parameter of political possibility in this country. It was addictive."
Thornton can also relate to the suffocating effects of onerous debt and looming joblessness.
All told, she says she took out about $35,000 in student loans in order to finance her undergraduate and graduate education. She still has about $20,000 left to pay off.
Thornton grew up in a one-parent working class home in rural New Hampshire. As a young child, her mother's meager salary as a restaurant line cook qualified the family for public assistance. Later on, her mother's job as a prison guard provided access to a pension and health insurance.
After high school, Thornton moved to New York to attend Barnard College. She also earned a master's degree from Columbia's School of International and Public Affairs. She's the first in her immediate family to graduate from college, let alone graduate school.
In the two months since participating in her first protest, hardly a day goes by when Thornton isn't engaged in some form of Occupy organizing -- whether planning for an upcoming demonstration, organizing teach-ins as part of the People's University in Washington Square Park, or participating in a working group focused on issues related to higher education and student debt.
"We feel compelled because we're here and Wall Street is here," says Thornton. During a recent three-week stretch, she says she attended an Occupy-related meeting every single day. "It's really inspiring and definitely tiring, but it's still really exciting. Zuccotti Park or not, it's about conceiving of Wall Street as an idea and not a location."
BURDENED BY THEIR OWN LIVES
Earlier this fall, Costas Panagopoulos, a political scientist at Fordham University, wanted to get a handle on who, exactly, had occupied Zuccotti Park. Of the 301 individuals included in a study he conducted, roughly half were between the ages of 18 to 29 years old. Among the rest of the sample, the average age was 34. Panagopoulos found the group remarkably well-educated, with 47 percent having either a four-year degree or a post-graduate degree.
But however educated and engaged the protesters might be, it's unclear how much traction the demonstrations will have going forward. Doug McAdam, a sociology professor at Stanford University, places equal importance on the movement's historical context and unique position in time.
McAdam previously studied young people who participated in Freedom Summer -- the 10-week period in 1964 when civil rights activists, many of them college students, traveled to Mississippi to register black voters. As a result, an overwhelming majority came away from the experience as more politically engaged members of society. McAdam found that it wasn't simply activism alone that mattered to these people. Just as crucial, their participation intersected with the beginning of sixties-era radicalism.
McAdam sees some parallels for Occupy activists now.
"In my lifetime, I can't remember there being a period that seems as ripe for a movement as the present moment," he says. "In many ways, this particular moment looks a lot like a Freedom Summer moment."
But unlike the sixties, when youth activism followed 15 years of unprecedented post-World War II productivity and broad-based income growth, the current environment, McAdam says, is one in which many young people are still content to watch from the sidelines. As the Occupy movement morphs from the physical encampment phase into whatever its next iteration will be, some of its youngest sympathizers are paying close attention to who picks up the mantle, according to more than a dozen young activists interviewed.
"For students, it won't have a long-term impact simply because they went to an Occupy Wall Street demonstration a few times, but because it began a process that carried them in the way that Freedom Summer started a process for the Mississippi volunteers," says McAdam.
Despite the potential for social upheaval, many young people have yet to feel empowered, according to McAdam's observations. "They're watching this unfold and hoping it can develop," he says. "But they're burdened by their own lives and their own fears about the unpredictability of their own futures."
Mikaila Arthur, a professor of sociology at Rhode Island College, recently wrote "Student Activism and Curricular Change in Higher Education." It's about youth activism on college campuses. She sees potentially longer-term implications for some of the student participants in the Occupy movement.
"In some ways, this involvement is helping them to crystallize the notion of the lives they want to live," says Arthur. "It's giving them a chance to question whether maybe life isn't so much about following in the path of a career and a suburban house, but finding a new way to live that enables them to express their values."
When it comes to actionable next steps, the Occupy Student Debt campaign is as clear as any of the demands put forth by the student backers of the Occupy movement.
The debt campaign urges borrowers to begin defaulting on their student loan payments after one million individuals have made a similar pledge. Since going live just over two weeks ago, 2,345 individuals and counting have signed the debtors' pledge.
"Since the first days of the Occupy movement, the agony of student debt has been a constant refrain," Andrew Ross, a professor of social and cultural analysis at NYU, told a crowd gathered in Zuccotti Park in late November.
Ross, a member of the Occupy Wall Street education and empowerment working group, sees his salary as inextricably linked to debt loads hanging like albatrosses around the necks of many of his young students. He thinks the Occupy movement helped shape students' concerns about their debt and encouraged them to speak up about it.
For the time being, Thornton and many other organizers are focused on keeping the momentum alive so that it might survive the winter. She says she envisions public and private college students rallying to make continued linkages between rising tuition, student debt and joblessness.
At the rally in Washington Square Park rally in early November, Thornton stood alongside many of her public and private college peers who had also walked out of class to join a citywide protest. Over and over again, to anyone who would stop and listen, the group called out: "Students and workers, shut the city down."
A MOVEMENT'S ORIGINS -- AND ITS FUTURE
In New York, the student-led portion of the Occupy Wall Street movement began earlier this summer, when students at public colleges began protesting the increasing cost of tuition. As part of a group called New York Students Rising, student activists at the City University of New York and the State University of New York planned a system-wide walkout on Oct. 5.
Word quickly spread to other schools and other cities. In New York, students from the New School, Columbia University and New York University joined the walkout. Almost overnight, a Los Angeles-based grassroots group called Occupy Colleges sprung up. Its aim: to get as many schools in other parts of the country to similarly show their support by walking out of class.
Whether protesting $300 annual increases in tuition at Baruch College, a public school, or $50,000 per year debt loads at nearby New York University, a private school, the increasing cost of college is an issue on which public and private college students have found common ground.
At Occidental College in Los Angeles, Guido Girgenti, a 19-year-old sophomore, spent much of the fall helping to organize acts of solidarity in alliance with the Occupy Wall Street movement.
"This is the movement we've been waiting for," says Girgenti, who grew up in a middle-class home in Fort Greene, Brooklyn and chose Occidental after it offered him the most attractive financial aid package.
Despite his relative privilege, Girgenti sees the basic standards of middle-class life -- like owning a house or sending his own children to an elite university -- as less and less of a given. Although he attends a private university, Girgenti feels strongly allied with many of his peers attending nearby public colleges.
"Like myself, a large portion of middle-class private university students are now seeing that their self-interest is deeply entwined with the self-interest of working-class students at public universities and community colleges," he says. "The community college student working two jobs in order to get by is no different than the private college student amassing tens of thousands of dollars of student loan debt in order to graduate."
Girgenti said he thinks the future of the student-led movement hinges upon the acceptance of a shared vision and destiny, especially during a time when many share a collective generational anxiety about the world they're about to inherit.
In addition to helping organize events on campus, Girgenti says he regularly participated in Occupy Los Angeles, until the eviction of protesters last week. Every Saturday, students from eight public and private colleges would gather at City Hall in downtown L.A. to hold cross-campus assemblies. Talk of rising tuition and debt loads frequently ruled the day.
The vision, according to Girgenti, is for the cross-campus network in L.A. to morph into a regional one that eventually expands into a national network. The immediate challenge is to find a new public space where students can continue to meet and organize.
"If we're really going to build a national movement, we have to continue building a coalition of private and public college students to help restore our democracy," says Girgenti, who, in future years, wants to become a full-time, professional organizer. "Students are the ones who are going to push the envelope to do what's right. We're at a stage in our lives where we can take time off to get arrested during acts of civil disobedience, to go to marches, to have the courage and conviction to participate wholeheartedly in this movement."
Support HuffPost
The Stakes Have Never Been Higher
Related
Popular in the Community